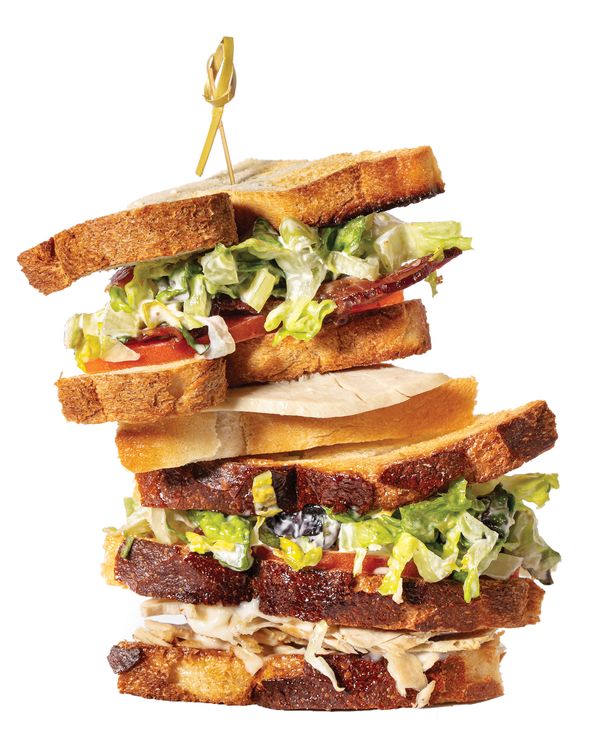 A stack of turkey-club triangles at Mark's Off Madison.
Photo: Melissa Hom
Revenge, as they say, is a dish best served cold — unless that dish is Estelle's chicken soup, one of the items Mark Strausman brought downtown to his new restaurant, Mark's Off Madison , after being canned by Freds of Barneys a year and a half ago. Now, Freds and Barneys are things of the past, while that chicken soup, in all its herb-flecked, fortified-broth glory, lives on. Estelle was Strausman's grandmother, and her namesake soup is indicative of the personal, nostalgic direction the chef has taken at his new digs on the ground floor of an office tower opposite Madison Square Park (the former A Voce space, reduced for now to a heated sidewalk patio).
Although Strausman hadn't envisioned opening his solo project during a pandemic, the eclectic (though not inexpensive) comfort-food menu seems tailor-made for the present moment. Strausman, a self-identified "Jewish boy from Queens," learned to cook in the grand hotels of Europe, enjoyed a fruitful collaboration with Tuscan impresario Pino Luongo, ran his own rustic Italian spot, Campagna, in the '90s and then spent more than 20 years cultivating a devoted, if finicky, Freds clientele who treated the department-store restaurant like their own private power-brokering canteen. When Strausman spoke out in the pages of the New York Post against the new management company that had taken Barneys into bankruptcy (and, worse, tried to nix his sautéed chicken livers), the company fired him. When he went to the restaurant to say good-bye to his staff, only to be escorted from the premises by security, the lunch crowd gave him a standing ovation.
Those fans will find lots of old favorites at Mark's: the cone of Belgian fries, thick yet crisp; the thin-crust pizzas; the entrée salads, each component meticulously sliced and diced into baby-size bites to save diners the exhausting work of cutting it themselves. The chef's lasagna della nonna and eggplant parm are the same as ever — pure, plush conduits of red-sauce pleasure. For those in search of something less rich, two penne preparations — the minimalist A.O.P., a cross between an aglio e olio and an arrabbiata, and the broccoli-cauliflower-romanesco al Cefalù — may be the pasta section's sleepers.
While Strausman concedes the greatest-hits aspect of the Mark's menu, it's clear he has taken some creative liberties since flying Barneys' ninth-floor coop. The bagels he started baking as a Sundays-only sideline at Freds are available here four days a week, the stars of a full-blown bakery program that also includes loaves of bread, Bavarian pretzels, and old-school desserts like apple strudel and coffee cake. The bagels are dense, chewy, and smaller than the norm, with great flavor, and Strausman serves them appetizing-style with smoked fish and cream cheese or as the base for a variety of new egg sandwiches, including a BEC and a bagel Benedict.
There's also a credible French dip (albeit on a slightly too tough ciabatta roll). But if you're looking for a sandwich, go for the classic turkey club. On its face, there's nothing unusual about it, but all the ingredients shine: good house-roasted turkey, substantial Nueske's bacon, enough mayo to register its presence without making a mess, and decent lettuce and tomatoes, at least for January. And then there's Strausman's secret weapon: three slices of the toasted "buttermilk batch" bread that the chef bakes in-house.
As any right-thinking club-sandwich scholar will tell you, three slices of bread don't so much distinguish a club as define it. But back when Strausman was slinging the things uptown, where carbophobes constituted the house majority, he was forced to buckle to popular demand and downscale to a two-slice club. This experience rankled the man, and you can practically hear the joy in his voice as he describes the triple-decker's restoration: "I could not retire without doing a club sandwich correctly one more time," he says. Now he has.
*This article appears in the February 1, 2021, issue of New York Magazine. Subscribe Now!