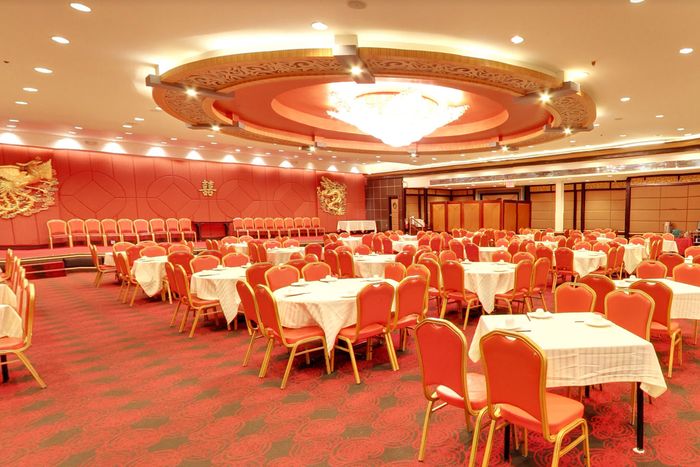 Jing Fong.
Photo: Google Maps
Chinatown's dim sum palace Jing Fong will close its sprawling indoor dining room, the owners announced today. The business will continue to operate its takeout and delivery business, as well as offer service on its outdoor, second-floor patio. Open since 1978, Jing Fong is Manhattan's largest Chinese restaurant and one of the neighborhood's more famous spots. In 2017 the owners expanded with a second location on the Upper West Side, which will also remain open.
"At the end of the day, we've been dealing with this pandemic now, for us, over a year," says Truman Lam, whose grandfather opened the restaurant. Restaurants in Chinatowns were affected by the COVID-19 pandemic earlier than most because of a precipitous drop in tourism, growing concerns in the community over the coronavirus, and Sinophobia that also led to an alarming spike in hate crimes against Asian Americans.
Last February, Lam said sales were down 25 to 50 percent, depending on the day, "The writing's on the wall that it's basically going to be down, we just don't know how much," he said at the time. Today, he says sales are down 85 percent, in part because the restaurant's events business — once half of all sales — has completely evaporated.
"We are basically running the smallest part of our business, which is delivery, for a year," he explains. "Our type of restaurant, that does dim sum lunches and banquet hall stuff, everybody is struggling and just kind of trying to survive one day at a time."
At 800 seats, the restaurant's size has presented issues since the start of the pandemic. Jing Fong shut down on March 12 following Governor Andrew Cuomo's order prohibiting large gatherings of 500 or more people. And even once restaurants were allowed to partially reopen, the 25 percent occupancy limit has proved difficult to navigate because the restaurant loses its volume and bustle, Lam noted to Gary He on Eater NY, According to a statement posted to the restaurant's Instagram, Lam will seek to reopen Jing Fong elsewhere, and says in a statement they are "actively and quickly searching."
"It's everything. It's not just rent, it's just not neighborhood, it's not just utilities. It's literally everything," he says. "We're in a part of town that's more tourist dependent. There's not much residential around here. It's more like small office building. Now, there's no tourists, businesses are told to work from home, and the local community tend to prefer to eat at home. There's just not a lot of foot traffic down there."