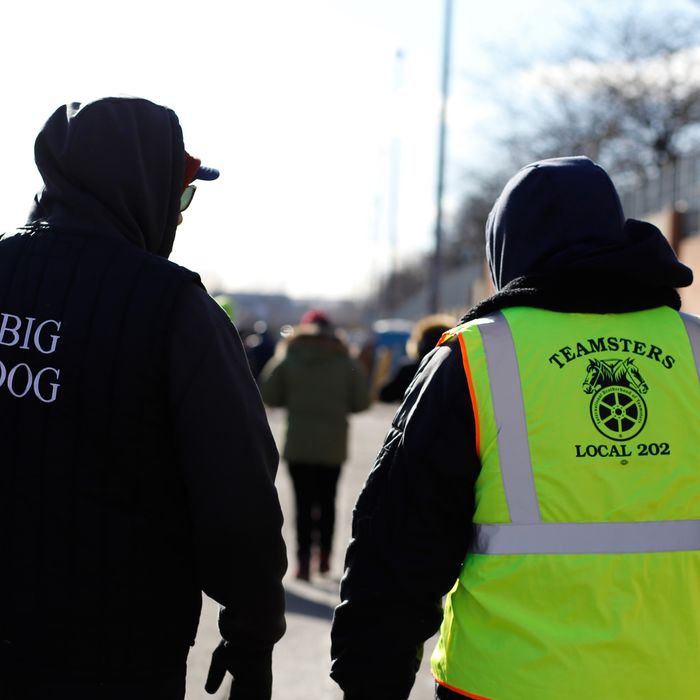 Members of the Local 202 union, on January 23, when their weeklong strike ended.
Photo: Alexandria Misch
Over the course of one week in late January, the Local 202 union managed to capture the attention of countless New Yorkers — including high-profile allies like Alexandria Ocasio-Cortez and Padma Lakshmi — as the essential workers went on strike outside of Hunts Point Produce Market to fight for a new contract in the middle of a pandemic. But in the month since the strike ended, some inside the market have lost hope, including Michael Reyes, who has also lost his warehouse job.
"They decided to lay me off," the 34-year-old produce worker tells me, after D'Arrigo, his employer inside the multibillion-dollar market, terminated his employment. "Four days after the strike," he says. "I'm from Hunts Point. Grew up right here. And I got fired."
Union leaders have confirmed that at least 26 members have been let go since the strike first brought attention to the controversial labor dispute between Local 202 and the Hunts Point Produce Market managers over wage and benefit increases. And because the Local 202 head count relies on union members to self-report terminations across nearly 30 individual merchants inside the market, the number could realistically climb. One source inside the market warns that the total number of layoffs could be closer to 40 warehouse workers.
Given the circumstances, Reyes asked his employer if the decision to lay him off was due to the strike. "And of course they said no," he recalls. (Local 202 leadership says they are actively investigating the terminations, though Reyes says he has not yet heard from the union.)
While the National Labor Relations Act prohibits employers from taking "adverse action" — which includes laying off employees, targeted "discipline," or refusals to reinstate workers — after a strike, recent yearly reports from the U.S. Equal Employment Opportunity Commission show that retaliation accounts for more than 53 percent of all employment-discrimination charges filed with the federal agency. Meanwhile, labor lawyers explain that it can be extremely difficult to win a case on the basis of retaliation or union-busting without written or recorded documentation, such as texts or emails, from a manager.
"People have been written up far more often for different actions than I've ever seen since I started working in the market," one warehouse worker says of his last seven years at Hunts Point. Like many people I spoke to, the worker asked to remain anonymous, fearing retaliation.
For others who have kept their jobs, they say the mood inside the market is far more tense than it was before the strike, not only with management but between workers who went on strike and others who stayed. "Coming back was weird, because instead of one union, it feels split, with guys who striked and the scabs," says warehouseman Michael Bombay, who has been in the union for more than 12 years.
Still, the employees with whom I spoke say they mostly fear for their jobs. "It's like after a bad report in school," says one night-shift worker, "and you're at home trying to walk past your parents without making eye contact." As someone else tells me, "It feels like working with the enemy ever since we went back, because the bosses are taking the strike personally."
Management, this worker believes, is looking for "any reason" to get rid of old workers, partly because of how the new contract, like those in the past, is structured. New employees remain at-will for their first 90 days, meaning management doesn't need just cause to fire them. After this 90-day period, workers begin to receive a $1,200-plus monthly health-and-welfare benefit contribution, in addition to $4.96 per hour toward their pension fund. But, wage discrepancies are nothing new, and a produce worker hired after January 17 won't receive the $19.27 minimum starting wage that was central to the strike. For the first year, new market employees instead make $16.75.
Produce workers openly theorize that the 90-day provision allows the merchants to cycle through employees like Reyes, terminating them right before the union benefits kick in. On Facebook, users who identify as past and present workers at the market have referred to this practice as an "89-day special." Officially, Reyes says he was told that the reason for his own termination was a downturn in business. (The vendor, D'Arrigo, did not return multiple requests for comment.) Chris Armata, a third-generation owner of E. Armata, another merchant, cites the same explanation when asked about his own layoffs, which he says are "not many, but a few" so far. "It's been very slow," he says of business during the pandemic.
Armata makes a point to emphasize his gratitude for the workers who kept business running. "We were fortunate during the strike — fortunate because we had a lot of our guys cross the line. We had probably 75 percent of our people working across the line because they trusted us over the union."
Regarding the strike's timing, Armata says it was "wrong." He adds, "Now was not the time, when people are out of work, and customers and businesses are sailing on such uncharted territory, where we've lost a lot of customers that were food service — now was not the time to do this and cause a strike."
Armata says the merchants proposed the contract remain the same until 2022. "All of our businesses in the market suffered during the initial pandemic, probably 40 to 50 percent loss. And nobody in the market laid anybody off," he tells me. (Armata confirms he secured a Paycheck Protection Program loan in April, as several other merchants did.)
"We've never really had issues with the union," Armata continues. "We really never have, because we abide by the way things are supposed to be done." He tells me he doesn't think the existence of the union is bad, but that "the way this was handled was way out of touch with reality." He says the recent layoffs are purely "business."
"No employer wants the union," opines 202 president Daniel Kane. "They tolerate the union."
One labor lawyer familiar with the key players at the market tells me the entire situation is "like Mad Men meets The Sopranos." The layoffs, this lawyer speculates, are about "sending a message."
In a statement provided on behalf of Hunts Point Market, the general manager Phillip Grant says the new agreement with Local 202 "represents an over 10 percent increase in wages and benefits" over the course of the three-year contract. "With an average annual increase just under three times the current cost-of-living increase, we feel this is a very fair and equitable contract that recognizes everyone's hard work."
The produce workers, who often work 10- to 12-hour shifts, overwhelmingly disagree with the market mentality. "I believe if they could go without paying us, or paying us the pennies on the dollar, they would do it," one produce worker explains. "They feel we are not entitled to get a raise of our worth? We work under so much uncertainty."
Even given all of this, Reyes says he absolutely does not regret the strike. "I have a family, bills, and a life," he emphasizes, "but also, at the end of the day, I feel good about standing for what I believe was the right thing."