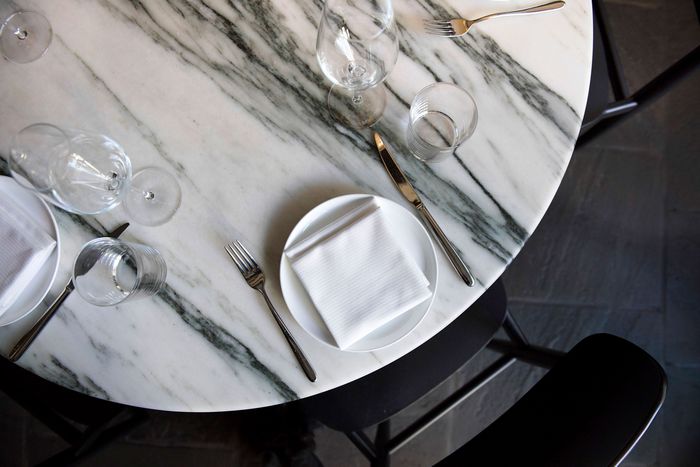 Owner Ignacio Mattos announced this week that his uptown restaurant will not reopen.
Photo: Liz Clayman
Nostalgia has been the drug of choice for bedraggled restaurant lovers during this endless pandemic, so let me take some time, on another gray winter afternoon, to wax nostalgic about Ignacio Mattos's Flora Bar, which closed forever this week, after being dark for almost a year. Sure, the great downtown chef's experiment in Upper East Side opulence was a little pricey even for its day (65 bucks for caviar and Parker House rolls!). No, it never developed a loyal local clientele the way the chef's famous Soho siblings Estela and Cafe Alto Paradiso did, for many of reasons, the main one being its star-crossed location at the bottom of the Met Breuer Museum, a chilly, brutalist space that always managed to feel less like a first-class dining destination than a cafeteria in a nameless institutional bunker.
For the itinerant critic on an expense account, however, there was much to like about the place, especially if you found yourself marooned among the old faithful Francophile and red-sauce joints in the neighborhood, so permit me a moment of reverie or two. The Tuxedo #2, made with Plymouth gin, Dolin vermouth, and a touch of absinthe was almost as good as the famous martini a couple of blocks east at Bemelmans; and if you felt like a little taste of Tokyo, the drink to get was the highball flavored with plums and little shreds of shiso.
Unlike at Mattos's clamorous restaurants downtown, you could enjoy these libations in contemplative, unhurried silence, and the food, when it arrived, was the kind of thing which we can only dream about now crouched in our tiny kitchens and windblown outdoor dining yurts.
Currently crouched in my own tiny kitchen, I'm thinking about the house croquettes, which, unlike any museum food I can remember, were stuffed with potatoes and deposits of melted raclette. There were curls of Iberico ham as stiff as ribbon candy, and a famously round, open omelette made with two kinds of caviar and a little quenelle of sour cream.
Mattos's idea was to imbue old uptown classics with a bit a downtown flair, which may be why the shrimp cocktail at Flora Bar is still remembered in fanatic shrimp-cocktail circles as one of the finest iterations of that shopworn dish ever invented (much of the seafood was fabulous), and so is the steak, which his cooks marinated in Vietnamese fish sauce, among many other things, and once served with onions, potatoes, and a little pool of fresh-whipped béarnaise.
Will you be able to get a decent shrimp cocktail and steak once this great black tide of a pandemic finally drifts out to sea? Of course you will, although like the mad cabarets of fin de siècle Berlin, Flora Bar is just one of many closed, or soon-to-close, places around the city that have looked for a while now like artifacts from a distant, vanished age.
It represented the tail end of a boom-or-bust time in the city's dining history when things were coming apart at the hinges, and although there was a certain madness in the air, there was plenty of energy and creativity, too. Top chefs like Mattos will be busy for the next few years sticking to their established neighborhood terroir and trying to preserve the restaurants they have left.
There will be energy and creativity in the post-pandemic dining world, of course, but it will return in all sorts of different, unexpected forms, and my guess is that it will be a good long while before you can enjoy a caviar omelette and a worldly cocktail or two at the bottom of an old uptown museum anytime soon.