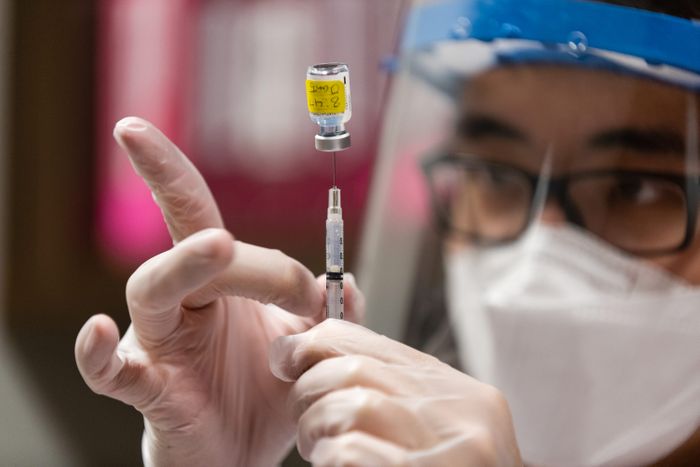 Until today, restaurant workers didn't know when they could get vaccinated.
Photo: Bloomberg/Bloomberg via Getty Images
Every day is full of surprises! Yesterday, New York governor Andrew Cuomo called demands that restaurant workers be made eligible for vaccination "a cheap, insincere discussion." Today, however, he announced that restaurant workers (along with taxi drivers and developmentally disabled communities) will, in fact, be eligible for vaccination, as long as "local governments" determine it makes sense and have the necessary supplies.
Here's how it will work. Local health departments can add the new groups to the current 1b phase of the rollout, Cuomo said, "if they think it works within their prioritization locally."
Last week, Cuomo's decision to bring back limited-capacity indoor dining in New York City was met with anger because restaurant workers weren't, well, eligible for the shots themselves. Many in the industry saw this as the latest instance of their being deemed "essential" workers but not treated as such or in a way that prioritized their safety.
New York State's vaccine rollout has been mired in delays and hampered by mismanagement, and in his presser, Cuomo talked about the federal government's failure to deliver enough vaccines. "We have 7.1 million people who are eligible. We have 300,000 doses that we get a week. Do the math," he says. "There's nothing we can do about that."
The governor did note, however, that the vaccine supply will increase 20 percent for the next three weeks. That increased supply, he says, will allow for more flexibility. "I'm leaving it up to the local governments to make a determination of what fits their situation best," he adds.
This post has been updated with more information about New York's vaccine supply.