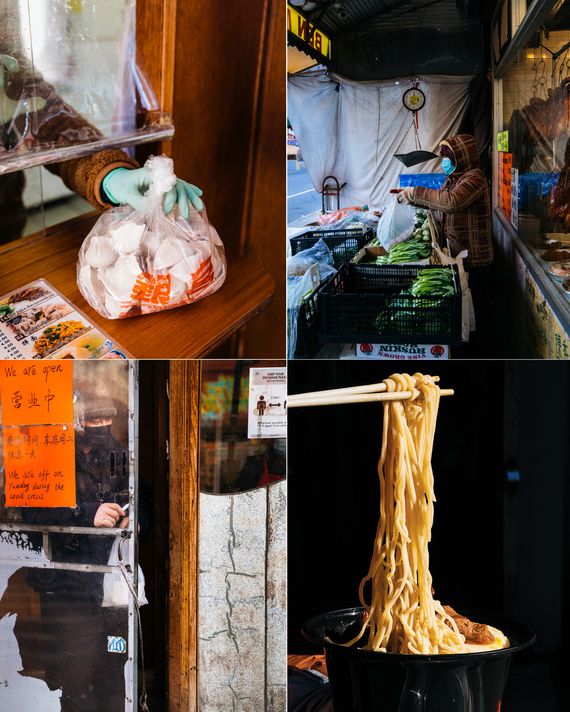 Longtime eaters tend to have favorite routes through their old familiar dining territory, like ancient hunting trails or hidden pathways through the forest. During less complicated times, my culinary rambles through that oldest of New York City dining neighborhoods, Manhattan's Chinatown, used to begin at Eldridge Street just below Delancey. There tended to be fewer tourists than on Mott Street, say, or the sidewalks of Canal, even back in pre-COVID days. The street has long been a mecca for lovers of dumplings (Vanessa's, the old Prosperity Dumpling) and hand-pulled noodles (Super Taste), and the walk south past the fashion boutiques and mixology bars toward the original tenement buildings bunched up at the bottom of the Manhattan Bridge always seemed to me like a leisurely stroll through the cultural and gastronomic history of Chinatown itself.
Like the rest of the city, Chinatown is a changed world, of course, but with the Lunar New Year approaching, it seemed like a good time to venture down the old trails again to see how the neighborhood was faring. Mott Street was strung with new orange and purple paper lanterns, and the streets around East Chinatown were more crowded than I remembered from visits this past spring and summer. The markets along Grand were filled with masked shoppers buying bushels of chestnuts and winter mushrooms, and at a place called 99 Favor Taste, on the corner of Grand and Eldridge, tables were set on the sidewalk, where customers were enjoying brunchtime vats of simmering, oily red hot pot.
Wilson Tang, whose Nom Wah Tea Parlor marked 100 straight years in business during the cursed Year of the Rat, told me that although "it's possible to see just a little light at the end of the tunnel" for restaurants like his, the best time for any Chinatown culinary tour is still on a weekend ("Weekdays are pretty dismal") — and make sure the sun is out, because on rainy days even his noted dim sum destination struggles for customers. Trump's overtly racist "China virus" label has had a real effect on business, he said, but the community has rallied, particularly the younger generation, whose members have created projects like Welcome to Chinatown that have raised hundreds of thousands of dollars to help keep local businesses afloat.
Many of the storefronts along Eldridge were closed when I went foraging for dumpling rations during the summer, but more of them are open now, including the Platt family's favorite supplier, Shu Jiao Fu Zhou Cuisine, which reopened in November on the corner of Broome. I'm happy to report that $11 still buys a bag of 50 pork-and-chive dumplings there, although you may have to wait outside the door because customers are allowed in only two at a time. A counterman once told me the dumplings vary in thickness depending on whether you plan to boil or fry them at home (we like to boil them), and for a few dollars more, you can get a tub of cool, chewy wheat noodles poured with one of the lighter, more delicate iterations of peanut sauce you'll find not just in Chinatown but anywhere in New York City.
Super Taste is open for business too (call for the Special House Noodles with a fried egg on top), and if Hong Kong–style milk tea is your addiction, Jennifer Tam, co-founder of the Welcome to Chinatown initiative, which has raised an impressive $650,000 for local businesses since it was founded in March, recommends 388 Cafe & Deli at the bottom of the street. Milk tea isn't your humble critic's addiction, as it happens, so I bought a crunchy breakfast cruller at a busy little cafeteria called the Lian Jiang Restaurant at the end of my favorite Chinatown dining trail and ate it as I walked under the rumbling bridge before making a couple more stops on my rounds and then turning north with my noodles and bountiful bags of dumplings for the long walk home.
*This article appears in the February 1, 2021, issue of New York Magazine. Subscribe Now!