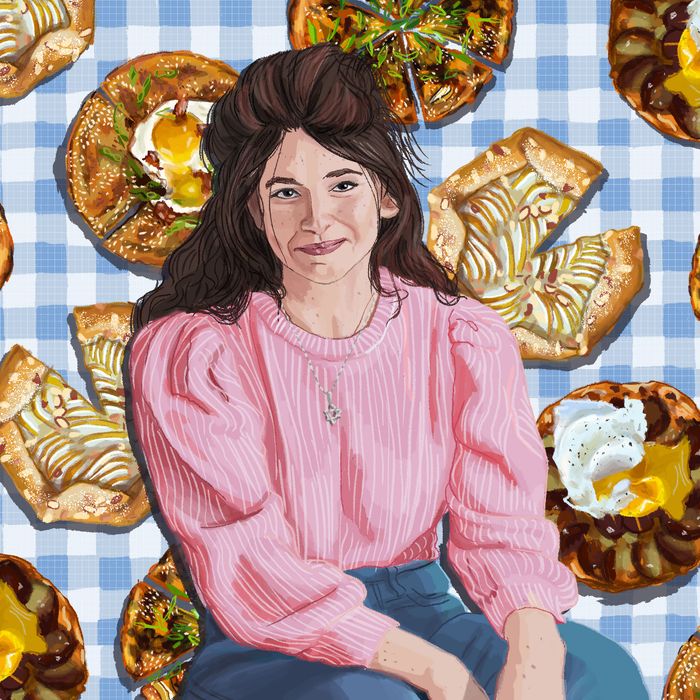 Caroline Schiff and her carbs.
Illustration: Margalit Cutler
One year ago, the pastry chef Caroline Schiff was gearing up for the reopening of Gage & Tollner, the revitalized historic Brooklyn restaurant where the great Edna Lewis once cooked. But … then the restaurant had to shut down before it officially reopened. Now Gage & Tollner is, sort of, opening again, starting with two to-go meal kits to which Schiff has been contributing dough for biscuits and desserts like cashew-coconut cookies. "Coconut is like a staple for me," she says. "To this day, my favorite popsicle is a coconut FrozFruit." Along with her gig at Gage & Tollner, Schiff is the head chef of Slow Up, an energy-bar company, and is at work on her first cookbook, which she spent time working on this week. During the pandemic, she has also been making, she says, "a more conscious effort" to get food out.
Tuesday, February 16
I am a coffee-before-anything kind of person. I used to drink so much coffee. Too much, to be honest. Easily three cups a day. But during the pandemic, I've really worked to have less because it just fuels the flames of anxiety, so now, most days, it's just one big cup in the morning with some milk and I'm fine. I'm not too picky about my coffee, either — there's lots of stuff I nerd out on, but coffee isn't one of them. I just like it to be strong. I do pour-over with whole milk.
I grabbed a savory Slow Up bar for breakfast. So much of what I'm eating throughout the day is recipes I'm testing or bits of sweet stuff at work, and the idea of meals some days is just out the window.
Before work, I biked over to Crown Finish Caves to pick up the cheese we need for our Gage & Tollner dinner kits. I love Crown. It's one of the coolest places in the city, so anytime we need someone to pop over there, I volunteer. In non-pandemic times, my friend took me through the cave and let me taste special things. This time, I just picked up a big wheel of Windham. I love cheese, and if I weren't a pastry chef, I'd be in the cheese biz.
While in the neighborhood, I went by my friend Woldy Reyes's modern-Filipino pop-up at Ursula. Woldy is one of my favorite chefs, and he's been doing pop-ups throughout COVID. The pandemic pop-up trend has given me so much hope and inspiration. The restaurant industry has been devastated by COVID, yet chefs keep finding creative ways to work and feed people.
I got his fried-mushroom sandwich and some lumpia, and he generously added the bibingka waffle with homemade marmalade and Anita's vegan coconut yogurt. I'm not vegan, but I love her yogurt. It also works great in baking. I devoured the sandwich and lumpia right away. I just went to town on the sidewalk outside Ursula and was like, WTF, Woldy, this is SO good. I got way too full and had to go to work, so I saved the bibingka waffle for later because I needed to be productive.
At Gage & Tollner, I was setting up all my doughs and sweet stuff for the week. I love being there early in the week, getting everything restocked and taking a tight inventory. It makes me feel collected and like everything is right with the world. The pastry components of the dinner-at-home kits are a lot of frozen doughs that people get to bake off themselves. Because I'm not getting to work with the final product, I always eat some raw dough and then bake off one of each batch just to make sure it's right on. Not seeing the product in its final stages and not being in control of that does give me some pastry-chef anxiety, if I'm being totally honest, but we send concise instructions with each kit.
I baked and ate a chocolate-chunk cookie with some sea salt, and it was top-notch. I like to use discs of chocolate in my cookies, not chips, because they distribute better. I also made a batch of biscuits to test later and some sweets for the Sunken Harbor Club takeout menu: a miso-butterscotch pudding with a chocolate-rice-cookie crumble and coconut, cashew, and lime cookies. They'll be ready to taste on Wednesday.
I finished up at work, walked home and then did a few hours of work on my cookbook manuscript, followed by a little late run. I was kinda beat and ended up making myself a cheese plate for dinner with some olives and a glass of red wine. I got a box from Fresh Catskills with beautiful local produce, dairy, eggs, and more, and there was a portion of Nancy's Hudson Valley Camembert inside, which is one of my favorite local cheeses. I always have cheese on hand. My favorites for snacking are generally soft, super-fatty, bloomy-rind varieties. I really love a gooey, funky cheese. Honestly, I could have a cheese plate with some wine for dinner most nights and be totally happy about it. In Fort Greene, I usually stock up on cheese at Greene Grape Provisions and bottles from their wineshop next door. I love their selection. I also had half of Woldy's bibingka waffle for dessert, and the texture was so satisfying but I couldn't eat the whole thing.
Wednesday, February 17
Back at the restaurant early, so it was coffee and a Slow Up bar for breakfast, plus the rest of Woldy's waffle. The waffle was still so good.
At work, I portioned three sheet pans of walnut brownies. Portioning brownies is the best job because there's always trim to snack on, and it makes you the most popular person at work for a few minutes. Everyone comes by my station to say hey and take some brownie bits. I really love sharing little pastry morsels with the team. Ask anyone I work with — I'm always putting out little snacks.
I noshed on some of the brownies for quality control. They were very fudgy, just how I like them, and walnuts are my No. 1 nut. I baked off a frozen biscuit to make sure the batch is exactly what I want. We send the biscuits frozen with braised-pork dinner kits, so again, not being in control of the final stages means undue stress and anxiety. But it's a delicious biscuit. I use a combination of cream and buttermilk, best of both worlds.
Family meal was put out, and while I was not starving, I couldn't help but have some, plus it's truly the best feeling to sit with everyone again in the most beautiful dining room ever. We are blessed with a big space, so we all sat at separate tables or booths with plenty of space for safety.
One of our chefs, Danisia, made a glorious big salad with lots of delicate lettuces, crispy radishes, carrots, and a bright, acidic dressing. Simple and perfect. Lots of black pepper. It felt nice and refreshing after having eaten mostly carbs and sugar the past two days, and much like Elaine Benes, I love a big salad so I took a heaping bowl.
There was rice, too, and I added an inappropriate amount of our housemade chili crisp that goes on chef Sohui's Sunken Harbor Club wontons. Rigo, one of our chefs, makes it, and it's so good I could bathe in it. He's a condiment genius, and I swear every sauce he makes is like the best thing I've ever had.
At home, I settled into writing for a good portion of the evening. I fed my sourdough starter and made a sesame-and-scallion pancake with the discard. This crispy, no-fuss pancake is my pandemic paramour. Especially with the amount of sourdough recipe testing I've been up to for my cookbook. It's just so easy and satisfying and reduces food waste, which truly keeps me up at night. I have it with a very quick and spicy tofu, chile, and mushroom stir-fry, topped with microgreens. I tend to get hit with cravings for salty, spicy, acidic, punchy foods. Maybe because I work with sweet stuff. I don't know, just a theory.
Thursday, February 18
It's my usual coffee routine. I quickly tested a batch of sourdough muffins for my book and tried one. They're morning glory with lots of nuts and fruit. So good, lots of texture. This is the second round of testing for this recipe, and I'm almost happy with it.
At G&T, I took in a bunch of deliveries, which I like doing because it's kind of a free workout. I baked off our sourdough boules, which we use for croutons and bread crumbs in the dinner boxes. I sliced into one to check the flavor and the crumb. I love bread so much and had a big, warm slice. Left alone, I'd easily have the whole loaf, but I'm a professional.
I did some quality control on my miso-butterscotch pudding, tasting a few spoonfuls. It's salty and sweet topped with the crunchy chocolate-rice-cookie crumble, my favorite. Also the cashew-coconut cookies. I baked off what we needed for service, plus an extra little one to taste. So yummy. The dough has only egg white in it, no yolks, so they get really fluffy. I'm a sucker for coconut anything.
Since it was late and I was a little hungry, it's another sourdough pancake. This time with some homemade beet-and-cabbage sauerkraut, dipped in this hot German mustard from a tube that I recently found at Sahadi's and have been squeezing on stuff with abandon. I love sauerkraut and make giant jars of it so there's always some on hand. I've always adored spicy mustard, too.
Friday, February 19
Friday was nutty. I wasn't at the restaurant. I had coffee and tested two recipes in the morning. I made a brown-butter white-bean dish for Fresh Direct that came out nice, and I ate it with a soft poached egg and some grated Parmesan while I typed the whole thing up. Then I tested some sourdough-pumpkin muffins, so I had half of one of those. This was the third time I've tested them, the fourth time all together with my recipe tester, and I really think we are close to nailing them. They have a crunchy streusel topping, which is really it for me.
I met up with Leland around lunchtime at a little market that's going to be carrying my Slow Up bars soon! I'm so excited. While we were there, the buyer gave me a sample of these incredible Swedish potato chips called Larssons — chive, dill, and sour-cream flavor. Love dill anything! I've never seen this brand before and don't know what is going on, but they are SO GOOD and I ended up snacking on them big-time. I think they're using top-notch Swedish potatoes and not peeling them. We grabbed a coffee at Blue Bottle as we wrapped up and then I headed home to write for a while and start to plan out the photo shoot for the book.
I started thinking about dinner and made myself a cheese plate with some olives and a glass of wine while I considered my options. Of course, I could've just eaten cheese for dinner, but I figured I needed something else.
I didn't really have the energy to cook, so I got takeout from a new spot, Taqueria Fort Greene, in my neighborhood. I got a taco, fried plantains, guacamole, and some sopes. All delish, especially the plantains, but so much food, so I ended up wrapping up the sopes. Late night, I noshed on some chocolate while watching TV. It was a beautiful Fruition Chocolate Works bar (61 percent dark milk bourbon) from my Fresh Catskills box.
Saturday, February 20
I worked from home, editing recipes for the book. I had some coffee and a little muffin from the test batch.
I took a break to go say hi to some friends in the park and gave them the rest of the muffins. I'd had too many. No one talks about this, but the recipe testing for a cookbook is incredibly stressful due to the sheer quantity of food you have around. I hate wasting. I've been giving stuff to friends and neighbors and individually wrapping cookies for the community fridge. I make sure it all goes places if I'm not eating it.
Back home, I was suddenly starving and remembered I had my leftovers. I'm a leftovers queen! I heated up the sopes and added a fried egg, plus some extra guac. I like to fry my eggs in olive oil and get them super-crispy around the edges but keep the yolk runny. I added a bunch of hot sauce. A perfect lunch.
I ended up writing the rest of the day, which was great because I'm on a tight deadline and have generally been stressed about everything every day. I took a break toward the evening and went for a run, doing a five-mile loop of the park. It was cold, so I kept up a good pace. By the time I got home and showered, it was dinnertime, and thanks to my run I was really hungry. I love how hungry a run will make me.
I hopped on the subway and met a friend in Chinatown at Deluxe Green Bo. We sat outside, and it was cold but I'm always game. I'm always excited to support my industry, and they have a great, safe outdoor setup, too. I love the eggplant, lo mein, greens, scallion pancakes, and steamed dumplings. The eggplant is the star, just so wildly good. It really knocks my socks off. The texture is perfect, and the sauce is sweet, savory, and luscious. Hot tea was lovely and kept us warm. I packed up my leftovers to go, of course. They'll be so good tomorrow.