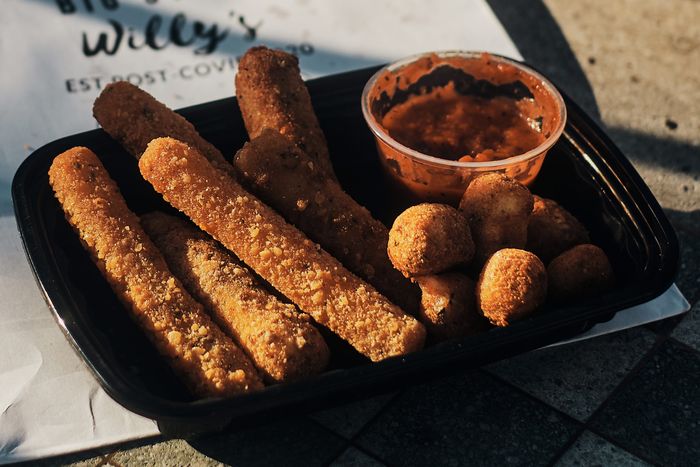 The specialty of the house at Big Stick Willy's.
Photo: Christian Rodriguez
For three weeks straight, I dreamed of mozzarella sticks. To be fair, I've thought about mozzarella sticks on and off for most of my life, but the intensity of my lust grew as I stayed in my apartment to quarantine for almost a month, unable to go anywhere after a COVID exposure. As soon as I was able to safely go outside again, I knew what I had to do.
A friend first told me about Big Stick Willy's, a new delivery-only business in the East Village that — true to its somewhat, um, evocative name — specializes in mozzarella sticks. As soon as I saw the text, I realized I hadn't had them since the pandemic began, probably because I only ever really ate them at bars and diners. The realization broke my heart, and I examined BSW's online menu so much that, by the time I finally got there, I could probably have recited it from memory.
There was the classic, which they call the Missionary, but there were also sticks that involved new cheeses (Gouda!), and coatings that went beyond the usual Italian bread crumbs (pretzels! Cheez-Its!). Before I'd even tried it, I wondered: Is Big Stick Willy's, despite its irksome naming conventions, about to become my new favorite restaurant?
When I moved to New York, I made it something of a goal to find the very best mozzarella sticks in the city, grading them based on five key criteria: structural integrity, quality of "the cheese pull," the coating-to-cheese ratio, and both the crumb coating's taste and texture. Usually, of course, mozzarella sticks are fairly standard pub grub, an excellent idea with a disappointing execution just waiting for some genius to finally give them the respect they deserved. I was hopeful, albeit cautiously, that a devotee like Big Stick Willy might be that genius.
Willy is actually Will Reynolds, a Texas native who fell in love with New York on a school trip and moved to the city at the earliest opportunity. Last March, like many New Yorkers, he found himself locked down in his apartment. Most of his friends had fled the city, so to stave off the cabin fever, Reynolds took to walking around Manhattan, usually gravitating toward the East Village, which itself felt emptier and more desolate than before. "It was tough to see the neighborhood like that, because I really loved it," he recalls. "I wanted to bring some joy back to the East Village. And I want to do that through food with humor."
Though Reynolds was inspired by other single-item businesses — like legendary fry purveyor Pommes Frites — he had to deal with the realities of COVID-era New York, so instead of a full brick-and-mortar, he set up two ghost kitchens, one in the East Village and one in Murray Hill. When I arrived at the East Village address, I was confused to find a bodega, but I made my way inside and found the bag I'd ordered, festooned with anthropomorphized cheese sticks ripping one another apart.
I am acutely aware that time is the enemy of fried cheese and can ruin even the best stick. Ranking the city's mozzarella sticks is a serious endeavor, so I opened the bag as soon as I got back to the sidewalk. The original was solid, if not exactly revelatory — a crisp-crumbed classic with a noteworthy cheese pull. They also offer deep-fried wheels of miniature Babybels, and I can only wonder why nobody thought to do this before.
Much to my surprise, my favorites were Reynold's more experimental innovations, like a stick of pepper Jack coated in salty tortilla crumbs ("La Flama Blanca") and one version, called the Heart of Willysburg, goat cheese that was coated with crumbled Raincoast Crisps. Somehow, bro culture and mom culture collided in this stick, and the result was bar food that reminded me, pleasantly, of a tasteful cheese platter.
Does Big Stick Willy's deliver on its promise of perfect mozzarella sticks? Maybe! Each item I tried only garnered, at most, 23 possible points on my 25-point scale, with most of the points deducted for texture, something that I have to believe would improve if the sticks were eaten in their proper environment: out of a red plastic tray, ordered after one too many drinks, shared by a group of friends. When we can do that again, I'm confident these mozzarella sticks — and everything else — will improve immeasurably.