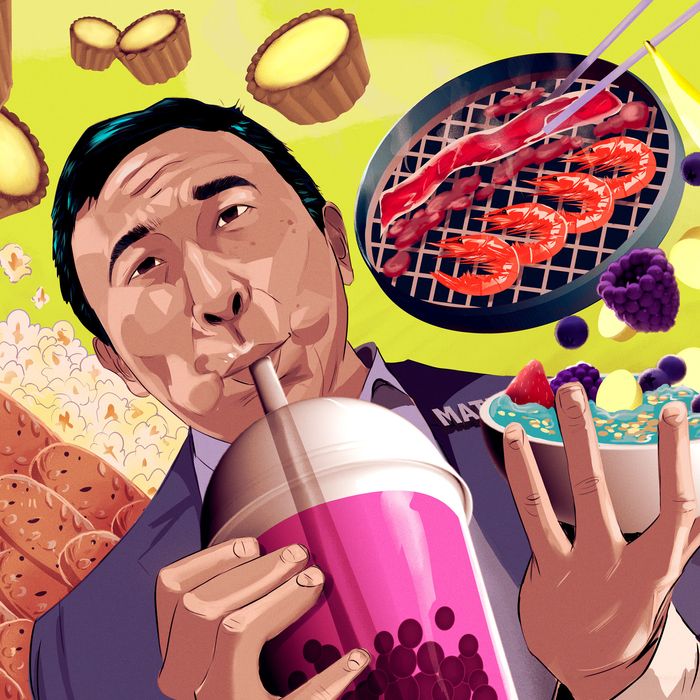 Yang is the current front runner in New York City's mayoral race.
Illustration: Ryan Inzana
At this point, New York City mayoral candidate Andrew Yang's love of bodegas is well documented, but he says that his passion for New York's food goes much deeper, something he realized while he was recently quarantining after a COVID-19 diagnosis. "I did experience a loss of taste. It happily only lasted a day and half, but it was a very unpleasant day and a half," Yang says. "It was a very unhappy time." But now that he has recovered, he's gone back to ordering in lots of food, with this week serving like a greatest-hits of the city's delivery options: sushi, dumplings, ramen, pizza and, of course, Shake Shack.
Saturday, February 13
Typically, I wake up between 7 and 8 a.m. Breakfast is usually cereal, or chocolate babka, or ricotta on toast for Evelyn and the kids. I've been eating almond butter on multigrain English muffins with apples.
I don't drink coffee. I took martial arts in my teenage years and the instructor had a no-caffeine rule, so I have stuck with that — with the major exception of green tea. I have convinced myself that green tea doesn't have much caffeine. I actually don't know whether that's accurate, but as far as I can tell, I don't have any reliance on caffeine at all.
We ordered Shake Shack for lunch. My standard order is a single hamburger with lettuce and tomato, no sauce. Got the bacon cheeseburger for one of my boys. My other son, for some reason, has been eating beef patties plain. It's strange. Evelyn will have a normal ShackBurger with Shack sauce and cheese. We'll get one shake — typically vanilla — that we split among the boys and ourselves, and then at least one order of fries.
For dinner, we ordered Sushi on Jones. We've been ordering high quantities of food, truly. We went a little overboard a couple times, ordering a lot of Asian food. This night, we got avocado and cucumber maki, chicken katsu sando, edamame, a restaurant-week special of king salmon maki and tuna maki, toro nigiri, and tuna crispy rice.
Sunday, February 14
Valentine's day was like the least romantic day ever. I feel really bad about this. If I wasn't quarantining, I would've taken Evelyn to a Korean restaurant, because it's her favorite type of food. There are some good-looking Korean restaurants around here that we haven't been to, so that would've been the move.
There was a period of my quarantine when I was like a prisoner. The door would open and a plate would be slid into the room, and then I would just see a retreating hand. It was like that for a number of days, and it wasn't very cool. I was quarantining in one of my kid's rooms. My kid's table where he usually does Zoom class is where I took all my meals, and in order to do work, I would essentially just turn around and have the other wall as my background.
We've been ordering a lot of Brodo, the bone broth, which Evelyn discovered. Brodo is a godsend. I love Brodo.
We've also been ordering a lot from Tim Ho Wan in Hell's Kitchen. Evelyn is a chicken-feet person. I go hard on the congee and the dumplings. My kids are partial to beef and pork buns and dumplings, whereas I tend to gravitate more toward seafood or chicken dumplings. Not that I'm above eating a good pork dumpling, but the kids are more attracted to them, and one of the rules in the family is, essentially, if one of my kids likes something, I shouldn't eat it because it should be for them.
I've got a soft spot for "mainstream" Chinese food. I was a busboy in a Chinese restaurant called Imperial Wok. We would have a very early dinner and then a late dinner. My default meal was white rice with tons of hot and sour soup and sometimes fried noodles. Most of the time, what they served was fine, because I'm not very picky. I think part of what having that job taught me is to always tip well.
Monday, February 15
English muffin for breakfast again, and we also ordered from CoCo Fresh Tea & Juice on 72nd St. We got two winter melon teas and one smashed taro milk. Winter melon tea is decaffeinated, so it has essentially become the kids' drink in our family because it's a bit sweet — there's no caffeine involved, it's not really tea. When we go to certain bubble tea places, we order it for our kids. At this point, Evelyn and I sometimes drink it, too.
We do cook, but there was no cooking going on this week. We would ordinarily cook more. For dinner we ordered from Little Alley, a Chinese restaurant in Murray Hill, which I don't think we've ever ordered from before. It was a giant feast again: Chinese sausage fried rice, scallion pancakes, oxtail soup, beef dumplings, pan-fried pork buns, potstickers, rice dumplings in rice wine, Shanghai rice cake and capsella flower.
At this point, I was out of the quarantine room. I ended up eating a bunch of the potstickers and scallion pancakes for lunch and dinner.
I grew up eating a mix of Chinese food and more traditional American fare. I have a brother, and mostly my parents worked so they had to be efficient in how they fed us. They would bring home Chinese takeout probably once a week. There'd be pasta nights once a week, too. We would eat pizza once a week. My mom would prepare various Chinese food meals like, uh, steak, fried rice. It was a mix., the ratio was probably about 50/50 in Asian food and traditional American food.
Tuesday, February 16
I was in the office, back campaigning. I had chicken paitan ramen from Totto Ramen for lunch. I had some golden oat Belvita cookies as a snack, too.
This particular campaigning day was very Zoom-heavy, so it was a situation where I was just ordering whatever I wanted. I thought, Oh, I want ramen for lunch, and I'll have Empanada Mama for dinner. 
Empanada Mama is great. I had arroz con pollo, and a banana-and-chocolate empanada for dessert.
Wednesday, February 17
Back on the trail to launch People's Bank in Harlem! New York is the financial capital of the world, yet 12 percent of families don't have bank accounts. These are mostly low-income Black and brown households. To combat this, the People's Bank — initially funded with $100 billion from the city — will expand basic financial services and products to more New Yorkers.
For lunch, I had mediterranean food: chicken shawarma, pita bread, lamb shawarma, and hummus from Mémé.
I'm going to focus on food as mayor. We have to let people understand that New York City is open for business — these restaurants are open for business, and they need us. I think that Asian restaurants are suffering at higher levels than others, for a number of reasons, so I'm going to take advantage of the fact that if I post something as straightforward as a meal, it will likely be seen by thousands of people. Hopefully people will say, That looks delicious — I could use that kind of meal, and then maybe they'll take a trip into the city. Or maybe they're already in the city, and they can order.
We need to hammer that over and over again, and it's going to be very natural for me because I do it, obviously, like every day. It's very little exertion for me just to share what I'm eating, and I think I can inspire people to get excited about New York as the culinary capital of the world.