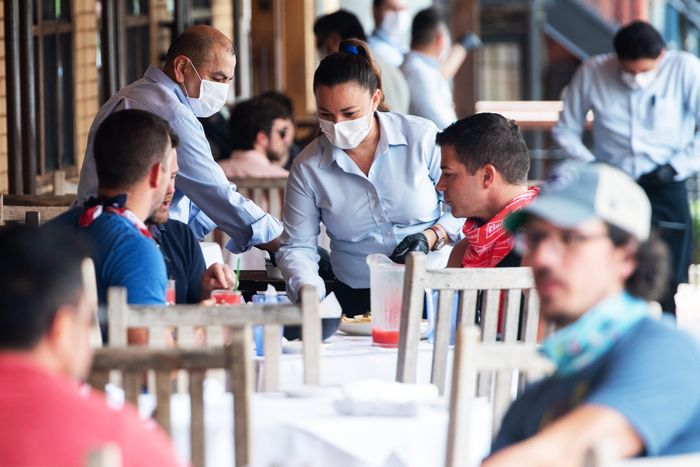 Washington, D.C., restaurant and bar workers will be eligible for vaccination starting on February 1.
Photo: Saul Loeb/AFP via Getty Images
Across the United States, the rollout of a COVID-19 vaccine has been slower than anticipated, with unclear timelines and conflicting information about who is eligible to be vaccinated and when. Of the 20 million people that the federal government's Operation Warp Speed project expected to be vaccinated by the end of the year, only around 2 million actually were, and in New York, Governor Andrew Cuomo has threatened hospitals with fines if the pace of vaccination is not sped up. But now, one major city has taken a step toward letting restaurant workers — most of whom interact with numerous members of the public each day — know when they can expect to receive their first shots.
In a press conference on Monday, Washington, D.C., mayor Muriel Bowser announced that restaurant workers have been deemed essential workers prioritized for vaccination, and, as reported by the Washington City Paper's Laura Hayes, those workers have a target vaccination eligibility date of February 1. (In New York, phase four of the vaccination rollout will cover "all other essential workers," which the CDC defines as including restaurant workers, but it's unclear when that phase will begin. States also get the final say on distribution.)
Throughout the coronavirus pandemic, workers in the food industry — restaurants, bars, delis, cafés, and beyond — have been among those who have borne the brunt of the pandemic both financially and at risk to their health. As more restaurants and bars reopened for takeout or outdoor dining over the summer, workers returned to work in the middle of a public-health crisis, and many felt they were being asked to put their own well-being at risk for the unnecessary convenience of others.
"I feel like if you're going to call us essential workers, then we should get the vaccines before the public, after all the doctors, first responders, and old folks," one bartender told Grub Street this morning. "Definitely before the rich people who just want to go back to 'normal,'" she added.
Even then, though, this worker says that it would feel like a small victory after an impossibly difficult year. "Yes, I will feel a slight weight off my shoulders, but it doesn't change the last nine months, the lack of support for the industry, and the abuse toward service workers," she said. "It feels like a consolation prize after failing for a year. That's depressing, but that is where I'm at."