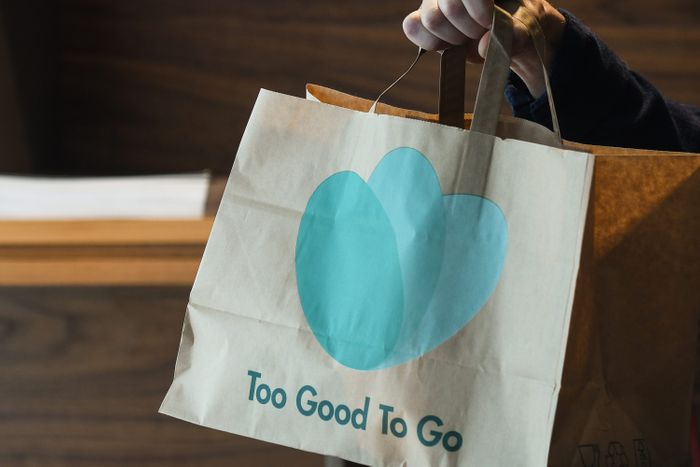 Too Good to Go launched in the U.S. late last year.
Photo: Artur Widak/NurPhoto via Getty Images
One problem with pandemic living is that it is boring. While I would not say it is the main problem, there are few surprises and no happy coincidences. The only accidents are bad ones. You can still have "adventures" and experience "new things," but only through sheer force of will. You have to make plans, and then you also have to maintain enough enthusiasm for those plans to stick to them. Of course you can walk several miles to try, say, a new kind of doughnut, but the chances that you will simply stumble upon one, serendipitously, are significantly slimmer than they were a year ago. For one thing, you'd have to leave the house.
But the possibility for novelty still exists. The other week, for example, I stumbled upon an app called Too Good To Go, a Danish import that allows you to buy random grab bags of restaurant leftovers for cheap. The point of this, according to the company, which launched in the U.S. late last year, is to combat food waste and therefore climate change. "Each year, 1/3 of food produced in the world goes to waste, and it is responsible for 8 percent of all greenhouse gas emissions," reads the tagline on the company website. "We are on a mission to change that — are you with us?"
I might be with you, I thought, downloading the app. I like the climate, and I am also quite motivated by the promise of a sale.
Here's how it works: When you open the app, you're greeted by a list of coffee shops, restaurants, grocery stores, and bakeries in your general area with leftovers to sell. You don't know what leftovers, exactly, though the app offers loose categories — "meal," "groceries," "baked goods" — and there is room for restaurants to add elective details. (Raffetto's, for example, promises some assortment of fresh pasta, and when I last looked, the Stumptown in Cobble Hill was doing breakfast tacos.) But most of the time, you're getting what the app calls a Surprise Bag, which means you're flying blind: You know the place and the price — generally one-third of whatever it would be under normal circumstances — and the time you're supposed to pick it up. The rest is up to fate. It's like a cross between a CSA and geocaching.
The Surprise Bags are "really the main success factor for our whole concept," says Gaeleen Quinn, Too Good To Go's East Coast director. From the restaurant side, the Surprise Bags make the whole undertaking doable. "They don't have to update an inventory," Quinn explains. "They don't have to put too much thought into it." Selling bags of extra scones at one-third of list price — minus the app's cut, a $1.39-per-bag flat fee — only works if it is effortless, as "easy as throwing food in the trash," Quinn says.
My first several days on the app, I was overwhelmed by indecision and bought nothing, but I checked it constantly. It was like social media, only instead of hot takes, there were listings for muffins. You can see how many bags are left at any given vendor until they're gone, at which point, you can see when they sold out.
Eventually, I was ready to take the plunge. For my maiden surprise, I chose Clementine Bakery, in Clinton Hill. I would receive "baked goods," and the handoff would take place around 5:30 p.m. As the hour approached, I walked with purpose and precision. This was a problem, because it meant that I was very early. So I circled the block a few times and listened to a podcast about the history of the Iraq War.
At 5:33, I arrived at the handoff point, where I tried to express that I was here about the leftovers app. A very nice barista handed me a brown paper bag and then patiently explained how to press the buttons on my phone to mark the operation complete.
Inside the bag, which cost $4.99, I found: two enormous muffins, one savory sundried tomato biscuit, and a turnover. And the surprises just kept coming! For example, the two gigantic muffins were gluten-free, which I ascertained by tasting them.
Were these the baked goods I would have chosen? They were not. And yet: the novelty! The delight! The total abdication of responsibility! I did not love my muffins, but I did love the experience of my muffins. What kind of muffins were they? I still don't know for sure! I felt the thrill of newness and the tingle of possibility.
"I think it becomes addictive," Quinn tells me. Anecdotally, I can verify this as true because I instantly became hooked.
It only took a few days before I felt familiar with the regular businesses, stalwarts that had new bags almost every day. Quinn estimates there are about 650 places currently signed up for the service, with new ones being added all the time. There is Peaches Hot House and Taïm and Jing Fong and Brown Butter Supper Club and a Bed-Stuy banh mi pop-up and a surfeit of pizza places. There are several different grocery stores, and there are a lot of bakeries, for the obvious reason that bakeries are particularly well-suited to the business of bagging and selling random-but-desirable leftovers. If you are in the market for heavily discounted bagels, I know a place, by which I mean, I know at least 15 of them.
I checked the app and checked the app and checked the app and checked the app. Everytime I opened it, there was a possibility of newness. Everywhere I walked, I pointed out restaurants that were on the app. "They're on the app," I told a friend, as we walked past Gran Caffé de Martini in Prospect Heights. "They're on the app," I said, pointing to Brooklyn Shawarma. "I'm pretty sure," I'd say, in a half-whisper, "that place is on the app."
At Runner & Stone, in Gowanus, I paid $4.99 for what turned out to be a ham-and-cheese sandwich on baguette, some kind of whole-wheat roll, a still-warm loaf — a loaf! — of whole-wheat sourdough bread, and an arancino the size of a snow globe. At Philly Pretzel Factory, I got a bunch of little pretzel nubs coated with cinnamon-sugar (a "Cinnamon Rivet Shaker"), six soft pretzels, two dips, and a pretzel-wrapped hot dog for $3.99.
Too Good To Go's primary concern is "saving meals" — "We've already saved 70,000 meals in just three months in New York and Boston" — although my main concern is that it offers a feeling of escape for five dollars. There is anticipation. There is suspense. There are often baked goods. It is an excuse to strap on two masks, leave the house, and walk with purpose to a specific place at a designated time. You press one button and you are committed and there are no further decisions except whether you should eat your six large pretzels right away, or freeze them for later.
I ask Quinn if she thinks this is the app's real appeal, that the service scratches a desperate itch for pandemic novelty. "I didn't think about that," she laughs. "But that could be a factor — we need some sparkles, right?"