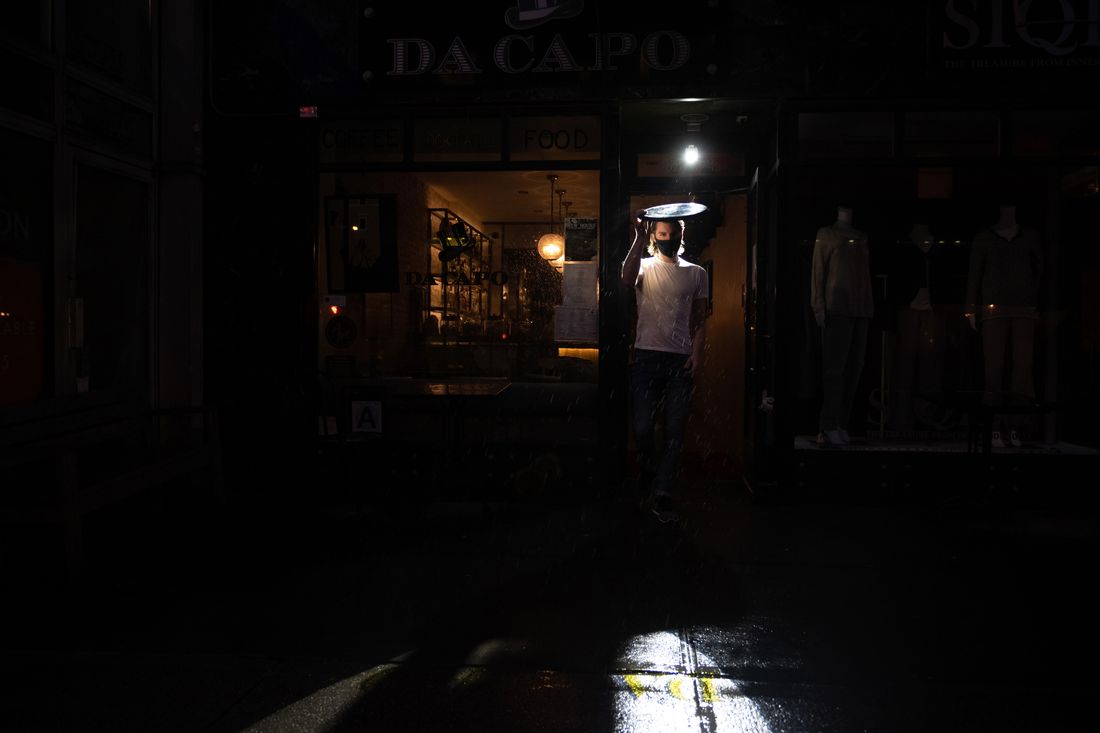 The unemployment in New York City's restaurant industry has remained devastatingly high.
Photo: Alexi Rosenfeld/Getty Images
This article was featured in One Great Story, New York's reading recommendation newsletter. Sign up here to get it nightly.
One year ago, Grace — a professional cook from New York — was working a dream job at Osteria Francescana, the acclaimed fine-dining destination in Modena, Italy. It had taken three years of work, she says, to achieve the goal, but halfway through her stay, Italy became the epicenter of Europe's COVID-19 outbreak. Soon, she'd return home to New York City, but her plans to go back to the restaurant where she had worked were canceled when she got laid off two weeks later, while she was in quarantine.
Since March, Grace has barely worked in restaurants at all and now spends most of her time caring for her diabetic grandmother and assisting her parents with paperwork for their dry-cleaning business. "I had everything planned out last year," Grace says. "What I wanted to do — and then all of a sudden this hits, and I'm literally stuck at home."
Grace is one of thousands of New York restaurant workers who have been unable to work since the pandemic arrived in America. For the past ten months, unemployment in New York City's hospitality industry has stayed unwaveringly, devastatingly high. It peaked in April, at a whopping 71.5 percent, but even since restaurants have been allowed to reopen, unemployment plagues the industry.
In November, as COVID cases started surging in New York City once again, the unemployment rate rose to 39.8 percent. December's indoor-dining shutdown shot that number back up to 43.4 percent.
The swollen unemployment rate among New York City restaurant workers is nearly four times higher than the city's overall rate — and even the national restaurant-industry unemployment rate is far lower, at 16.1 percent. In total, it's estimated that there are approximately 140,700 fewer jobs in New York's restaurants, bars, and other businesses defined as "food and drinking places." A chef, who asked not to be named, says he supplements his unemployment with a part-time delivery job and Zoom classes. "I check job sites, but I never expect to find a good chef gig," he says. "I want to cook again, I just have no idea how to approach finding the job I really want — and I know it won't come until the pandemic is over."
Over the summer, when jobs started to appear again, many people said that they returned to work only because they worried they wouldn't be offered the job again. Others say the CARES Act's enhanced unemployment benefits were the only thing that kept them afloat. "Without the extra initial unemployment at the beginning of the year, I probably would be homeless or have borrowed a lot of money from people at this point," says Sam Clifton, a bartender who was out of work until June and then furloughed again in December.
As people like Clifton found out they were freshly out of work (again), they nervously watched Congress fight over the second relief package that included the $600 stimulus check and $300 a week in enhanced employment benefits. "It was a little scary a few weeks ago when the Senate was waffling on shit based on Trump being a psychopath," Clifton says. "It was just like, Oh, great. I'm just losing money rapidly. The more weeks that it takes to get this figured out, that's just more money lost because instead of it being a set amount of weeks, it wasn't like it had a date that it was going to stop."
Nationally, 3,878,000 Americans were considered long-term unemployed (having gone six months without work while looking for work) as of December. That number accounts for fully a third of all unemployed Americans, and the Economic Policy Institute's Elise Gould tells Bloomberg the percentage is "going to be continuing to rise." Speaking to the New York Times, Rubeela Farooqi, the chief U.S. economist at High Frequency Economics, says that we should expect to "see layoffs mounting" over the next few months. In the weeks ending January 9 and January 16, more than 900,000 people filed new claims for state unemployment benefits. But the unemployment rate doesn't paint the full picture. It doesn't count those who've dropped out of the job market or who are underemployed and living below the poverty line. Many of those counted as employees in the food and beverage industry are, in reality, working much less and making too little.
The unemployment figures have been much worse in poorer neighborhoods and among people of color, and that contrast has played out in the food industry, as well. In September, the Washington Post wrote that the pandemic had caused "the most unequal recession in modern U.S. history." As Sarah Jones reported in Intelligencer, the recession has been a disaster for families of color, and "the child-care crisis may also keep many families of color from returning to work." One tamale vendor named Adelaida, who spoke with Grub Street about the mental toll COVID has taken on those in the food industry, said she had not been able to return to work because she had to take care of her homebound children. Her husband, who is a food runner, had been working half as many hours as before. Street vendors in particular have been hit hard by the pandemic and gotten even less in the way of relief and resources. Undocumented workers like Adelaida who have spent most (or all) of the past ten months unemployed have done so without receiving any government support. Another person in her position, who worked as an expeditor in a fine dining restaurant, told Grub Street that their financial destitution led his wife to have a breakdown. Both Adelaida and the other undocumented worker have not been able to pay their rent and struggled with other bills during the pandemic.
Some restaurant workers do say the time off caused them to reevaluate their relationship with the industry. Grace says her time unemployed was not all wasted: She wouldn't have otherwise been able to spend so much talking with and learning about Korean cooking from her grandmother, and she's changed her personal career aspirations. She's not hopeful about finding a job after her grandmother gets vaccinated, so she'll go to Korea, where she has family. "My own plan is to go for two months and learn and research so that I can bring it back and do something of my own," she says.
But for others, the past ten months have simply been a blackhole, sucking up time, energy, money, and direction. "I have a lot of jealousy for the people that really made unemployment work for them because it super didn't for me — I felt like my life was in total stasis," says Clifton. Looking back on 2020, he adds, "I'm just like, Fuck, I didn't do anything this year at all."