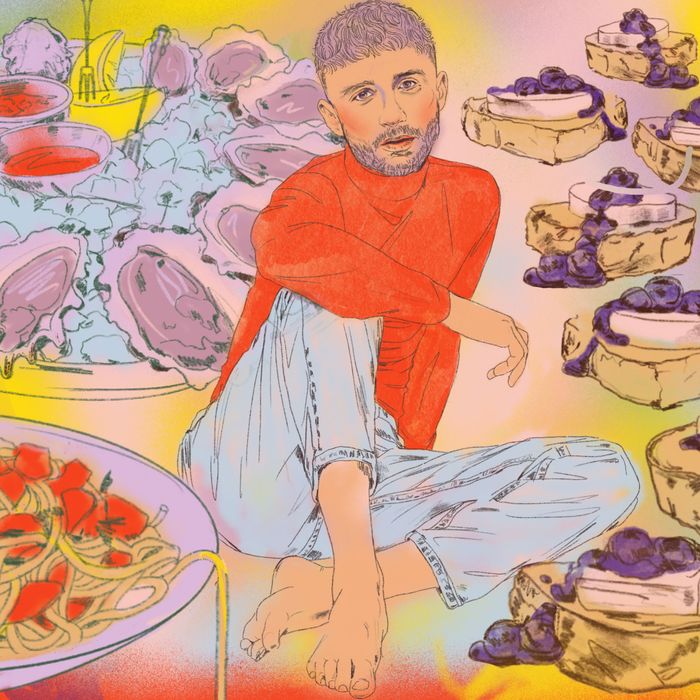 A dinner party with Steven Phillips-Horst.
Illustration: Lindsay Mound
This week, comedians and childhood friends Steven Phillips-Horst and Lily Marotta debuted their podcast Celebrity Book Club — which is exactly what it sounds like — with an episode on Andre Agassi's Open: An Autobiography. The show will feature all manner of celebrity memoir, and upcoming episodes will cover books from Janice Dickinson, Chasten Buttigieg, and Momofuku's David Chang. "The pod is not so much 'these people are important,'" Phillips-Horst explains, "but that these people are kind of an umbrella under which you can support all sorts of other topics and jumping-off points." 
Wednesday, January 6
10 a.m.: I wake up to the minimalist beeps of my Muji alarm clock, then down the glass of water next to my bed like Cameron Diaz taught me in her groundbreaking scientific tome The Body Book. (It gets the "system" going). I have a doctor's appointment, which not only offers an excuse to leave the apartment, but more crucially, to wear an outfit. Typically my ruses are less convincing, like picking up my dry cleaning — often just billowy silk shirts I'll then only wear to pick up more dry cleaning. A vicious cycle of gay stomping.
Several outfit changes later, the Lyft is called. I'm never more in my element than when the driver of a 2018 Honda Odyssey is two blocks away: frantically stuffing my coat pockets with masks, headphones, multiple pairs of sunglasses; downing dubious medications — zinc! Oil of oregano! — sweating through my vegan leather jacket before I've even left the house.
11:40 a.m.: At the doctor's in Downtown Brooklyn, I ask the gay nurse taking my vitals if I can get the vaccine if I linger around till day's end, like it's Dunkin' Donuts handing out fritters at 4 a.m. He says no. My doctor arrives and I inform her I have COVID; strep throat; a rarer form of strep throat not yet discovered; various tumors, including a possible elbow cancer; and an STI from sleeping with no one. She informs me that my blood pressure is slightly high due to the fact that I'm insane.
For lunch, in an act of utter depravity, I stomp over to what is likely America's last remaining Blimpie. I have fond memories of grabbing lunch at this Blimpie in the early 2010s, when I worked at a political consulting firm on Court Street. My boss was a maniacal Cobble Heights power-mom, and I was her only employee. She'd refer to every meeting with our client Bill de Blasio as a "clusterfuck," and I'd spend hours drafting typo-laden fundraising emails, then masturbate when she left the office.
I order a six-inch Blimpie Best with prosciuttini (adorable prosciutto), salami, ham, capicola, Swiss, lettuce, pickles, sweet peppers, and mildly spicy banana peppers. "A little bit of mustard … DEF oil and vinegar," I tell my sandwich artist. It's these subtle linguistic modifiers that help guide him to appropriate condiment amounts without stepping on his creative freedom. The completed sandwich looks plastic. The bread is puffy, light as air, almost comically inflated, and test-tube smooth. I enjoy it outdoors, on a strip of sun-drenched, wind-swept asphalt, the flavor combination just bland enough to seem healthy. I feel alive.
3 p.m.: There's a coup starting. I remain glued to Twitter, humbly tossing takes into a growing maelstrom of dystopian content. I need to drink water.
Mid-coup supermarket run. My boyfriend is a brilliant chef, but left to my own devices I'm a '90s sitcom widower cliché. I fill my basket only with items I can eat with my hands like a raccoon, or maybe put in a salad later: snap peas, Esti hummus, three bottles of seltzer, a loaf of puffy Italian bread, bagel chips, grape tomatoes, BelGioioso shaved parm, and the nicest prepackaged mozzarella balls they have.
6 p.m.: Groceries are dumped on the floor. I devour half the hummus and bagel chips before I realize where I am. Back to the coup.
7:15 p.m.: Groceries are still on the floor. I rip a hunk off the Italian loaf with my bare teeth, then pour olive oil and balsamic directly onto the loaf while standing over the sink.
7:22 p.m.: I tear open the snap peas, eating a handful unwashed. I put the container back — not in the fridge, but in the grocery bag, still on the floor — deciding not to unload them until I officially do "the emptying."
7:24 p.m.: The shaved parm is breached. A few handfuls go in my mouth before that container, too, is returned to the bag on the floor — and I, too, to the coup.
10:30 p.m.: The groceries are emptied, some four and a half hours after their arrival.
Midnight: The salad begins. So much time has elapsed that I start the process somewhat defeated, but as the grape tomatoes get halved, I find my ambition. I chop the loaf to make croutons, dousing them with oil and throwing them in the oven. Into the bowl go chopped snap peas, tomatoes, and a box of arugula. I make what is unquestionably a tasty single-dad dressing: fresh lemon juice, mayonnaise, white-wine vinegar, Dijon, Maldon, black pepper. I house the salad in seven minutes then play Assassin's Creed until 3 a.m.
Thursday, January 7
12:46 p.m.: A W magazine article about our new podcast got postponed due to the coup, so I decide to switch out my "launch day" (any day I post anything to Instagram) massive gay iced coffee from Dunkin' Donuts for a more contemplative, medium hot coffee from Dunkin' Donuts. Oat milk, no sugar. It is not a day to stomp into social media guns blazing, ice clanging against plastic, but rather to sip gently from a Styrofoam cup.
My contemplative hot coffee is hitting not so contemplatively as I careen into a work call with manic aggression — shooting down colleagues' ideas, canceling further meetings, making tyrannical requests for new office furniture.
5 p.m.: I kill the snap peas, dipping them in a surprise older hummus. We now have three hummuses going: two Esti roasted garlics and an Ithaca, also roasted garlic. The oldest Esti is beyond hope, crusted over and dark, like mud flaps on a semi. I clean off the remaining Ithaca with bagel chips.
8:15 p.m.: My newly single straight male friend Daniel (five-foot-11, successful artist, big ears) is cooking dinner for me at his new bachelor pad. He lives in the highest building in Ridgewood with a stunning view of Manhattan. He opens a super-cloudy bottle of natty Chilean white. It tastes like piss on a beach and I'm obsessed. We start with chips and salsa before his main: chicken piccata with capers and a white-wine cilantro sauce, and "adult mac 'n' cheese," which is essentially cacio e pepe with an infantilizing name because millennials crave humiliation.
To me, chicken piccata is a classic Kitchen Nightmares dish, the sort of dull, heavy, prefrozen menu staple of failing suburban Italian restaurants that Gordon Ramsay would ragefully dump on a tile floor covered in mouse shit. But Daniel's is vibrant, even springy. The adult mac 'n' cheese is as silky and decadent as any astrology-pilled Cosmo editor could hope for. We open a second bottle of wine — Paraschos Merlot, my go-to Italian red. It's tannic, sweaty, rugged, and lean. A wine that's just been on a hike.
I'm allergic to Daniel's painstakingly scoured Etsy area rug and demand he get rid of it.
2:25 a.m.: Standing in front of my fridge, I sneak two spoonfuls of a screw-top jar of cookie dough that's "designed to eat, not bake!" Another tiny humiliation in a world gone mad.
Friday, January 8
12 p.m.: Wake up. Make a cup of Earl Grey tea. I feel like Kate fucking Winslet.
5:20 p.m.: I have no idea what I did all day. For my first meal I assemble a massive charcuterie board just for me. I toss tomatoes with Maldon and olive oil. Chopping mozzarella balls in a frenzy, I slice my finger and consider the deranged AIDS-era homophobia of Chopped judges who refuse to taste anything if even a drop of contestant blood nears the dish. My serving board is replete with the last of my Italian bread, Boar's Head deli salami, some duck pâté from early December that is suspiciously gray, and a shaved parm block.
I'm sprawled on the carpet raiding a Medieval English monastery in Assassins Creed when my boyfriend, Michael, arrives and immediately clocks the gray pâté. I've already eaten half of it. He suggests it is indeed expired.
7:15 p.m.: Michael starts making dinner while I craft my first egg-white cocktail of the night — a mezcal Negroni flip with bespoke amaro, a dash of antica, freshly squeezed lemon juice, and one egg white, shaken vigorously over ice. Egg-white cocktails are my latest parlor trick. They make any drink frothy and substantive, like something you'd get at an obscene mixology bar in 2017 where all the staff wear lab coats. My egg obsession is well-known to my friends; I text my Talk Hole comedy partner Eric that "the coop is open." He's over in minutes.
8 p.m.: Eric insists on assembling a complex chain of HDMI cables so we can watch Drag Race over Zoom with six random gays scattered from Boston to Hell's Kitchen. We watch each other, watching Ru, watching the queens with yet another watchful eye that's honestly difficult to see because the image quality is so degraded by the time it gets to my TV through the Zoom chain. During a commercial break, the lone girl in the chat holds up her hand to reveal a pet snake slithering through her fingers. Time for eggtail No. 2!
9:30 p.m.: Dinner. Michael prepares an onslaught of Ottolenghi recipes: roasted, skin-on butternut squash with harissa yogurt and blitzed chimichurri; fennel and winter citrus salad with pomegranate seeds; and steamed jasmine rice with scallion. It looks like the cover of a cookbook and tastes like a goddamned restaurant. Eric has brought us a Georgian white that is curiously smooth and diaper-y in a way I am not obsessed with. After an endless discussion about whether or not the coup was a big deal, we go to bed.
Saturday, January 9
1:20 p.m.: My boyfriend announces the remaining eggs in my fridge are "expired," so he makes a frittata to prevent me from raw-dogging any more in a cocktail. The frittata is pulsing with flavor — garlic, scallion, even dollops of yogurt — and impossibly fluffy.
I make a cup of Chinese lemon tea, sourced from a street vendor on Fresh Pond Road. It's a rind-filled jelly you scoop right out of a jar into hot water, and I feel impossibly "New York" — sipping my locals-only brew while reading Chasten Buttigieg's memoir, like the Fran Lebowitz of Ridgewood. I'm so distracted by my own wistful narrative I barely crack ten pages of Chasten's deeply simple diary over the course of three hours.
6:30 p.m.: I meet up with Lily, co-host of our new podcast Celebrity Book Club, to "discuss business," which is actually a ruse to leave the house (put on an outfit) and swing by a former lover's gallery opening for attention. The plan is heat-lamped martinis at Saluggi's, a sort of Boston-ish sports bar in the Lower East Side, but they don't have heat lamps, and food is mandatory ("Thanks, Cuomo!" barks the barkeep), so we opt instead for hot toddies to go, and march toward enemy lines.
We arrive at the gallery. There is not one but two men I've slept with — and there are at most seven people in the tiny (masked, socially distanced, everyone was tested before and after and during) space, so I'm definitely feeling seen, which is, of course, the whole point of leaving the house. Seeing a LaCroix in a Zoomer's hands I remember the artist in question is sober, and instantly fear there's no beer. Thankfully, I spot a case of Stella chilling on the stairwell. Game on.
7:05 p.m.: After paying our respects, Lily and I pour our beers into our now-empty hot-toddy cups, feeling like mad scientists, foam dripping over our ice-cold fingers, the Manhattan post-coup air nipping at our faces as we cackle and decide where to go for dinner. We consider the Odeon but it seems so … obvious.
We've been talking all week about Pastis, the iconically 2002 Meatpacking brasserie. Lily tries calling and immediately hits an automated wall of hours and directions. Resy says there are no tables. But this is New York, and we know that sometimes if you walk up to a buzzy restaurant and you really want it, the hostess will scan her book, give you the once-over and tell you she's got something right now. "I mean, if we're gonna do Pastis … let's. DO. Pastis," Lily challenges me, her lips curling into a lupine grin. It's the kind of gamble you can't say no to — not on a Saturday night in the goddamned greatest city on earth.
8:10 p.m.: The real coup is getting a table at Pastis at 8 p.m. on a Saturday in the middle of a pandemic — and guess what, honey? It works. We're seated by a roaring heat lamp, thank God. Every single person there is dressed like Countess Luann, including the men. Fur vests, leather leggings, seasonably inappropriate hats. We order steak tartare, oysters, and escargot to share, and of course, two very dirty, very dry martinis. The martinis are somewhere between airport quality and actually delicious — Lucien's are far better. Sometimes even saying "very dry" still gets you practically a thimble of Vermouth, which is ten times what I need. I need vermouth to walk by the chilled glass, wave, and go on her way. But we're here for ambience. The steak tartare is phenomenal, the escargot explosively buttery, the oysters — well, they're oysters and I could eat 600 of them before I get full. At some point in my childhood my mother (who grew up poor and Catholic in Los Angeles and moved to Boston to cosplay as a WASP) imparted to me that oysters were the most decadent, perfect food you could ever hope to enjoy, and they've tasted like pure money to me ever since.
Lily gets the steak-frites. I get the burger, which, to my initial horror, is not made to order. (I like it wildly rare. "Blinking," as my mother would say). Instead it's two stacked thin patties, medium well. But it tastes like an elevated Big Mac and it is beautiful.
8:55 p.m.: While Lily's in the bathroom, a waiter comes by and refolds her napkin, wordlessly, and places it nonchalantly back on the table. My heart melts at this subtle display of hospitality, the kind Danny Meyer espouses in his memoir Setting the Table, (Celebrity Book Club episode forthcoming). When Lily returns, I gesture to the napkin and explain the waiter's charming maneuver. She smiles. "Setting the table," she says. "Setting the table!" I grin. We order two more martinis.