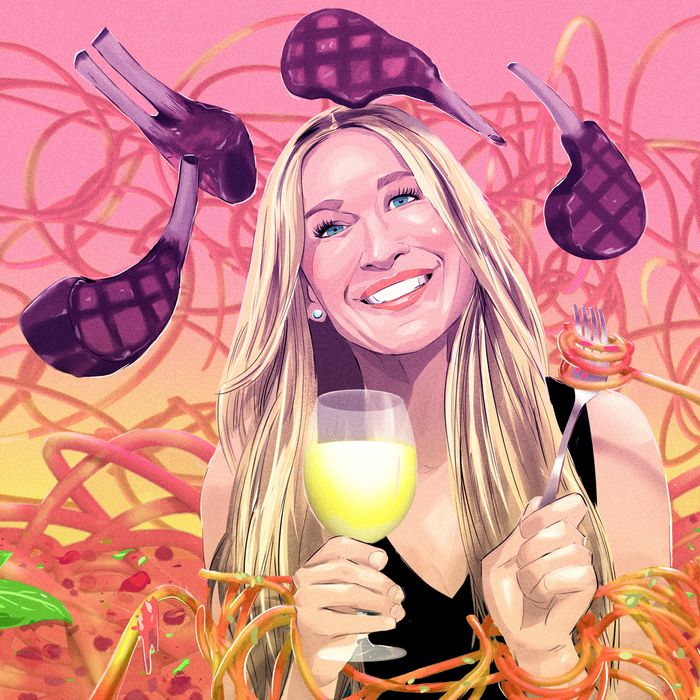 Sarah Jessica Parker and her spaghetti.
Illustration: Ryan Inzana
"I wanted to be here, be home as much as possible," says Sarah Jessica Parker of the past year in New York. It was here that she got her start as a young actress, and she has tried to pay Broadway back during the pandemic, raising money with her husband Matthew Broderick for the Actors Fund. It's not just the actors struggling, she points out, but the whole ecosystem around the theaters: the chorus members, musicians, costume cleaners, and restaurants like Joe Allen's. "It's just absolutely devastating,"she says, "and the theater will be the last place that comes back." Parker is also working on her entrepreneurial projects including her SJP boutiques and a wine collaboration called Invivo X, SJP. And, last week, HBO announced that Parker would be returning to her iconic role as Carrie Bradshaw in Sex and the City. But for now, she's cooking a lot of her favorite matzo ball soup and letting her husband indulge his bean obsession.
Thursday, January 14 
There is not typically a lot of regularity to my days. This is an unusual time because I feel like I actually have a conventional schedule, something I've almost never had for my entire life. Nobody is working in the theater. I'm not shooting anything yet. So I have time in a very different way.
I was at my store on 54th Street. My business partner, George Malkemus, always gives me hard-boiled eggs. He has a farm, Arethusa, which is an amazing farm. They make ice cream and cheese.
Lunch was a spicy-tuna sandwich and a Power Shake from Joe & the Juice. I would never have known about this place if it wasn't for all the younger women who work at the store, because they know about apps and things. I still do not know how to order anything on an app.
We used to order lunch from Astro, a place that we loved. I'd been going there for years because I did so many plays at Manhattan Theatre Club, but it closed — temporarily, hopefully — in December. It's awful. So I asked the ladies, "Where do you eat?" They're all supersmart consumers. I learned about Joe & the Juice from them, and that sandwich is incredible.
Dinner was homemade, from-scratch chicken. I used a recipe from Julia Moskin, and I made soup with Joan Nathan's matzo-ball recipe. I love both of those writers; I love their whole history. They are people I go to all of the time for recipes. I have my Fannie Farmer Cookbook, which I've had since I was 18. It's super-old-fashioned. It's probably super–out of style, but I love it because it's what I've known.
Served it all together in a bowl with some fresh ginger and dill. We make chicken stock all the time here. We freeze it, and we like to use it in our rice. I wanted to make the Julia Moskin recipe because it seemed really simple and doable. It was absolutely beautiful. I was so proud of that broth.
We save everything here. Matthew saves every Parmesan rind. If we have shrimp, we always try to make a stock with the shells, because it's so good and smells incredible. We always save the bacon grease. We have fat from a Spanish ham that Matthew bought for my son for Christmas, which we saved for cooking. I'm like, Okay, we have a whole section of our fridge dominated by fats. We'll be like, "Matthew, do we know when this is from?" And he'll reply, "Doesn't matter, doesn't matter."
It's a weird thing to talk about food right now. I'm not blind to how many people would love to be able to make matzo-ball soup. I can't quite figure out how to talk about it. I'm one of eight kids. I grew up very poor. Going to the grocery store with my mom was this huge thing. She was like splitting atoms when she bought groceries. When I see food lines in Texas that are all 12 hours long for a box of food, I'm just gutted by it.
From the time I was 18 and I was on my own, I was like, I can't believe I can go to the grocery store and buy what I want. So I've always had this thing about food meaning success. I can pay my bills; I can help people outside of my family who need it. I go to the grocery store and this, Oh, this is success. Food had this weird place in my life, but we also love food in this house.
Friday, January 15
I have weird eating habits. I don't usually eat breakfast unless I'm shooting, and when I'm shooting, I have a full, massive, crazy breakfast. When I'm home and going to work on my own, I'll get up really early and just have coffee.
Dinner was grilled lamb chops seasoned with butter, salt, and pepper. We had that with cabbage, petite peas, and mashed sweet potatoes with butter. One-hundred percent, eating food I love feels like a luxury. In our house, we're constantly paying attention to the level of enjoyment at the table. Matthew will be like, "Oh, the chops aren't moving — the chops aren't moving fast enough." Everyone is like, "We like them. Hold on." I don't want to suggest our entire conversation at dinner is grading the meal, but we definitely are consciously enjoying it.
I drank Invivo X, SJP Sauvignon blanc, my own wine. We drink wine, but I still love a cocktail. To be honest, I really do love a Cosmopolitan. I don't know how to make them well, but I genuinely love them. Strangely enough, it didn't happen until long after I stopped shooting the show and the movies. I would be served them at restaurants, or people sent them over, and I was always very grateful. But I didn't really drink the cocktail until after we finished the show. I went to some place and had an exquisite one and then it started.
Saturday, January 16
Bagels from our favorite local neighborhood spot, Bagel Buffet. It used to be next to LifeThyme Natural Market, but then they moved. Now they're up between 13th and 14th Street. We go there for our bagels. We still believe in it.
Got mine toasted with Kerrygold butter wall to wall, and I added Grey Poupon mustard and four slices of Boar's Head salami. My son, husband, and I love salami. Love salami.
Also had a banana and a cup of coffee. I haven't bought a cup of coffee outside the home since I did Once Upon a Mattress. Wait, that's not true! On set, I'll maybe have a coffee from Starbucks, but it's extremely rare. I just don't understand how people get out of the house without having coffee in order to go buy coffee.
I like making coffee at home, though I only drink one cup in the morning. If I drank it all day, I would be a mess. I would be like a whippet. So I drink one of two coffees: I drink Nespresso pods or — are you ready for this? — Nescafé instant coffee. It's like being in Greece. If I was in Miami, I could go to Little Havana for Cuban coffee. Sometimes I make Cuban coffee. I have the sock for it.
Even though I make the coffee at home, we do miss going out. We haven't been eating anywhere except places that are super-close to home. Before the pandemic, we had started going to Chinatown more often with our children because we didn't want them to miss out on an entire region that we think has some of the greatest cooking in the world. We miss it so much.
My entire courtship with Matthew took place in Chinatown. That was everything to us. Even before I moved to New York, my real father is from here, so we would come and always, always eat in Chinatown. That was it. We would go to Hong Fat and then Dave's Luncheonette for an egg cream. My mom had been going to those two places since she worked for Procter & Gamble as a salesgirl and would fly to New York. She'd save her money to go to Chinatown because she probably read about it in New York Magazine or The New Yorker or somewhere.
With everything going on, talking about this feels inconsequential, but, to me, one of the greatest gifts in New York is the discovery of everywhere else. I used to make it my mission to get on the train for an hour and a half to get Georgian food. Fifteen, 20 train stops. My husband would be like, "How many train stops?" Only 22 more!
To me, being on the subway with a book, heading toward a meal, I honestly can't think of anything better, with the exception of sitting in the theater or watching the New York City Ballet. It's a vacation — you are literally transported — and I miss it so much it hurts. It's not just our love for those places but everything that surrounds it: all those servers — all their families who are counting on them to send money home. It goes on and on and on.
Dinner: oven-baked beans with rosemary and chile from the From the Oven to the Table, by Diana Henry, made by Matthew. This recipe is made with dried cannellini beans, carrots, celery, rosemary, garlic, onions, tomato paste, and dried red-pepper flakes. My rosé, served with the beans.
My husband soaks beans three nights a week. For real. He orders beans online. He gets massive bags of dried beans sent to our house. He makes very complicated, beautiful bean recipes. There are always beans in the house.
Matthew is not afraid of Diana Henry's recipes. There are chefs who share recipes that feel more doable to me, but her stuff is more complicated. I bought that book for him; he loves it and uses it all the time. I don't look at recipes nearly as much as he does, and he's not daunted by a lot of steps. He's very still; he doesn't run around the kitchen like I do. He's enormously patient, he's tranquil, and he loves it. He's a fantastic cook. I cook all the time too, but I don't read recipes nearly as much.
Sunday, January 17
I worked on Sunday because I knew I wasn't going to work during the inauguration later in the week. Breakfast was a soft-boiled egg with a little salt and pepper, a mango, an avocado, and some cottage cheese.
I love cottage cheese with sliced tomatoes, or really good cherry tomatoes, and I love Breakstone's 2-percent-fat cottage cheese. Love. I don't like nonfat, because I think, What's the point? It breaks my heart.
Matthew made Bolognese sauce with spaghetti, served with romaine salad and sliced baby cucumber and a homemade dressing with red-wine vinegar, olive oil, shallots, and a bit of kosher salt and fresh ground pepper. More of the Sauvignon blanc.
Matthew makes Bolognese once a week; everybody goes crazy for it.
In the last ten months, I would say he's done four or five different versions. He's done Rachael Ray's, he's done Ina Garten's, and he's been doing a good old-fashioned Bon Appétit recipe, which is the one that cooks for three and a half hours. For some reason, we all love this one. It's a little heavier — it's more old school. It cooks and cooks and cooks and just haunts you all day.
He's determined to find the best recipe. We're all quizzed about it. We're all basically given a report card: What do you like about this one? It's like he's looking for the holy grail in Bolognese.
Monday, January 18
I was thinking about the inauguration all day long and also what we'd be having for dinner on Tuesday. We have a pod of two friends. Because of their work, they get tested a lot, and our kids have to get tested. We planned to have them over for dinner, and I still hadn't sorted out what we'd get. Our dream was to have a big party, like everybody. But we couldn't do that, obviously. Instead I made stock and matzo-ball soup and tried to figure out two nights of dinner.
Dinner on Monday was sweet and spicy Italian sausages sautéed in olive oil with red peppers, fennel, and yellow onions. We served it with lemon baby potatoes with thyme and olive oil.
Lemon potatoes are what I do. That's me looking for the holy grail. When you have them in Greece, or you have them in Astoria, they taste a certain way. It's almost like they were maybe boiled and then baked, because there's a smoothness inside to the potato. It's not that you want it crisp, necessarily, because true Greek lemon potatoes have the skin on the exterior that's not the actual jacket of the potato. It's a very specific thing. And then: Are you going to use oregano? Thyme? What herb won't eclipse that strong lemon flavor? But then you don't want too much lemon flavor, either. Lemon potatoes are me trying to get to Greece. It's all so … ahhh.