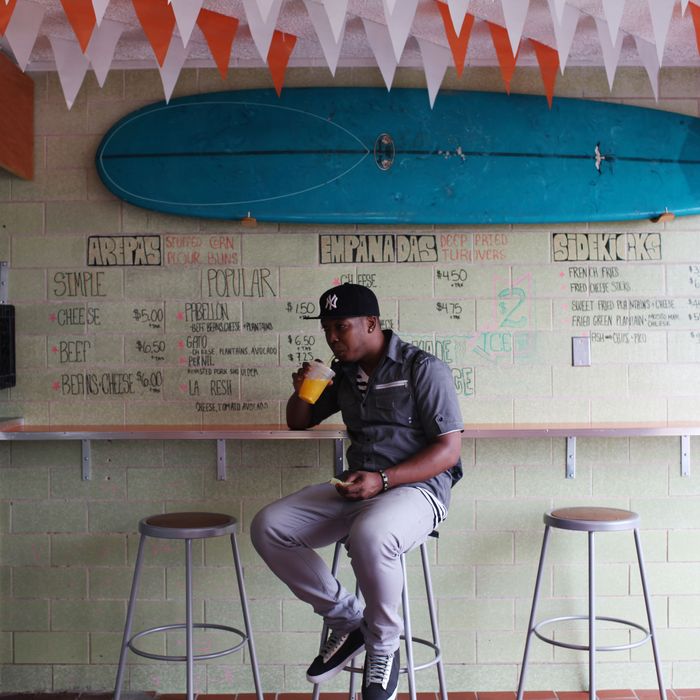 A customer waits for his order at Caracas Rockaway in 2011.
Photo: Kirsten Luce for the Washington Post
The lease is up on Rockaway as we know it. Since 2011, Rippers, Caracas Rockaway, and Low Tide Bar — collectively known as Rockaway Beach Club — have been the operators of the Rockaway Beach boardwalk concessions. But now, after a decade of serving the Rockaway community through Hurricane Sandy and COVID-19, the NYC Parks department has rejected Rockaway Beach's proposal for the new, 15-year contract and instead plans to award the bid to a group called Rockaway Beach Bazaar, LLC.
For fans of the existing vendors, the news has been met with both dismay, and skepticism. Rockaway Beach Bazaar's proposal was submitted by Belvy Klein and Aaron Broudo (who were already awarded the McCarren Park House bid this year, and are waiting to hear if they will be invited back to Riis Park, which is a National Park), offering to pay the city $300,000 during the first year of the lease, with increases each subsequent year — an amount that's nearly three times what Rockaway Beach Club pays. And members of RBC aren't entirely sure how the new group plans to bring in that much. As a former Rippers employee myself, I can tell you that the masses already don't like paying $5 for a can of Modelo, so what will prices look like when the rent rises 300 percent? "Working with 10 years of real data, their offer shows you their pie-in-the sky" vision, says Michael Perzy Powers, the general manager of Low Tide Bar. "Who is gonna end up paying for that?"
The decision has been long awaited as Requests for Proposal were first submitted in December, 2019, but Parks did not make its decision until last month — announcing it just before Christmas, timing that many critics saw as a move to limit the news exposure of the change. Even still, after news of the boardwalk's new management broke, New Yorkers began voicing their dissent.
Very quickly, Sarina Parachini, a Rockaway resident and the wife of the owner of Rippers, Chris Parachini, created SaveRockaway.com, asking supporters to email the Parks department before a public hearing that was scheduled to be held yesterday. (Parachini only found out about the public hearing from Thursday's Rockaway Times, listed next to "Facts You Probably Don't Need." Assuming many others didn't see the fine print, Parachini took to Instagram, getting her posts reshared by popular accounts like New York Nico, Alison Roman, Frank Prisinzano, Williamsburg butcher shop The Meat Hook, and Brooklyn Grange.) "This is a public contract," she says. "The people need to be heard."
The crowdsourcing worked as hundreds of callers joined the public hearing yesterday and the committee said they received thousands of emails regarding the concession award. During the hearing, there was overwhelming support for allowing Rockaway Beach Club to continue operating the concessions.
An hour of testimony also included a comment from Bazaar owners Klein and Broudo: They reminded everyone on the call that the bid was public: "Anyone had the opportunity to submit offers," Klein said yesterday. "There were higher bids than ours, there were lower bids than ours as well. When we submitted our bid, we went with the numbers that we thought would be competitive for a 15-year lease for a New York City public park."
A caller then interrupted, replying, "That's because you don't know anything" and an encore of shouting followed. After callers were muted to avoid further interruptions, Klein finished his statement: "We're very big fans of what the Rockaway Beach Club has done over the years, we appreciate all the love and hard work they put into the downtown concessions. We want to retain as many of the previous vendors there as possible. We'll be offering those operators first opportunity at their concession locations. Nobody here is looking to dispace anybody." After Klein finished, a caller yelled "Finance devil — we know where you sleep!"
But Bazaar's plan includes a crucial difference than Rockaway Beach Club's: All beverage sales, both alcoholic and non-alcoholic, will be handled by Bazaar, and not the vendors, stripping them of a crucial income source. "Rippers is famous for their burgers and fries," Broudo says of the agreement. "There are ways to make a lot of money in the summer with the food concession." Whether the current vendors can, or will be willing to, pay higher rent without alcohol sales is an open question.
Running any food business with the city's Parks department as a landlord means being inextricably tied to bureaucracy: All menu items and prices, as well as merch, must first be approved by Parks. Maribel Araujo, the managing operator of Rockaway Beach Club and the owner of Caracas Arepa Bar, says that, in addition to learning English after moving to New York City in 2001, she had to learn another language as well: City and Parks. She says it's been "a really intense experience" to reshape the department's view of what concessions should be, including the diversity of food that New Yorkers want while "trying to get away from chicken nuggets and Coke and frozen food, all within an affordable price range."
After working with Parks through Hurricane Sandy, beach closures due to sand erosion in 2018, and then operating at a financial loss throughout the COVID-19 pandemic, Araujo is disappointed that her team's flexibility and dedication isn't being recognized. "They have been trying to foster small businesses to survive and be sustainable and all of a sudden, they're okay with this new money?"