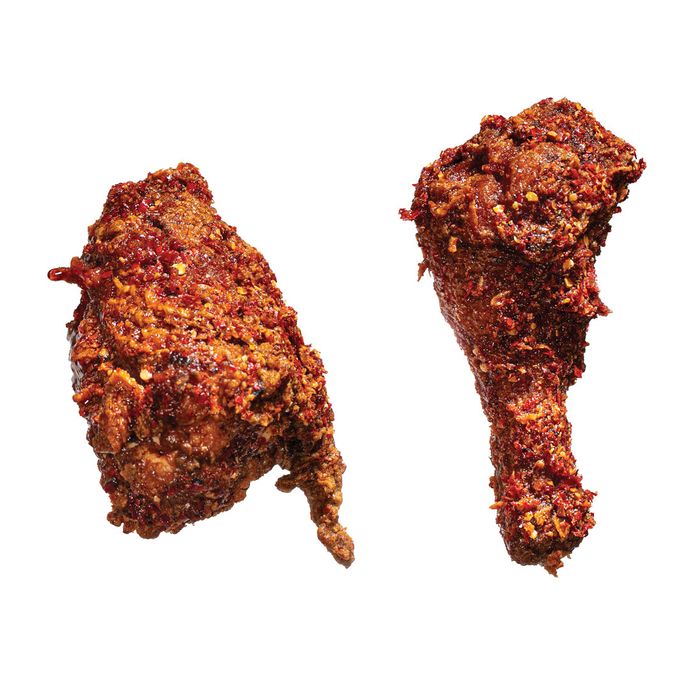 All sorts of unexpected delicacies have wormed their way into our hearts over this past grim, mostly housebound year, from packets of Sapporo ramen (best in the morning with a fried egg dropped on top), to cans of tomato soup (lunchtime only with a grilled-cheese sandwich), to that great champion of the COVID cupboard, the heirloom bean. And when it comes to the rainbow of takeout and delivery options around town, I've found that nothing lifts morale quite like the occasional communal bucket or box of fried chicken with all the usual fixings, which is more economical than your average takeout Chinese feast (the 12-piece family meal at Popeyes costs $29.99) and more durable than other sinful pleasures (like sushi or, God forbid, carryout foie gras), and tastes much better the next day than a tub of congealed lo mein, say, or that dry slice of pizza sitting at the back of your fridge.
I've enjoyed many fried-chicken dinners during the course of this plague year, from Popeyes to Cote steakhouse and the Beatrice Inn, so when word of Eric Huang's quirky delivery operation out in Fresh Meadows, called Pecking House, reached my little corner of lower Manhattan, I quickly signed up for a taste. Like many new comfort-food impresarios around town, Huang is a highly credentialed chef (he used to be the sous-chef at Eleven Madison Park). He developed his concept on the fly in the deserted kitchen of his uncle's Queens restaurant, Peking House, after it closed this summer. Thirty-five dollars will buy you three pieces of his Chinese-accented version of Nashville hot chicken — which is a lot to pay for chicken — but, as word of its deliciousness has spread far and wide, the waiting list is now hundreds of names long.
The price of a Pecking House dinner includes three sides (delivery to Manhattan, Queens, or Brooklyn is an additional $5), and after following email instructions and being given a secret password to place the order, our chicken dinner arrived almost exactly on time, bundled in two paper bags and an impressive collection of plastic containers. My assembled panel of family critics pointed out that the food seemed to have lost a little of its heat on the long ride into Manhattan, which was true, although the smooth, rich mashed sweet potatoes were warm enough to gobble immediately, and so was Huang's excellent interpretation of dirty rice, which the chef makes with the usual Cajun ingredients (chicken livers; gently melted bits of celery, onions, and bell peppers) and then tosses, in the traditional family style, in a giant wok.
But the centerpiece of the meal is the fried chicken, of course, and even after the long drive, it's lovely to look at, with dark, crunchy knobs of crinkled skin around the edges and a deep rusty-red exterior speckled with chile seeds and bits of red pepper. Huang brines his bird in buttermilk and a combination of powders and seasonings; rolls it in flour, cornstarch, potato starch, and a substance called EverCrisp for a feathery, durable crunch; then finishes it, after frying, with a red, pasty mix of tingly Chinese peppers and spices and a dribbling of duck fat. A couple of our larger pieces were overly rare inside ("It tastes great, Dad, but this looks like they just took an ax to the chicken"), but the texture was admirably crunchy on the outside and tender within, and the blend of heat and spices left a pleasing tingle on the lips. Was it better than our local Popeyes? Given the cost and logistics, the assembled critics thought that was a silly question, but if and when Chef Huang opens a brick-and-mortar operation, we'll be making a family visit. In the meantime, Dad can attest that like any great fried chicken, this one tastes even better the next day, especially with a little sriracha on the side, blended with a spoonful or two of mayonnaise.
*A version of this article appears in the January 18, 2021, issue of New York Magazine. Subscribe Now!