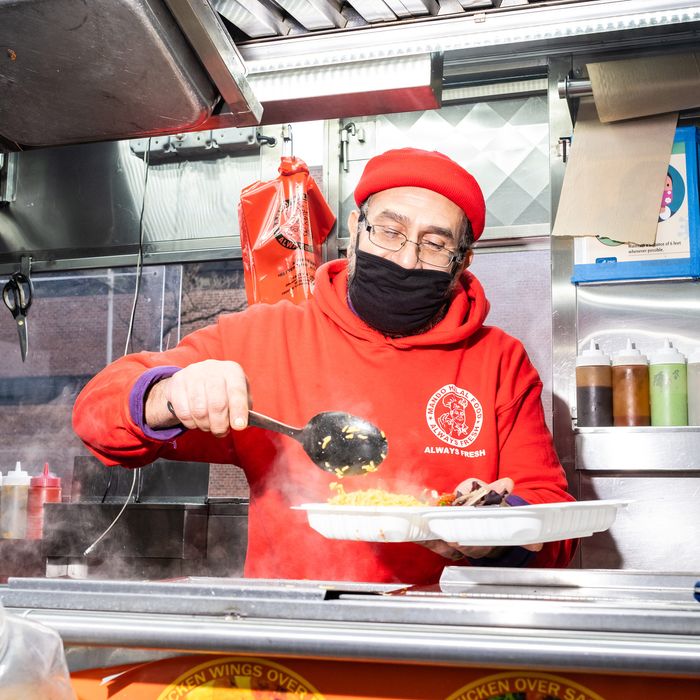 Mamdouh (Mando) Elgammal at his halal cart in Queens.
Photo: Lanna Apisukh
Late last week, Juan Carlos Landa and his father, Ofelio Landa, arrived at Mount Hermon Baptist Church in the Bronx with 100 plates each of pork chops with rice and hard-boiled eggs, spaghetti with meatballs, and baked chicken with pasta and alfredo sauce. The Landas run the Magic Spoons cart, normally selling churros and ice cream, and they were joined at the church by halal-cart operators Bassam Elmenshawy and Ahmed Mohsen, who provided hundreds of plates of chicken and rice. The food was part of a program that's been organized by the Street Vendor Project, a nonprofit union and workers center that advocates for vendors rights in New York City. The meals were provided to people in need and cooked by others in need. "Juan Carlos has been waiting in line for the food pantries at the exact same places that he was delivering food to and supporting," says Carina Kaufman-Gutierrez, the deputy director of the SVP. "I think it just shows how dire the crisis is, how vendors are part of the same communities they're feeding."
In May, the Street Vendor Project began a pilot program, in partnership with State Senator Jessica Ramos, to feed those in need around the city and to give a much-needed boost to vendors themselves, who have been hit unimaginably hard by the arrival of COVID-19 and the subsequent slowdown in city business. "Obviously, as soon as the pandemic hit, we saw hardship develop over the first few weeks," Ramos says. "It became increasingly clear we needed to provide hot meals for our residents." She explains that many people in her Queens district live in illegally converted apartments with eight to ten others and may not have a readily available kitchen. "We knew the street vendors were hurting as well, so what we really did was connect the dots. We wanted to be able to raise funds in order to help street vendors provide us with meals every Saturday, so that we could feed our neighbors."
"It's not like, 'Oh, it's a little thing and we'll get through it,'" says Mahmoud Ebrahim, who runs the Mama's Heroes carts that, pre-pandemic, were in midtown as well as a roaming food truck. Like many vendors, Ebrahim and his partners (including his mother, who started the business, and brother) didn't sell any food from April to August, a stretch of time when each of their carts would normally bring in $20,000 to $30,000. "This," Ebrahim says, "is an atomic bomb when it comes to this business."
Vendors throughout the city relay equally catastrophic stories. Before the pandemic, Fauzia's Heavenly Delights owner Fauzia Abdur-Rahman says she could expect to take in $700 working breakfast and lunch at her usual location near the Bronx Borough Courthouse. Now, that number has dipped as low as $150. "I mean, come on now. You've got to pay for food. You've got to buy chicken, rice; you've got to buy vegetables," she says, pointing out that she can't simply cook less food to make ends meet when the number of customers has dropped so dramatically. "When you're not able to make your core bills, that's a problem."
Mamdouh "Mando" Elgammal has likewise seen his business vanish: His cart, Mando Halal Food, operates outside La Guardia Community College, which has switched to remote learning. Normally, he says, 90 percent of his sales comes from students. He got the $1,200 stimulus check but didn't apply for unemployment after seeing friends who are street vendors get turned down. "I ran out of savings, and everything in life became a burden. Even the very regular, day-to-day expenses," he says.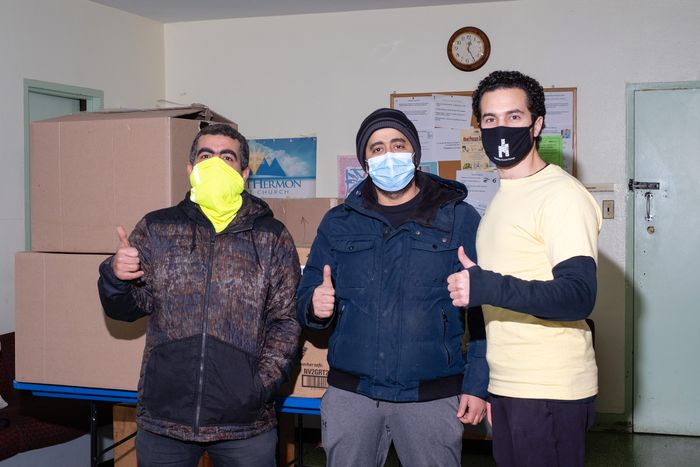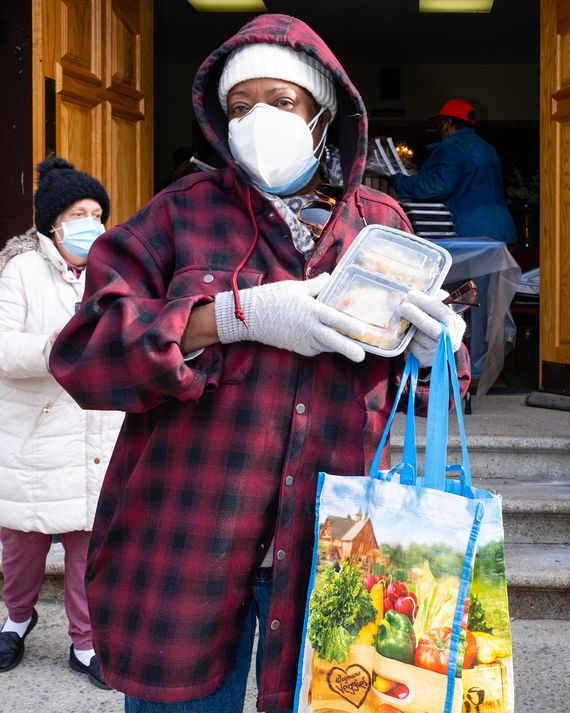 Vendors say they not only struggle to pay bills like rent or electricity; they also need money for their permits and to pay rent to the commissaries where they store their carts — and there is no government-provided relief available. Jorge Asitimbay operates an Ecuadorian ceviche cart in Corona with his wife. An undocumented immigrant, Asitimbay hasn't received any unemployment benefits. By the time he and his wife went back to work in August, they were already three months behind on rent. Now, the couple has been unable to continue paying the $20,000 cost to rent a vending permit — a steep price that's a result of the permit cap that hasn't risen since the 1980s. He's since been operating as an unlicensed vendor, which leaves him open to more harassment.
For Asitimbay, the meal-distribution program has provided at least some cash for himself and his wife. "I was very happy when I was informed I could work with Senator Ramos," he says, "because that was my first payment in a while." (According to SVP director Mohammed Attia, 80 percent or more of those he connected with the program had no income for months.)
Throughout the summer, Ramos hosted once-a-week meal distribution with funding from Hispanic Federation. The food went to those in need, while the vendors were paid $9 per meal for a total of $115,220 during that time period.
Since working with Ramos's office, the Street Vendor Project has expanded on the program with both politicians and other community organizations. From July through October, for example, Representative Alexandria Ocasio-Cortez partnered with the SVP to provide weekly fruits and vegetables purchased from the Hunts Point produce market. That distribution was supported by Ocasio-Cortez's own fundraising, and she continues to work with the organization. So far, she has contributed $37,500 worth of groceries. In August and September, the SVP was able to expand its meal distribution to Sunset Park and the Bronx with funding from the Stavros Niarchos Foundation.
To get money into as many pockets as possible, the Project aims to work with new vendors for every distribution, ideally partnering with locals in every neighborhood. "That's an important component of this program — that it is neighbors feeding neighbors," says Kaufman-Gutierrez, the SVP deputy director. "When we're in the Bronx, we're working with vendors who are from the Bronx. When we're in Sunset Park, we're working with vendors who are from Sunset Park."
The SVP's leadership hadn't intended to keep the program going into 2021, but as time went on, it became clear that it was necessary. The current round of meal distribution, for which vendors are paid $12 a meal, started on December 12 in the Bronx and will also take place in Sunset Park (with the Chinese-American Planning Council) and Jackson Heights (with New Immigrants Community Empowerment). New York City's recovery will take years, according to the Independent Budget Office, which forecasts that jobs lost will not be regained until the end of 2024. In September and October, 32 percent of New Yorkers reported going to a food pantry within the past year, according to a report from the Robin Hood Foundation. And unemployment levels in the Bronx have matched those of the Great Depression.
"One in four Bronx residents lost their income, they lost their jobs, and they've been falling behind and they struggle with accessing the basic necessities like food," says City Councilmember Vanessa L. Gibson, who partnered with the Street Vendor Project on the Bronx meal distribution. "That's why the food-pantry/soup-kitchen lines are much longer. That is why you see older residents standing on these long lines. That's why you're seeing such a need for SNAP benefits. You're seeing such a demand for food as well as the fact that most children are learning remotely at home."
"The rest of the world has COVID fatigue from hearing about it," says Kaufman-Gutierrez, "but nothing has changed about the situation for our members over the last ten months."
For the people who have gotten involved, the meal-distribution program is a way not only to make sure people get fed but also to build solidarity within hard-hit communities. "It shows that although there are other people who wouldn't support undocumented people like me," Asitimbay says, "I saw that an organization like the SVP or Senator Ramos was doing their best, in their capacity, to support me."
SVP has also worked in other ways to let vendors know that a support system exists, like partnering with the grassroots collective Food Issues Group to coordinate weekly grocery deliveries to out-of-work vendors. (FIG's food relief has been on hiatus since the end of December, so it can regroup, but will restart later this winter.)
"Diving into this work has allowed many of us to alchemize some of the grief we've collectively been experiencing — this is something a number of us in FIG have said about building and running the food relief program," says Kimberly Chou Tsun An, a co-founder of FIG. "Grief at the immense loss of life due to COVID, and specifically grief and anger and anxiety regarding our businesses shifting and closing, at a summer that further illuminated systemic injustice against Black people, at capitalism, the global descent into fascism, and climate catastrophe."
There are some hopeful signs for the city's vendors, too. On January 15, the NYPD officially handed over enforcement of street vendors to the Department of Consumer and Worker Protection, a move that many think will improve enforcement. "At the bare minimum, we're not going to have officers armed with handguns and handcuffs approaching someone who is selling tamales and trying to feed their families," Kaufman-Gutierrez points out.
Larger change could be in cards, too, as the SVP may soon accomplish one of its foundational goals: lifting the cap on vendor permits. The local legislation, Intro 1116, is now sponsored by 30 of the 51 councilmembers. "Part of the bill is also talking about having a designated agency to do the enforcement," says City Councilmember Margaret Chin (whose district includes Manhattan's Chinatown), "and also setting up a task force with businesses and vendors together to talk about, 'What are some of the issues that need to be addressed?'" This, Chin points out, has never been done before.
While the cap wouldn't be eliminated, this would be the first time in 39 years permits for food vendors would be added. Currently, the SVP estimates there are anywhere from 10,000 to 20,000 unlicensed vendors around the city. For Kaufman-Gutierrez, and other members of the SVP, the combined efforts will not only help vendors make it through such a difficult time but could also establish a foundation that will improve things in the future. "It's about making sure everyone survives this crisis," she says. "And not just survives it — but hopefully in a way that is set up for thriving afterward."