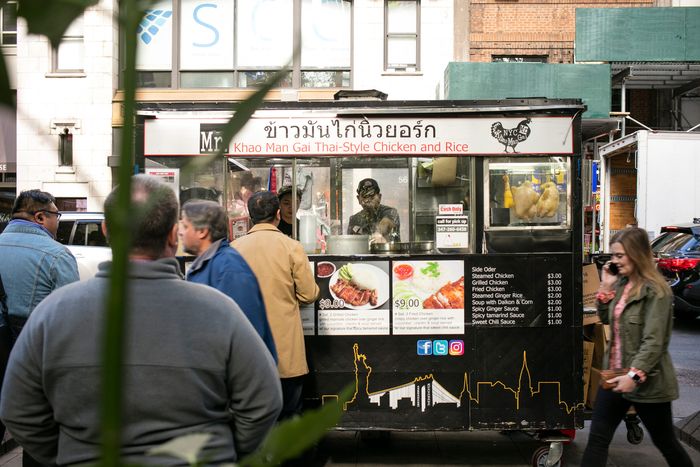 Mr. Khao Man Gai, a Thai street vendor.
Photo: Melissa Hom
Today, New York City's street vendors got some great news: The City Council finally passed legislation, Intro 1116, to lift the restrictive and outdated permit cap by 4,000 permits. This is the first time that the cap has been increased since the early 1980s, and it has remained so low that the wait list was closed back in 2007. The current cap (2,900 citywide vendors and 5,100 total permits) is also far less than the number of vendors working today, and the Street Vendor Project, a union and workers' center that is part of the Urban Justice Center, estimates there are between 10,000 and 20,000 unlicensed vendors.
"The street-vendor bill is something that will be incredibly transformative," City Councilmember Carlos Menchaca, who co-sponsored Intro 1116, said during the hearing. "It's been almost half a century since the City Council has done anything positive for street vendors."
The 4,000 new permits will be phased in starting in 2022, with 400 added every year over a decade, eventually nearly doubling the number. As a result, thousands more vendors, who are already on the streets serving food, will be — eventually — licensed. The artificially low cap meant that people, by and large, had to choose between operating their businesses unlicensed or paying astronomically inflated prices for those permits.
While the city charges only $200 for two-year permits, the low cap means vendors end up paying as much as $25,000, which Councilmember Diana Ayala called "criminal" during the hearing. One undocumented street vendor whom Grub spoke to, Jorge Asitimbay, gave up his permit in late 2020 because he and his wife could no longer afford the price. "I think one of the most important things about this bill is that it does end the underground market for permits," says Carina Kaufman-Gutierrez, the SVP's deputy director. "It does so gradually over ten years, so it allows for people to be able to transition without losing their business."
Along with the increase in permits, Intro 1116 will bring about several other changes for street vendors. It codifies into law the recent vendor-enforcement change away from police to the Department of Consumer and Worker Protection, creates a vendor advisory committee, and addresses the issue of absentee permit owners by requiring, starting in 2032, that a "supervisory licensee" must be present at food carts and trucks.
It also couldn't come any later. The permit increase is a reprieve for the city's sidewalk chefs, who have been particularly hard hit by the coronavirus pandemic. Many street vendors are immigrants, some undocumented, as well as people of color, and they belong to and work in communities that have been disproportionately hard hit by both the virus and the economic recession. At the same time, the people themselves have largely been left out of relief.
"Street vendors, I mean, they are really micro small businesses. And the government needs to really find some way to help them," Councilmember Margaret Chin, who was the bill's principal sponsor, told Grub earlier this month. During the City Council hearing, she explained, "This legislation will bring hope and opportunity to hardworking New Yorkers who are immigrants who have been left out of a lot of government support."
Today's vote is the fruit of efforts by advocates within and outside of City Council going back years. During this morning's Committee on Consumer Affairs and Business Licensing hearing, Councilmember Karen Koslowitz talked about efforts to improve conditions for street vendors dating back to the '90s. Since 2014, the Street Vendor Project has made lifting the cap a primary goal, pushing local lawmakers through a sustained campaign. Manhattan councilmember Mark D. Levine introduced a bill to double the number of permits, but it didn't get through. In 2018, Chin introduced Intro 1116, which has picked up steam and the co-sponsorship of 31 of the 51 councilmembers.
"I think the important piece is to know how broad the coalition of people who support this bill is. Of different organizations, restaurants," says Kaufman-Gutierrez. "Everyone from CAIR to the Yemeni-American Merchants Association to the New York Immigration Coalition to United for Small Business NYC. It's an extremely broad group of people who have been pushing for vendors to be able to work in a way that's considered legal by the city, and end the exploitative system."
The bill won't quite go as far as the one introduced to the New York State Legislature by State Senator Jessica Ramos, who has told Grub she doesn't see "why there needs to be a cap." Nonetheless, it's potentially game-changing for many vendors. "As we continue to work toward recovery, it is imperative that we continue to find ways to break down barriers so even more in our communities can not only provide for themselves and their families but are also encouraged to innovate, create, and invest in our local economies," Ramos says in a statement. "Lifting the cap on permits will allow so many street vendors in my district and beyond a chance to do that, and I am overjoyed that the City Council will finally be making this a reality."
Street vendors haven't experienced many victories. They've been subject to excessive ticketing and police harassment with little recourse, and have often been stigmatized by BIDs and others, including critics in the media. In December, the New York Post published a sensational article headlined, "Mayhem in the streets: Illegal vendors are overtaking NYC." No matter that this is completely out of touch with reality, it's in keeping with the Post's coverage.
As recently as 2019, a City Council bill introduced by Councilmember Peter Koo banned vendors from Flushing's main strip. Intro 1116 is a big victory, and not just because it eliminates the inflated prices and underground market. The SVP sees lifting the cap as part of a path toward, hopefully, correcting the problems that have plagued street vendors during the pandemic, including how difficult, if not impossible, it is for many to get loans. The vote is a victory for street vendors, during what has been an incredibly difficult year, and should be celebrated by anyone who cares about New York and the people who make it the place it is.