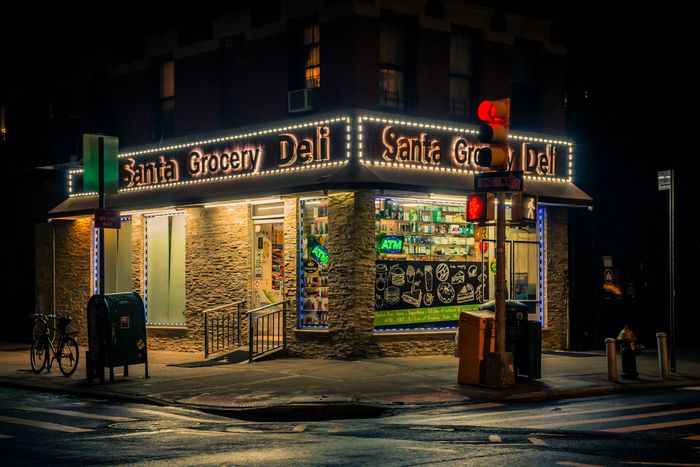 The corner of East 12th Street and Avenue B in the East Village.
Photo: Dina Litovsky/Redux/Dina Litovsky/Redux
On the morning of January 15, New York mayoral candidate Andrew Yang walked into a store to purchase two bottles of green tea and an entire bunch of bananas. "New York City relies upon its 14,000 bodegas so much," he said. "I love bodegas." His campaign then posted the video to Yang's Twitter account, at which point every New Yorker with an internet connection informed Yang that he was not, in fact, in a real bodega. As one of Yang's Twitter critics put it, "Until @AndrewYang has sat on a milk crate in a Bronx bodega drinking beer out of a can while the owner runs numbers out of the back, he can't do his bodega stunt thing with credibility."
New Yorkers, Yang pointed out, love bodegas. They love BECs, loosie cigarettes, bodega cats, and the comfort that comes from knowing you can buy a single roll of toilet paper at 2 a.m., if that's what you really need. Whatever Yang walked into, it wasn't that.
Officially, however, Yang did walk into a bodega. The store — 7 Brothers Deli, on the corner of Ninth Avenue and 49th Street in Hell's Kitchen — fits squarely within New York City's government definition: The Department of Health and Mental Hygiene defines a bodega as a small store (less than 4,000 square feet) with no more than two cash registers that sells mostly food, doesn't specialize in any one item (bakery, etc.), and offers milk, eggs, or meat. (Sorry, no vegan bodegas.) Oh, and before New Yorkers revolt: The city excludes major chains like 7-Eleven.
This definition may sound broad, but a list of bodegas supplied by the Health Department is quite small: Only 7,104 businesses citywide, far fewer than the 14,000 to 16,000 figures that are routinely cited. In reality, public-health experts are not interested in corner-store iconography, and there is no "grit" requirement. Instead, the Health Department views bodegas as less healthy substitutes for supermarkets, and uses bodega-to-supermarket ratios as an indicator of an area's access to nutritious food. In 2018, Yang's neighborhood, Hell's Kitchen, counted seven bodegas for every supermarket. In Bed-Stuy, the ratio was a startling 57:1, highlighting that bodegas, especially during the era of COVID-19, may be the only grocery option for many low-income families.
However, even the city's official tally doesn't reveal how many bodegas are really in New York. Public records are incomplete and not updated. Furthermore, many bodegas don't operate under their registered names, and lack an online presence, which adds to their authentic feel but poses a problem for government counts. The Health Department's bodega list is also full of obvious errors. (Somehow, the Eataly in the Financial District counts.) After analyzing public and online records, it appears the actual number of bodegas in New York City hovers somewhere around 8,000.
Surprisingly, only 16 retail food stores throughout the five boroughs even use bodega or bodeguita in their registered names. Half of the stores on the city's list are instead called deli or grocery, while the words organic and gourmet both show up far more often than bodega, a development that smacks of gentrification.
In New York, the first bodegas of the 1920s sold comfort food to Puerto Rican factory workers, and after WWII, as the Puerto Rican community grew, bodegas became commonplace, according to Carlos Sanabria, author of the book The Bodega: A Cornerstone of Puerto Rican Barrios. Sanabria says these stores provided hard-to-find Puerto Rican staples like fresh herbs, records, and ripe avocados. But the utility of a bodega also went beyond material needs. As Sanabria says, "The bodega was emblematic of recent migrants' need to forge relations and seek community in a new cultural environment."
Frank Marte, secretary at the Bodegas and Small Business Group, says that's still the case at the two bodegas he runs in the Bronx. At Marte's bodegas, Green Earth Food Corp., on the Grand Concourse and on Webster Avenue, he says, "customers can drink a beer and talk about their problems." He even runs tabs for local families. Marte takes issue with fancier bodegas and thinks the city is wrong to count places like the upscale Foragers Market in Dumbo, which has a selection of 100 cheeses, but no chopped cheese. "Mostly, bodegas to me are in the low-income areas," he says. "When no one wanted to go to the Bronx, the bodegueros were there. We gave life to the neighborhoods."
The Health Department doesn't track whether stores are neighborhood hangouts or ad hoc mutual-aid societies, but dozens of ethnic markets do appear on its list; many Greek, Polish, and Korean markets meet the city's criteria and, in spirit, resemble the bodegas with which Sanabria grew up.
At 3 Aunties Thai Market, a minuscule shop in Woodside, the beer, chips, snacks, spices, soaps, prepared food, and religious items are all imported from Thailand. And, according to Angie Diaz, a part-time worker, "Many people come because they're homesick." Still, when I ask Diaz if she considers the shop a bodega, she offers a conclusive, if unofficial, metric as evidence of the shop's bona fides: "Yes," she says. "We have a cat."