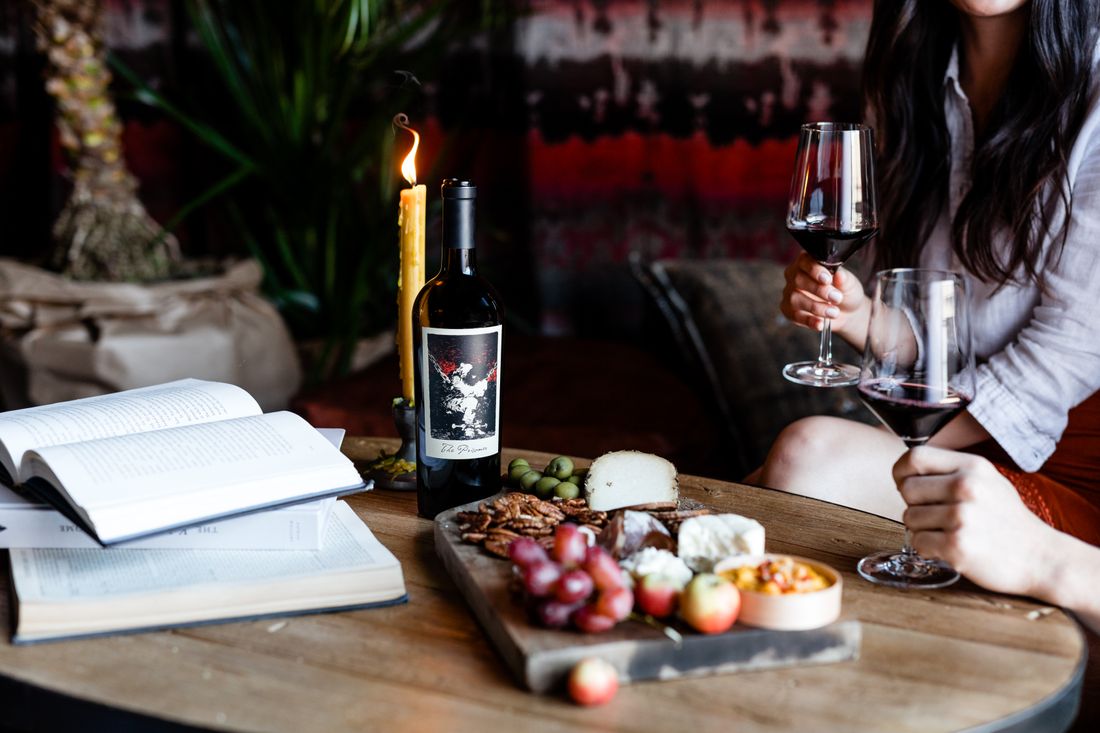 Photo: Courtesy of Prison Wine Company
Cabin fever got you down? At this point in a long winter, it's almost inevitable. With quarantine monotony setting in hard, and with so many of our usual entertainments on hold, we're all looking for novel experiences in our own homes. And thankfully, there's nothing like uncorking a great bottle of wine to transform a quiet night around the house into something unexpected.
The folks at The Prisoner Wine Company have long specialized in wines that are anything but ordinary. While their home of Napa Valley tends to have a predictable winemaking style, the brand's first release, "The Prisoner," broke all the rules when it hit the market more than twenty years ago — a super-luxury red blend uniting the Zinfandel grape with an unusual combination of Cabernet Sauvignon, Petite Sirah, Syrah, and Charbono.
With its eye-catching label, inspired by Goya's classic 19th-century sketch Le Petit Prisonnier, and its varietals inspired by Italian immigrants who were early settlers to Napa Valley, the wine became a cult favorite among collectors — a bold Napa wine utterly unlike anything that came before.
Over the years, it's gained a serious following, appealing both to hard-core wine aficionados and to less experienced drinkers looking for a remarkable bottle to discover. And now, The Prisoner Wine Company is introducing two new releases under The Prisoner label, every bit as innovative and compelling as their flagship: a Napa Valley Cabernet Sauvignon and Carneros Chardonnay.
Which of the three Prisoner wines is your best match? It all depends on your style — and your plans for the weekend. Pick a bottle, and we guarantee you'll shake off those cabin fever blues in no time.
For movie night: The Prisoner Red Blend
Prices taken at time of publishing.
Looking for a powerful, compelling wine to enjoy over the course of a gripping movie? That's a perfect match for The Prisoner's marquee wine, the Red Blend. Vivid aromas of Bing cherry and roasted fig and a rich, smooth finish: It's a wine that deserves the considerable acclaim it has garnered over many years, while remaining accessible for even a novice wine drinker. An artistic, unorthodox wine that tells a story as you linger over a bottle. And what better wine for your movie night than a cult classic in its own right?
For a wine-and-cheese date night: The Prisoner Carneros Chardonnay
Prices taken at time of publishing.
If you're after something a little lighter, but every bit as compelling — a bottle to chill down and sip slowly as you graze your way through a killer at-home cheese board — the Chardonnay is your best bet. A bold foray into the world of white wine, The Prisoner Carneros Chardonnay will upend any drinker's preconceptions of Napa Chards.
Director of Winemaking Chrissy Wittmann sources grapes from a family of growers across California, more than one hundred in number, selecting fruit for its unique character and unparalleled quality. In this bottle, Roussanne and Gewürztraminer join the Chardonnay for a full-bodied wine with balanced acidity; aging ten months in French oak contributes classic rich, toasted notes and an elegantly smooth finish.
We'd be hard-pressed to imagine a cheese board this couldn't be a perfect match for. What's the very best cheese to pair with The Prisoner Carneros Chardonnay? Figuring out the answer sounds like a perfect at-home date night to us.
For lingering in front of the fire: The Prisoner Napa Valley Cabernet Sauvignon
Prices taken at time of publishing.
And if you're looking for a dynamic, cerebral red that keeps changing and evolving the longer you sip it, the Napa Valley Cabernet Sauvignon is for you. Building from a base of its namesake grape, The Prisoner Cabernet Sauvignon has a strong supporting cast of Merlot, Syrah, Malbec, Petite Sirah, and Charbono. Here rich, dark fruit flavors predominate, together with notes of vanilla and baking spice; French and American oak aging lend the wine its distinctive long finish. It shares many of the traits that made the Red Blend such a breakout hit, while maintaining a character that's wholly its own.
As with every wine from The Prisoner, the labels are key — variations of Goya's Le Petit Prisonnier, the sketch that inspired the wine brand itself. Every bottle is a conversation piece, ideal for an evening of great conversation. Perfect for sipping late into the night, paired with great company, it's a wine that only grows more rewarding with every sip you take.
This advertising content was produced in collaboration between Vox Creative and our sponsor, without involvement from Vox Media editorial staff.