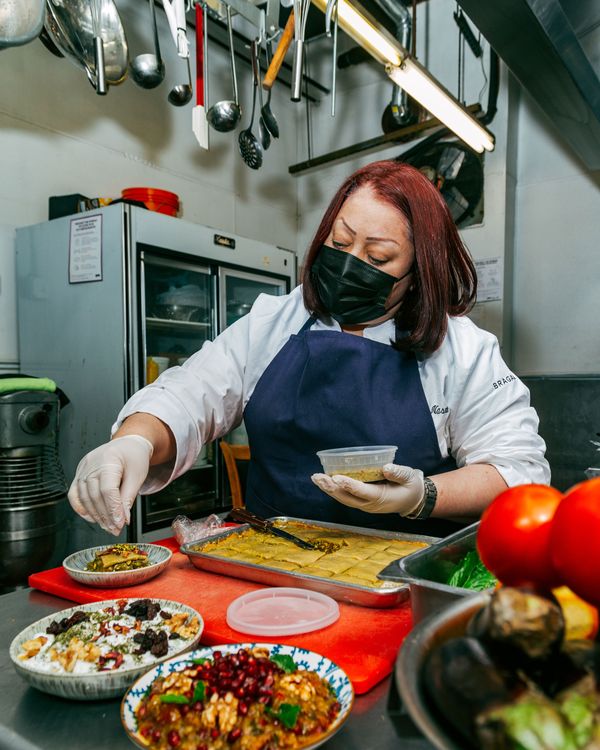 Baklava is one of the chef's specialties.
Photo: DeSean McClinton-Holland
When Iranian refugee Nasrin Rejali immigrated to New York via Turkey in 2016, she had already been cooking for most of her life — first at the knee of her grandmother ("No one makes fesenjan like my grandmother's fesenjan") and, later, at restaurants in Iran and Turkey. She even ran a gym café in Tehran where, instead of smoothies, she whipped up Persian dishes like koofteh (meatballs), prompting gymgoers to joke that she was sabotaging their efforts.
After arriving Stateside, the divorced mother of three eventually found work through refugee-focused organizations like the Eat Offbeat catering kitchen and Tanabel dinner series. But her personal dream is to open a Persian teahouse — a place designed to "show something not found here," like the glories of Iranian slow cooking and Turkish breakfast — and also "to have fun, to dance."
Considering present circumstances, the dancing might have to wait. But Rejali has been busy building her brand, populating an online store with pickled dates, carrot and eggplant jams, and the Middle Eastern pastries that have become her calling card. These days, the road to chefdom is paved with pop-ups, and Rejali has brought her family recipes to such far-flung locales as Winner in Park Slope and Talia's Steakhouse on the Upper West Side, where she was the inaugural chef for a new venture called PopSup, which partners with cooks of diverse backgrounds in rented spaces around town. But Rejali's home base for the moment is the borrowed kitchen of Sakib, a Middle Eastern restaurant in Williamsburg run by her fellow Eat Offbeat alum Diaa Alhanoun.
That's where she cooks the occasional takeout dinners she advertises on her website, which is where we spotted her New Year's Eve menu. A few nights later, we were unpacking foil containers filled with the evocative flavors of Rejali's homeland. There were squat, square grape leaves plumped with sweetened rice, whole olives dressed in a garlicky walnut paste, and a container of soup jo irani, a sort of cream of barley with the soothing viscosity of a Tuscan ribollita. Rice, prized in Iran, came two ways: the vegetarian havari, tinted green by cilantro and dill, and the hearty gheymeh nesar, its surface striped with tart barberries, powdered saffron, almonds and pistachios, and stewed lamb with split peas.
Dessert was a symphony of saffron, rose water, dates, and nuts in various cookie and jellied forms, plus two takes on halvah. A packet of lemon-verbena tea was included, and although we appreciated the gesture, we couldn't help but imagine what all this would be like one day in the hopefully not too distant future with Rejali herself filling our cups, followed by a dance or two.
*A version of this article appears in the January 18, 2021, issue of New York Magazine. Subscribe Now!