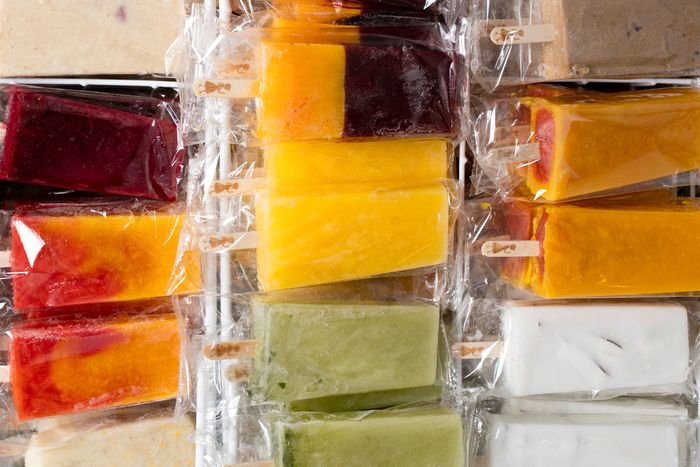 La Newyorkina's paletas.
Photo: Melissa Hom
In 2012, Hurricane Sandy devastated numerous New York food businesses, including Fany Gerson's La Newyorkina. At the time, Gerson, who also opened Dough in 2010, ran La Newyorkina as an online retailer and summertime paleta pop-up. The hurricane flooded her production facility in Red Hook, which she was unable to access for weeks afterward because of an electronic gate, and ruined both inventory and $100,000 worth of equipment. Gerson didn't have deep-pocketed investors to help out and at the time was unable to get a loan from a local group because she didn't have a brick-and-mortar shop.
In a twist of the knife, at the time that Sandy hit, Gerson said she was talking with investors about turning La Newyorkina into a freestanding shop. Sandy delayed the project another four years. When Gerson finally did open the Greenwich Village business in October 2016, it was a colorful and warm shop dedicated to her obsession with everything sweet (and particularly frozen) from Mexico. That year, she said, "This is just the beginning, but for me this has always been the dream." Now, four more years later, she'll close the La Newyorkina shop on January 10, another dream devastated, this time by the coronavirus pandemic.
When we spoke this week, Gerson didn't shy away from the pre-COVID struggles the shop faced as a seasonal business. Last January, she launched a pozole pop-up with the chef Danny Mena as a way to try and get through the slower winter months. "We were going to test out a taco-and-sweet-things concept this summer, but everything was to make it work so I wouldn't lose the shop," she says.
When public life was halted and restaurants were ordered to close, Gerson says that her neighborhood cleared out: The rich residents fled the city, like they did in other wealthy enclaves, and NYU shut down, so the student population went away too. "We were doing numbers that we do in the dead of winter some days during the summer, which is crazy," she says.
Throughout the pandemic, Gerson and Mena kept their pop-up, La Newyorkina, going, selling dishes like tortilla soup, tacos árabes, and roasted-pineapple empanadas, the kind of nourishing and unpretentious food you'd hope to find in a Mexico City cantina or lunch spot like Nicos. (She also opened Fan-Fan Doughnuts in the space home to the original Dough.) But Gerson says she struggled to pay rent, and she tried to find a replacement to take over her lease but ultimately couldn't.
Gerson is, of course, not alone. Around the country, an unfathomable number of restaurants have closed, causing an avalanche of loss for people and their communities: the jobs and livelihoods of those who work in those restaurants; the financial and emotional investments from those who've poured their lives into the businesses; in some cases, the history of places; and, in all cases, pieces of a community, however big or small. To take just one example, the deli nearest La Newyorkina, which has also closed, was someone's livelihood, and maybe it was a dream for the owners, too.
To focus on one specific business isn't to ignore the broader devastation. What's notable about La Newyorkina is that it's the rare place that felt truly unique. There simply could not be another place like it in New York, because Gerson is a genuine scholar of Mexican sweets (just read her cookbook My Sweet Mexico). La Newyorkina is a synthesis of that deep knowledge, the sweets stores she grew up visiting in Mexico City, and an American ice-cream shop. Gerson served things straight from the streets of Mexico City, like nieves de garrafa, a type of ice cream that's like custard in its purest form and which she'd make with salty requesón cheese. She also sold sundaes with toppings like cajeta, a Mexican-style goat-milk caramel; puffed amaranth; cherry-hibiscus compote; and chapulines. There were churros and churro ice-cream sandwiches, pastries like conchas and chocoflan, and lots of hot chocolate, not to mention all of the homemade paletas.
To lose this business is to lose something one of a kind, and Gerson says she does hope to bring back the shop. For now, the business will continue as an online retail operation, and maybe Gerson will find a better place for La Newyorkina. Just four years old, it's not exactly an institution, but smaller places like La Newyorkina — or Chinatown's now-closed Hua Ji Pork Chop Fast Food and the Fordham Heights fixture 188 Bakery Cuchifritos — are as much a part of the city's fabric as businesses with bigger names. La Newyorkina wasn't really about selling ice cream; it was one person's obsession, fully realized for anyone to enjoy. It was a little bit of Gerson's Mexico, here in New York, but for now, anyway, it's gone.