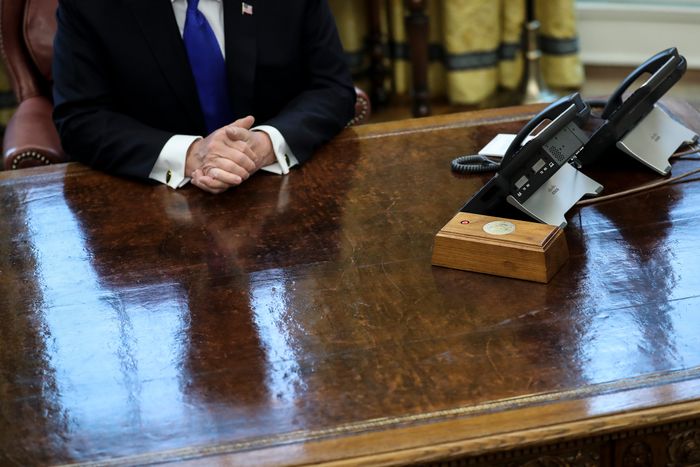 The now-gone button, on Trump's desk in 2019.
Photo: Oliver Contreras/The Washington Post via Getty Images
There have been — perhaps you heard — some changes at the White House. For example: Joe Biden is now the president, and Donald Trump is no longer the president.
It has also been widely reported that during his first hours in office, Biden signed 17 "executive orders, memorandums and proclamations" meant to undo the damage of various Trump-era policies. These include ending the so-called Muslim ban, stopping construction on Trump's border wall, extending the federal moratorium on evictions, and reentering the Paris climate agreement.
But that is not all. Biden has also removed his predecessor's Diet Coke button.
As political commentator Tom Newton Dunn explained on Twitter, Trump had a special red button on his desk, encased in a dignified wooden box. It was a great button, very special, he loved it. Interviewing the then-president in 2019, Dunn and a colleague "became fascinated by what the little red button did." What did it do??
"Eventually Trump pressed it, and a butler swiftly brought in a Diet Coke on a silver platter," Dunn explains. It was, in other words, like a very exclusive Amazon Dash button.
Anyway, Dunn notes, the button is now gone. The whereabouts of the box that held it remain unknown.