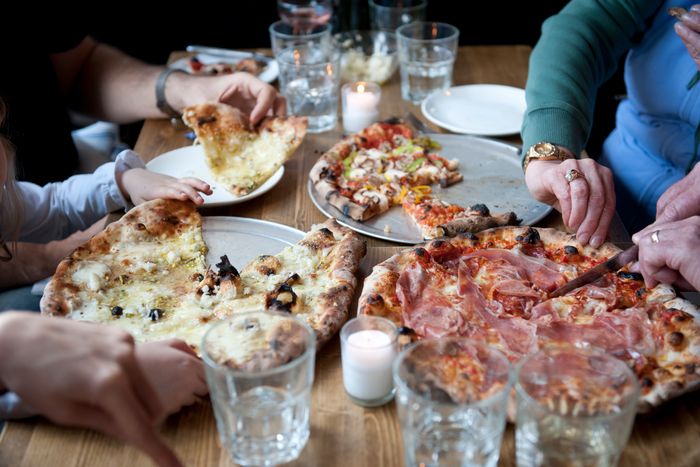 Pizza, being eaten inside at Emily in Brooklyn.
Photo: Liz CLayman
Governor Andrew Cuomo announced today that New York City is on track to reopen indoor dining, at 25 percent capacity, on February 14. "The restaurants want a period of time so they can notify workers, they can get up to speed for indoor dining, order supplies, etc.," he said at a press briefing this morning.
The Valentine's Day reopening, he suggested, might be an excellent time to propose, given that the state will also be reopening wedding venues at half capacity, with testing, starting March 15. "No pressure," he said. "But, it's just an idea."
New York City restaurants have been closed since mid-December, when the governor reinstated the ban in response to then-spiking COVID-19 numbers. By mid-January, though, the state had begun to roll back those restrictions, allowing restaurants to reopen for indoor service at 50 percent capacity everywhere except in New York City, where, much to the chagrin of advocates, dining rooms have remained closed.
That policy has sparked multiple lawsuits against the state from New York City restaurants, alleging that the restrictions are "not only unfair, but illogical from a scientific standpoint," the Real Deal explains. In a statement, the New York City Hospitality Alliance pointed out that cases are significantly lower in Manhattan, where restaurants are closed, than in many other parts of the state, where restaurants are open — and that, based on state data, 74 percent of cases this fall came from "living room spread," while 1.4 percent were traced back to restaurants and bars.
And as recently as Monday, Cuomo was sticking to what has long been the justification for the policy: The population density in New York City makes it fundamentally different from other places, even those with higher case rates. The state was looking into loosening restrictions elsewhere, but it was not "contemplating any changes" regarding city policy, Cuomo had said. But by Wednesday, the governor had begun teasing plans for reopening indoor dining in the city. (The rest of the state will stay at 50 percent.)
COVID cases across the five boroughs are down 4.2 over the past week, compared with the weekly average last month, and the post-holiday increase in hospitalizations is now on the decline, city data shows. The overall case rate — 5.3 percent citywide — is listed as "stable." The Bronx currently has the highest positivity rate (a seven-day average of 7 percent), while the rate is lowest in Manhattan (3.4 percent.)
The partial reopening puts New York City in the same category as Chicago, Philadelphia, and Washington, D.C., all of which recently announced plans to resume indoor dining at a quarter capacity. The governor acknowledged, though, that plans in New York remain subject to change. "We make decisions based on facts," he warned, "but facts change. COVID facts change dramatically and they change often." The case rate may be dropping, but at the same time, new and more contagious variants of the virus are beginning to pop up: There are already a small number of cases of the U.K. strain in the the state, and yesterday, the CDC announced the first two U.S. cases of the South African variant. "If the facts change," Cuomo said, "we will have a different situation."