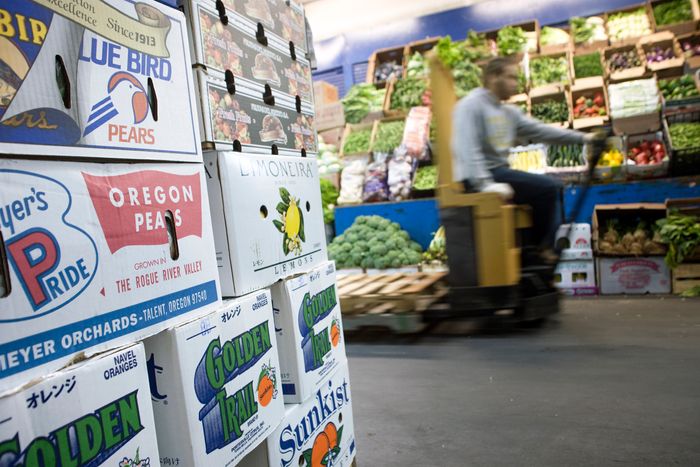 It's the largest wholesale produce market in the world.
Photo: Karsten Moran/The New York Times
Produce workers at the Hunts Point Produce Market in the South Bronx are on strike for the first time in almost 35 years after wage negotiations broke down last week. It's a labor issue, and also a vegetal one: WNYC warns of a possible "ripple effect throughout the city, " given that up to 60 percent of the city's fruits and vegetables pass through Hunts Point, the largest wholesale produce market in the world. Here's what you need to know.
Who is striking?
Hunts Point Distribution Center is actually a collection of three primary sections. Eater, which called this the "single most important food hub in New York," broke it down last year: There's the Hunts Point Cooperative Market, with 52 member companies, focusing mainly on meat. There's the New Fulton Fish Market, which moved uptown in 2005. And then there's the Terminal Produce Market, which handles fresh fruits and vegetables coming in from all over the world. The produce market's workers are on strike.
Why?
The union representing the market's warehouse workers, delivery drivers, and others — Teamsters Local 202 — had been arguing for a $1-per-hour raise and "additional health-care support," according to NY1. Management countered with an additional 32 cents per hour. Negotiations broke down and about 1,400 workers went on strike over the weekend.
The union points out that these are essential workers who have been helping to keep the tristate area fed throughout the pandemic. "It's not good enough just to clap for them and say they're essential. When they asked for a decent raise, a fair number, they should be told, 'Yes, you can have that, and thank you,'" Teamsters Local 202 president Danny Kane told CBS New York. The average base salary for union workers at the market is $40,000 per year.
So it's related to the pandemic?
Not directly, although the pandemic — at least, in theory — highlights how "essential" this work really is. "We are finally realizing these folks didn't become essential during the pandemic," Kane said. "They have been essential forever."
"I would love the support from the owners," Francisco Flores, a worker at the market, told NY1. "I feel like we both need each other, we both need to be there for each other, and right now they're not showing us that they even care for us."
While Hunts Point has garnered praise for its general handling of the pandemic — and avoiding layoffs or furloughs — workers at the produce market have hardly been spared from the virus. A union rep estimated that 300 to 400 people have been infected so far, and six union workers have died of COVID-19.
And what does management say?
Not a lot. An official statement, released Friday, reads: "We are very proud to have kept our union workers — the vast majority of whom live right here in the Bronx — working and on payroll with full health benefits as the Bronx has seen an unemployment rate of 40%." It continued, "Even with the continued uncertainty surrounding the pandemic, we are offering our dedicated workers wage and benefit increases over the next three years that are a multiple of the current annual cost of living. We are continuing to negotiate in good faith with the Union to keep our workers on the job and produce available in our region."
How's it going?
It's not what you'd call a good situation. At least five picketers were arrested this morning for allegedly being "unlawfully in the roadway" and "obstructing vehicular traffic," the Daily News reports, citing video from the scene. It's not clear as of now how many of the strikers were taken into custody or if any were criminally charged.
The union was not deterred, Kane told the Daily News: "We will stay on strike until these employers pay their workers the essential wage they deserve."
Should I worry about vegetables in my grocery store?
Right now, the market is still open for business, but the union warns that without the usual workers to sort and deliver products, the "tristate area's food supply will be greatly impacted." Trucks can still get to the market, but the workers who'd usually unload those trucks aren't there.
Reps for the market, for their part, say the "top priority is maintaining the flow of fresh produce to our region." Still, WNYC suggests, now "might be a good time to stock up on bananas and root vegetables."