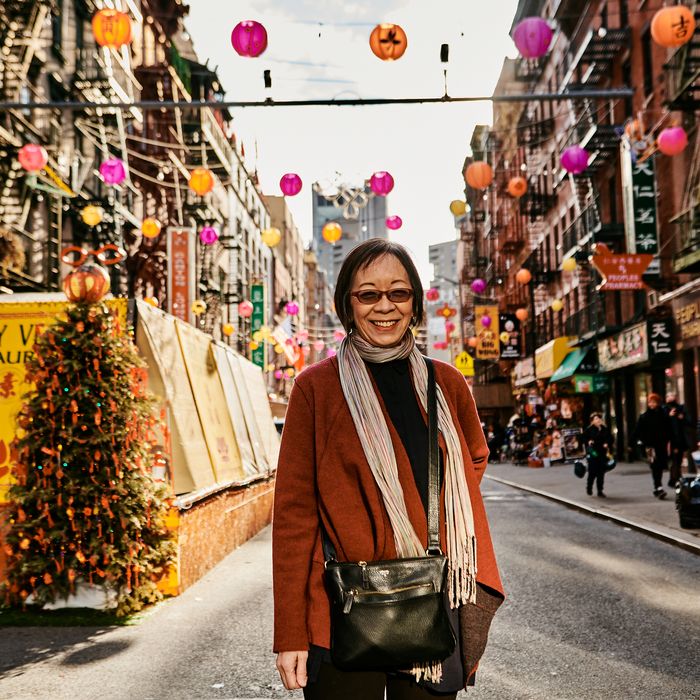 Grace Young, in Manhattan's Chinatown last week.
Photo: Christian Rodriguez
Grace Young is walking through Manhattan's Chinatown, just as she has done nearly every day since the pandemic began. She has a regular route: First, her favorite fruit stand on Mulberry, just south of Canal. "These are absolutely amazing," she says, pointing at a heap of small green cocktail grapefruits. "You should really try one of these!" Then, her preferred vegetable market. "The outside is not very inviting, but the produce is superb. The freshest cilantro — one dollar a bunch!" And next is her other favorite vegetable market, a florist on Elizabeth Street that has recently branched into seasonal produce from Pennsylvania, like some cartoonishly perfect Bugs Bunny carrots. "The sweetest carrots I have bought in, like, a year!" There are Fuji apples and butternut squash, and if you were lucky enough to have come in the summer, you could have gotten the most amazing tomatoes.
Over the course of the summer, she bought 70 pounds of those tomatoes for one friend alone — Young knows this because the friend weighed them — and now, at her other other favorite vegetable market, she wants to buy fresh water chestnuts for me because I have never had fresh water chestnuts. "When you go home, you'll just peel them like an apple. You have to try it," she instructs me nonnegotiably. (In the interest of fairness and accuracy in reporting, I did pay her back, and the water chestnuts taste like jicama, but sweeter, or coconut, but lighter.)
We should get sponge cake! Do I want sponge cake? Because Tonii's Fresh Rice Noodle has "the best sponge cake," which it gets from its sister bakery, Kam Hing. "Chinese love sponge cake," Young says happily, before ordering two. It comes in all kinds of flavors — butterscotch, matcha, chocolate chip — but there is, in Young's mind, no reason to deliberate because the best choice is plain; why mess with a cloud?
Pre-pandemic, Young used to come to Chinatown weekly, but now she's here almost every day for groceries or takeout or both. "I've eaten more takeout in the last year than in my entire life," she says. "I'm a cookbook author! I'm always trying to get people to cook my recipes at home. But I realized early on that if I don't, these guys are going down." So she is eating what she can and ordering more. But there is only so much she can buy for herself and her husband (also two cats), which is why she has started shopping for everyone else. She buys tomatoes for the tomato friend. She buys green beans for a friend who loves green beans.
She spent Christmas Day trying to figure out how to transport roast ducks to New Jersey. On Instagram, she had posted an idea: Make Christmas easy for yourself, go to Chinatown, and just get a roast duck. "I was coordinating pickups for four different friends who wanted Chinese food," all from different restaurants. "I was afraid that if they just did it on their own, it wouldn't come off," Young says. "So I was literally down here on the ground. We're on the cell phones: 'Okay, I'm ready to order it. You pull the car up.'"
If 2020 had gone the way it was supposed to, Young would not have spent Christmas orchestrating duck logistics. But she has, over the course of the year, become the city's most visible advocate for Chinatown and the catastrophic effect that the pandemic has had on the neighborhood — even if she wasn't exactly angling for the role. "I'm a very quiet person," she says. "I'm not an activist. This is not my personality at all. This is not my thing, buying 70 pounds of tomatoes." But what choice does she have? "I feel as though I am an accidental voice for Chinatown. It was as though I had no say in it."
Before all of this, Young wrote award-winning Chinese cookbooks about cooking in woks. (After a stint at New York's Museum of Food and Drink, her own family's wok is headed for the Smithsonian.) The New York Times called her a stir-fry guru, though she self-identifies more as a wok therapist, writing extremely accessible, extremely not-dumbed-down volumes that double as cultural histories. They are cookbooks, but threaded through all of Young's work is a sense  of impending loss. "I recognized that if I didn't begin questioning my parents, grandmother, aunts, and uncles," she writes in the introduction to The Wisdom of the Chinese Kitchen, "the wisdom of their diet and the lore of our culinary heritage would be irretrievably lost."
In The Breath of a Wok, she is on a mission to "locate as much traditional wok culture as I can, recording it before it becomes extinct." And while Young describes Stir-Frying to the Sky's Edge as an "almost anthropological" compendium of recipes from the Chinese diaspora — meant, in part, to illustrate the resilience of stir-frying — the book is shot through with a preservationist's sense of urgency: If we don't document recipes, eventually they'll disappear.
It was in this capacity as a culinary historian and wok therapist that she'd been preparing a series of lectures for Poster House — to go with its upcoming exhibit on China — when, in mid-March, the whole thing was called off. Museums were closed. But they wanted to know: Was there anything they could do for Chinatown? Actually, Young thought, there was: They could film it. That project became "Coronavirus: Chinatown Stories," a series of short, stark interviews with business owners on "the last day Chinatown was Chinatown as we know it."
Last year, Chinatowns across the country were already reporting a precipitous drop in business by late January. New York hadn't had any confirmed cases yet, but restaurants here were already reporting that business was down 50 to 70 percent. There were a number of factors that made Chinatown uniquely vulnerable: xenophobia, obviously, and the sudden absence of tourists. The Chinatown economy depends on volume, but no one was buying. There were no postal workers stopping in, and no jurors, and even the nearby office workers had stopped getting lunch. By March 15, when the mayor announced the city was shutting down restaurants, Chinatown had been in crisis for months.
Now, even as we bask in what is still here, we notice what is not. "This is one of the big heartbreaks of Chinatown," Young sighs, gesturing toward the dark window at Lung Moon Bakery, which shuttered in early October. "They were here for over 50 years. The all-time best egg-custard tarts. It's legendary." They'd owned the building, but even that wasn't enough.
"These legacy restaurants are more than just restaurants — that's where the character and the soul comes from in the community." Young chuckles grimly, "It's like losing a family member." Right now, just after noon, there is a very low but steady thrum of business — not apocalyptic, just uncanny. It's when the sun sets that it really gets bleak. "It's at 4:30 that really, like, my heart just aches," she says. The tourists are gone, and the students are gone, and the people who'd normally arrive from other parts of the city to visit family or get dinner are mostly gone too.
Sitting down at Silk Road Cafe, Young digs out the paper scrap with a handwritten list of her current projects ("So I can keep it all straight"). She's in touch with someone at NYC & Company about maybe doing something for Chinese New Year — that's TBD. There's an upcoming talk with the James Beard Foundation, and another with Poster House — maybe there could also be some kind of interactive challenge? — and one for the Chinese American Museum in Washington, D.C., which will be about Cecilia Chiang and also Chinatown. She's working out the details of some kind of project with the grassroots initiative Welcome to Chinatown — to raise money and funnel it back into the neighborhood — and she's in the midst of another blast for Save Chinese Restaurants, her campaign, with the Beard Foundation to get people to order from their local Chinese restaurants and post photos on Instagram (#SaveChineseRestaurants). Now, when editors approach her with assignments, which is often, there is only one answer: "Sure. Could we also write an article about Chinatown?"
This is a new feeling for her, being comfortable asking for things. "Somehow I found my voice in all of this," she tells me over steamed dumplings. "Along the way, I've been forced to speak up, and I'm normally the last person in the world to do that — like in co-op meetings when everyone is fighting, I might have a really strong opinion, and I'm just kind of quiet about it."
She is still making new discoveries, too, like Mee Sum Cafe: "All these years, I never noticed this place! It's like a Chinese diner from the 1960s, and they're known for their homestyle Cantonese food." She loves the feeling of being transported back in time. "Everything's the way it's always been — that's what makes them real. That's what makes them so attractive," she says. "A lot of people are thinking that these businesses will only survive if they catch up with the 21st century and go credit card or go social media or go website. But I actually think they're not meant to," she explains. "Some things in life aren't meant to be on a website. It's like taking a flower — something organic and beautiful — and saying a flower has to have social media."
No neighborhood can stay frozen in time forever, but Young is also skeptical that sweeping modernization is the answer. "To me, it's more than just saving businesses," she says of the country's two biggest Chinatowns, in New York and San Francisco. "They're both historic immigrant communities. They both actually tell the story of what it means to be American, right? This is a country built on immigrants. What other places can you go in America where you can see a living immigrant community that dates back at least 150 years?"
"So, anyway, I'm all in," she announces, folding her list. "I live and breathe it right now. And who would have guessed?"