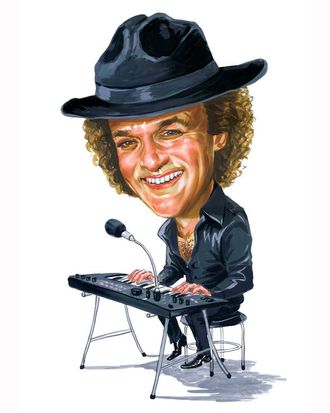 Luv was the house act at Sammy's Roumanian for 22 years.
Illustration: Courtesy of Dani Luv
As soon as I get on the phone with Dani Luv, I am happy I did not suggest a Zoom call. "It's the first totally naked interview that I ever made," he growls, somewhat triumphantly, in his instantly recognizable Israeli accent.
Perhaps it's an indicator of our larger detachment from reasonable human behavior, or of the melting away of all boundaries, or simply of my long-standing affection for Dani Luv, but I don't recoil when I hear this. I laugh. As the MC, singer, keyboardist, and insult comic in residence at Sammy's Roumanian Steakhouse, where he performed nearly every night for 22 years, Luv built a career out of saying things to rooms of strangers that could get anyone else canceled.
All of this is to say that Dani Luv, or Dani Lubnitzki, is a difficult man to explain if you had never descended into the extremely brown basement at 157 Chrystie Street to eat broiled kreplach in his presence. He was the unofficial king of New York City's Jewish disco for the past 22 years, and as we chat, two days after Sammy's owner announced that the restaurant's current iteration will close for good, Luv is still making peace with the news.
"I'm very naïve. The first two, three months, I was very optimistic. And then I start to see that nothing comes back," Luv says. "I had weddings and bar mitzvahs, private, and people postponed one after the other. 'Same time next year.' What can you do?"
Like everyone else, he recalls with clear-as-vodka-frozen-in-a-plastic-bucket precision the moment when everything changed: "March 14 was the last night. We had 300 people on the book, and we ended up with 40." That meant a single seating instead of the usual two. "It was a great night, amazing crowd. It's not easy to do one seating of four hours, you know," he boasts.
After that, it took a long time to grasp that restaurants — and a humid, crowded place like Sammy's, where strangers shout "Hava Nagila" into each other's mouths — wouldn't reopen anytime soon. "The first two, three weeks were great. It was a little vacation," Luv says. "After a month, I start to miss Sammy's very much. I love that shithole."
Still, he has spent the pandemic busier than you might think. Between little getaways to the Catskills, his schedule has included some small private parties ("Every week I take a corona test and I'm shaking to hell") and the odd Zoom event. In the fall, he started performing at Don Giovanni, an Italian restaurant near Times Square, which he assures me is Jewish owned and which made him "feel alive again." Also, he records selfie videos à la Cameo, getting cash for wishing someone a happy birthday. "Social media is amazing," he says. "And so is Venmo."
Luv learned about the Sammy's closing at just about the same time everyone else did. (He had tried to convince ownership to open indoors when 25-percent capacity was allowed, but it declined.) Two months ago, the owners had opened the doors to allow him to retrieve his equipment and shared that they wanted to look for a new location. Now, the Instagram caption announcing the closing promises it will reopen elsewhere. Luv trusts that's the case: "A week ago, I said, 'Seriously, are you planning to ever go back, to have Sammy's?' He said yes, but only when the time will be strong. I think they really want to."
In the meantime, Luv is happy to reminisce about the past two decades. He doesn't have a specific beloved memory but, instead, a category of them: when he has won over confused or outright suspicious newcomers. "I love that first expression on the face," he recalls. "Like, usually the Jewish guy brings his shiksa girlfriend — shiksa means 'a woman that lets you live' — and she sits, she looks at me, then to the walls, to the floor, and I am cracking out. She has the face of, What the fuck? We're eating in a dumpster," he laughs. "I stop the music, and I say, 'It's an amazing place, isn't it?' And then the ice is broken."
Then there was the Russian surprise-party recipient who took one glance around the room and tried to leave his own dinner. "Russian people from Brooklyn are used to a very shiny party place, with chandeliers and mirrors and beautiful tables, and everything looks like princess ballerina from the 1700s," Luv says. But his family convinced him to stay. "They said, 'No, Daddy, Daddy, you're going to love it.' Then he sees the food — of course, he's a Jew — and that convinced him, and the show." The man became a regular.
Now he's plotting his next act. "Quite a few people are interested in supporting me," Luv says. "So maybe to have my own crazy place … a lot of people want to invest." He's also revamping his Instagram account, where he'll soon post original songs about the pandemic.
Naturally, there are political ambitions, too. "Maybe I'll try to be a mayor of New York. 'Cause I know that New York has an opening for all kinds of schmucks to be the mayor."
When asked if he has any words of comfort for the distressed Sammy's fans near and far, Luv offers the customary vodka shot, followed by schmaltz. "First of all, not eating that shit food will be good for you," he cracks. "I'm not sure if chopped liver and the vaccine are good together."
But Luv, like many others, is optimistic about New York's future: "After 9/11, it really came back," he says, remembering his own 2001 morning standing in a RadioShack and watching the towers fall on 20 screens at once. "A lot of people have died, and a lot of people are still suffering," he says. "But in the larger picture, I'm sure we will go back to singing and dancing and Dani Luv talking shit to people."