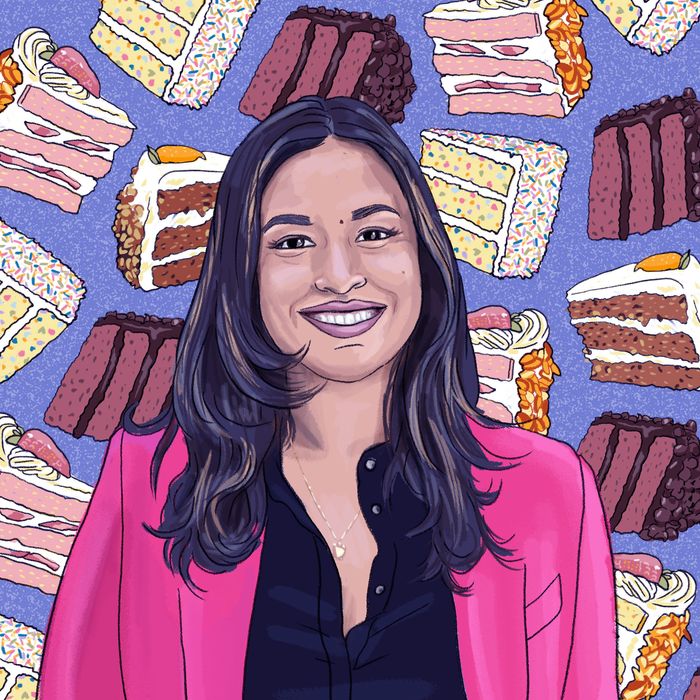 City Councilmember Carlina Rivera — and her cake.
Illustration: Margalit Cutler
Since, 2017, Carlina Rivera has represented District 2 on the City Council, advocating relentlessly for affordable housing, transportation, health care, and small-business survival. When the pandemic hit, Rivera co-sponsored Local Law 1932-A, which temporarily suspends personal-liability provisions for business owners. This issue is personal for Rivera, as her husband, Jamie, is a minor partner in a struggling café. "They had to create the outdoor structure, follow all the rules, apply for the PPP," she explains. "So our pillow talk is small-business survival." 
Wednesday, December 30
I woke up to coffee — I do try to taste local coffee places to see what's up, but in the end, I just get the party-size Bustelo and I feel very content — and eggs and bacon that my husband, Jamie, made. He's been cooking more over the past few months, under my supervision. He didn't really grow up cooking, so I'm trying to be patient. He has a good handle on breakfast foods.
I got ready for my day and did council work. This was a day where we had small-business inquiries; people were asking about the stimulus deal and what that means for the PPP program. I also had a pipe burst on First Avenue that affected local water service, so I tried to figure that out. I always incorporate a little campaign work, too. Election Day is a little less than six months away, so that's been interesting.
After that, I went out on my bike for errands and got a little cardio in. I had a hair appointment, finally, with a woman who's been cutting my hair, my sister's hair, my mom's hair for over 20 years. She's so great. Her name is Sherene. She's brilliant, she's generous, she's a family friend, and she gives great advice. Maybe people always say that about their stylists. We both have birthdays coming up — we're Capricorns — so we talked about how we're going to handle the new year and how we're going to let go of the toxicity we've encountered. We always try to make goals, but they're always the same goals, which are to, like, be kind and be unapologetic. We always end up saying the same thing, which is fine. Consistency: That's very Capricorn.
After I got my haircut, I met up with my friend Matt at a bar, standing outdoors, bundled up. We went to Donnybrook on Clinton. It's been there for a while now, and it happens to belong to my friend Meghan. We met when we were on the community board together. I got a bourbon, Four Roses. Matt complimented my haircut, so we got off to a great start. We had a couple bourbons, probably too many.
After a few, I was pretty set, and I walked home. My husband and I got takeout from this place called Solo Pizza on Avenue B. We ordered penne alla vodka. I know it's a pizza spot, but we found this one pasta dish that we love and we absolutely crushed it in front of the TV, trying to recover because I'm kind of a lightweight. We watched The Flight Attendant. What I love about it is that it's set in New York. They make a joke about how silly the Vessel is, which I appreciated.
Thursday, December 31
I woke up and had a can of Sprite for breakfast. You know, there's just something about the lemon-lime bubbles that makes you feel better after a night of drinking.
Did some work. There's always something: testing sites, vaccine questions. After a couple hours of that, we went to the Whitney. I hadn't visited the new location. They have a cute vintage photo booth in the gift shop. They have a Diego Rivera exhibit up now, and they also have other Mexican artists. They have one of Frida's self-portraits.
I grabbed a coffee at a café nearby called Kava Cafe and then we walked the High Line. I hadn't been there in a very long time. There's more art there now. We walked to the East Side and had a very, very early dinner at Upland. And I mean super-early, like four o'clock. Do you know that place Dallas BBQ? There's one on St. Marks and First Avenue. Whenever I eat that early, I always think about how my family would celebrate major family events with the early-bird special at Dallas BBQ because it was cheaper.
Going out for us was rare, so someone had to be like graduating or something. I remember seeing what they call "Texas-sized" drinks and just, like, questioning their popularity when I was a precocious teenager. But then I later found out what all the fuss was about. They are Ina Garten–level martini glasses, but round and filled with margaritas or daiquiris. I remember when I had my first one, I held on to the little paper umbrella they put in it, because I thought it was such a momentous occasion.
Anyway, back to Upland. My husband got the cheeseburger, and I got cacio e pepe. It just seemed right. Then we walked home. At that point, we were at 15,000 steps, so we went for the gold. We stopped by Iggy's bar, a few blocks from my apartment, because my sister bartends there. Our schedules really conflict, but, you know, when I see her it always feels like a small party. We laugh a lot. We talked about how our mom drives us crazy but how we're so lucky to have her and then we had a shot of Casamigos tequila to say good-bye to 2020. We only had one — I told you, I'm a lightweight. Plus, I was saving my energy because on that epic walk we bought a bottle of Champagne so we could drink some around midnight.
We walked home and got ready for New Year's. My family has these Puerto Rican traditions. Have you ever heard of Walter Mercado? He's this famous astrologer. Anyway, it's this Puerto Rican thing, and he lives in our hearts forever. So our traditions: We eat 12 grapes, you gotta keep money in your pocket at midnight, and you sweep the house one last time to get rid of negative energy. We watched the ball drop, we drank the Champagne, and we had a small dance party. Eventually, we all settled down, but I mean, even my 29-year-old turtle, Freddy, was loud until 2 a.m.
Friday, January 1
Woke up very late and streamed a yoga class. I heard Jamie making breakfast, pancakes. He made mine with bananas. I had coffee and cleaned up a little bit because somehow, after a party for two people and two pets, the house was slightly wrecked. I went to see my mom just to safely wish her a happy New Year.
All these small businesses are suffering, so I have a lot going on. On the council, you can't necessarily create relief funds. You can't create something like the PPP program. So I thought, What are a few things we can do? And one of the things I championed early on was the open-streets initiative. I knew that would lead to open restaurants, and now we have open stores and open culture and we can really utilize these streets. Let these small businesses spill out onto the pavement.
My husband's a small-business owner — he's a minor partner in a café called Citizens — and we always talk about the types of things in his lease or making payroll or property tax, so I found a way to think of how we can support these owners and operators and pass legislation to temporarily suspend the enforcement of personal-liability provisions. For the owners, the worst part was that not only were they closed but that they could lose their life savings. That is where I just thought, They're already seeing their dreams and livelihoods being taken away — they can't lose everything! So I introduced this bill, and then we amended it so that way it could go until the fall, not knowing how long it would last.
We tried it, and, to be honest, a lot of people were like, "You can't do this, you can't interfere with contracts." But I just think it's our responsibility to think creatively and to push the envelope when it's something that's so important to families and also important to New York City, right? Hospitality is one of the largest private employers in the city, so I'm glad that I had a lot of help and support with that from the Hospitality Alliance and a group called ROAR. People were ultimately really, really thankful, and I was just glad that the City Council could do something in a moment of crisis.
That night, I cooked dinner. I made some salmon, baking it in foil with some lemon and herbs. I roasted some cauliflower and made a big salad.
Saturday, January 2
Jamie always makes enough batter for two days of pancakes, so we had them again and then we got on the A train to the Cloisters. I hadn't been since I was in the fifth grade. Oh my God, don't forget that there are serious hills. It was a beautiful day, and I was totally winded at the entrance. And all I could think was, Okay, let me just get in. I haven't climbed a hill in like eight months.
That night, we had Scarr's pizza. Ugh, they're so good! How did Scarr figure it out? I'm so proud of him. Whenever I go there, I'm just a little bit mad because it's so crowded, but I'm also really happy for his success because he's from the neighborhood. People that work there are from the neighborhood. I basically grew up with them, which is so amazing to see. We ordered a Sicilian pie and got the vegan Caesar. I also got a Henny Colada because, you know, cognac is queen.
Sunday, January 3
My birthday! I woke up and streamed a yoga class. I'm trying to stream classes from a studio where I used to go in person. I joined virtually, but it's hard to work out at home. I'd rather go outside.
I went to my nail salon, and I got a bonus massage for my birthday. They also always have NY1 on TV in the salon. To me, it's a very New York salon.
Then I went to Russ & Daughters to get a very special bagel. I got a variation on the Fancy Delancey. It's cream cheese and smoked fish on a plain bagel. My husband got a classic everything bagel, and we bought dried figs, dried Turkish apricots, and some rugalach.
We had plans to go ice-skating. It was raining, but we went anyway. Most of the children in Bryant Park skated past me, but I didn't fall down so I feel like that's a pretty good achievement.
I got a coffee at Wafels & Dinges, and my husband got hot chocolate at a stall called No Chewing Allowed! They sell chocolate truffles that melt in your mouth — literally no chewing — so we bought some of those to eat too. I'm not a big chocolate person, for whatever reason, but these chocolate truffles were exceptional.
We went home and got ready for the very special dinner. We had a shot of Casamigos before we went — hope Amal reads this.
We went to the Tyger in Soho. It was still raining a little bit, and they have a very nice outdoor setup so we stayed dry the whole time.
This is where it gets fun. I got a cocktail called the Tyger Stripe Slushie. It's a place to share plates, so we got some oysters and eggplant curry, a fried-chicken dish, fried rice, and prawn curry. For dessert, we had the egg-custard tart, which came with a candle. I made a wish.
When we got home, Jamie made me a little carrot cake because that's one of my favorite cakes. And even though we technically already ate dessert, I had to have some carrot cake.