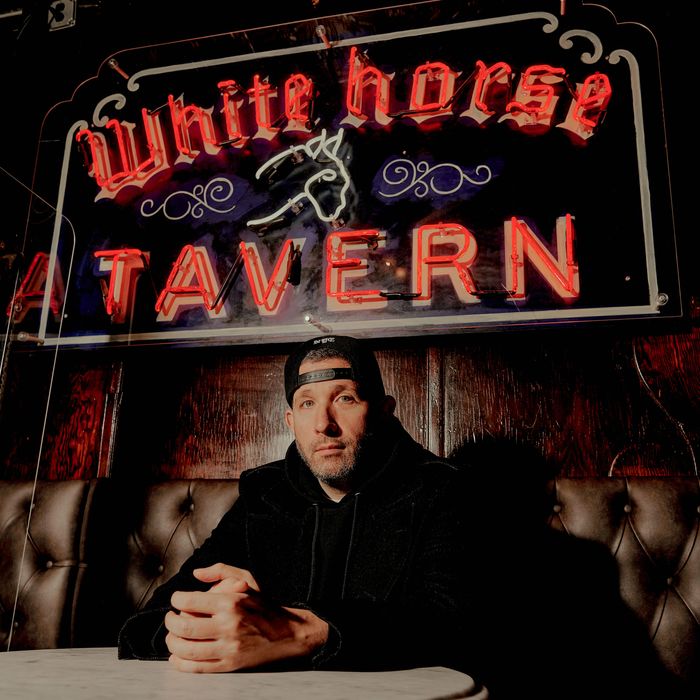 Eytan Sugarman
Photo: Victor Llorente
It's 3 p.m. on Halloween and a blonde bro in Top-Siders is blasting a vape cloud on the corner of West 11th and Hudson Streets. There's no mask on his face, or even around his neck, as he paces and pleads into his cell phone, "You guys better get here soon. It's already getting crazy." Too little, too late. Only a few feet behind him, a college-age cohort that looks straight out of a Bret Easton Ellis novel is bargaining with the hostess of the White Horse Tavern. A male spokesperson for the group pulls the "do you know who I am?" card. The woman in charge of the reservations list clearly does not. All the tables are booked through closing time — even for people who claim to come to the bar every Saturday.
Just a little further west on the sidewalk, a guy with a selfie stick is making a video about the city's second-oldest bar. Standing in front of a shuttered stationary store, he tells an apocryphal but oft-repeated story about how the romantic poet Dylan Thomas drank himself to death there. Little of that literary history remains. There's a $15 drink named after the place's most famous former regular, but the vibe is more "rage in a skimpy costume even though it's parka weather" than "rage, rage against the dying of the light." By the time that the White Horse closes, people are stumbling out into the West Village's narrow streets, barely dodging cars, and — if neighbors are to be believed — presumably headed to spew various forms of biohazardous waste all over their doorsteps.
That raucous holiday scene may constitute the White Horse's last big hurrah. Weeks later, as cases were spiking around the city, Governor Cuomo instituted a 10 p.m. closing time for any establishment with a liquor license. There may be more restrictions coming soon, including an end to indoor dining just as falling temperatures begin to make its open-air equivalent untenable. Meanwhile, as the city braces for what may well be a second lockdown, the war over one of Manhattan's most historic locations continues. On one side is restaurateur Eytan Sugarman, who is catering to the young monied class who want to pub crawl in the Village, and on the other is anyone who doesn't relish the idea of living next to a potential superspreader event.
The block was already primed for a standoff before the pandemic hit. Last year, when Sugarman applied to take over the 140-year-old bar's liquor license, a woman stood up at the community board meeting to dramatically recite poetry. A tenants-rights group held a faux–Irish wake. Preservationists fought to make its interior a landmark. Though many other literary landmarks have upscaled in the past decade, it seemed that the White Horse would not be allowed to make that transition without protest. The 46-year-old Sugarman thinks he's been given an unfair rap on account of his other business ventures — like the midtown steakhouse he owns with Anthony Scaramucci — and that locals should be grateful that at least a lifelong New Yorker took over their third place.
"People acted like there were going to be illegal alien girls doing blow jobs in the bathroom," he said. "Or like I was some shady nightclub owner who sold cocaine in the basement. This is not the most tolerant neighborhood."
That last bit may be a bit of an understatement: The last remaining upstairs resident at 567 Hudson Street used to regularly come in and drunkenly yell at Sugarman before they finally moved out of the city. Others have lodged anonymous complaints but are just as irate. To illustrate that point: On a recent Friday night, Sugarman put down his vodka soda and pulled up an email he had just received on his phone. It read, "White Horse has a history of noncompliance," and continued, "and I hope the city finally shuts you down for good."
A typical Friday night for George Capsis consists of drinking exactly one Modelo Negra and heading to bed. He doesn't make it outside much — and almost never after dark. That's to say, the publisher of the hyperlocal newspaper WestView News hadn't personally seen what was happening at the White Horse over the summer when he got a tip about the outdoor parties taking place there. But rather than run a critical article, he instead let Sugarman explain himself in his pages.
"George, when I wake in the morning, G_d almighty doesn't ask me how many guests I wish to have and then furnish me with that exact amount," Sugarman wrote in his July 4 op-ed. "I can't control how many people show up."
Capsis says he'd hate to see the White Horse go before he dies. In his 90s, he's old enough that he actually used to drink at the bar with Dylan Thomas. The former corporate-communications director for IBM lives in a three-story house on Charles Street, where he enjoys hosting young transplants to the city and regaling them with tales about the bar's old German owner — and his two trips on the Hindenburg. He loves to point out that he lives in the former home of Sinclair Lewis, the Nobel Prize winner who coined the term "brunch" at a long-gone Greenwich Village tavern called the Old Grapevine. (Capsis also just doesn't think that COVID-19 is that big of a deal. Dusty Berke, who lives rent-free in his apartment and manages his affairs, told me that face masks cause cancer.)
Capsis thought the op-ed might stanch the flow of 311 calls about the White Horse, but it apparently wasn't enough: Four days after the op-ed appeared online, Sugarman's bar was temporarily shuttered by the State Liquor Authority, which cited 30 violations over eight dates between June and July. They said that the bar had stayed open past 11 p.m., served drinks without food, and repeatedly overflowed with maskless people standing close together. Not all bar owners are as controversial as Sugarman — and not many New York neighborhoods are as sensitive to change as the West Village — though the conflict playing out between them was a microcosm of what had been happening all over the city since outdoor dining reopened this past summer. In June, cooped-up young people looking for a little release flocked to out-of-control gatherings on St. Marks Place. After online outrage spurred a clampdown by the city, attention shifted to a similar dynamic on the so-called "party street of Queens." At the end of August, two state senators called upon the SLA to stop hitting bars and restaurants with exorbitant fines, alleging they would make it impossible for small businesses to weather the pandemic.
Since the White Horse reopened in September, neighbors have found themselves facing a dilemma: They want the tavern to stay in business because it's a historic landmark, but because of the virus, a dispute that would have once been about quality of life has now arguably become about life and death. Andrew Berman, the executive director of the Greenwich Village Society for Historical Preservation, led the charge to establish the White Horse's interior as a historic landmark last year. Then, throughout the summer and fall of 2020, he started getting requests for help from locals who wanted to shut down the bar entirely. He felt obligated to forward those concerns to the appropriate city agencies. "Given that this is a spot that people live right over, across, and next to, for people to feel there's a presence of people congregating in a not-safe way during the COVID epidemic is cause for grave concern and anxiety," he said.
Augustine Hope, who has lived in the Village for 28 years, is one of those people. When the pandemic hit, he stopped taking the subway and started doing all his errands on foot. The 59-year-old thought changes to his routine — such as eschewing the grocery store for Fresh Direct deliveries — would keep him from contending with crowds. That apparently wasn't the case; he still remembers the summer months of walking past the White Horse with horror. "They attracted huge crowds of people. It got really quickly very scary for us." Hope is sympathetic to the fact that young people want to get out and have a good time, but he also watched his father die over FaceTime this summer because he couldn't travel to the U.K. during the pandemic. "So we started complaining."
The problem was that there was no clear information about who to complain to. He's been through the whole alphabet-soup rigamarole: the Office of Special Enforcement set up by the mayor ("you get an email back, and it says 'case closed'"), the SLA ("they will only act in extreme situations"), and the Department of Transportation ("they never do anything"). He was further annoyed to read about Sugarman denying the problem existed in the WestView News: "It was self-evidently not true that he couldn't control the problem."
Some of the Villagers who live next to outdoor-dining spaces said they no longer leave their homes during evening hours, in part because places like the White Horse have turned the area into an open toilet, and the jury is out as to whether that may contribute to the spread of COVID-19. "There's no other way to say this, but a woman on Charles Street came out in June and found a man sticking his dick through her fence," said Leslie Clark, who has lived in the Village for 44 years. Others apparently found worse on their doorsteps — vomit and feces — throughout the summer, when the bar was running afoul of city and state regulations.
Assemblywoman Deborah Glick, who lives a short distance from the White Horse, won't even walk on the corner her building is on because she wants to avoid the crowds. But she is also worried about people who don't have another option. West 4th Street has a couple of extra-narrow stretches filled with makeshift cafés that have become completely unnavigable for those who use a walker — no small concern in her district.
Glick said the problem was likely to intensify. When Bill de Blasio announced, back in September, that outdoor seating areas would likely be permanent, it gave restaurant and bar owners the go-ahead signal to invest in propane heaters and semi-enclosed structures. The assemblywoman fears the latter — like the outdoor seating areas Sugarman recently built outside the White Horse — may become COVID greenhouses. "Look, I don't want places to go belly-up," she said. "A lot of places have closed. But it makes people nervous."
Even before COVID, Sugarman was paying above-market rent for a fixer-upper. He added leather banquettes and switched up his menu to include fresh shrimp cocktail and espresso martinis on tap, which is what he said the West Village crowd wants these days. Then he said he had to contend with people attacking him for doing what he deemed necessary to make the place financially viable. "These people want it to be a shithole place where they can have $5 beers. This place needed to be spruced up."
COVID hit the following year, and with it came the need to build two outdoor seating areas, which cost around $60,000. Now Sugarman might not even be able to use them for much longer. On the Sunday night after the new restrictions went into place, the charismatic former club owner sounded like he was going to cry. "Frankly, I don't understand how forcing someone to have French fries with their wine protects them at all," he said. "And I don't see a great reward in taking back an hour from a struggling business. I certainly don't wanna participate in anything that would make anyone sick or worse. At the same time, is the answer for all of us to go out of business?"
Sugarman is determined to ride this out, and he is unusually committed to an industry that now seems poised for destruction. He dropped out of high school at age 16 to learn the ropes of bartending at a legendary Upper West Side dive called the P&G Cafe. One night, Sugarman had to 86 a guy who then slashed him with a box cutter. Sugarman went and got his shoulder taped up and came right back to work. But the idea of a potential second shutdown seemed much harder to bounce back from than a mere flesh wound ever did. "I feel like we're in the scene of Titanic, right after they hit the iceberg," he said. "We're all fighting for our lives here."
The same could be said of the newspaper publisher that Sugarman called "a true supporter since day one." The first time we met, Capsis and his companion, Berke, were affable and generous, but soon they became suspicious of my intentions in writing a story involving the coronavirus. They stopped answering my calls and emails, until one day in mid-November, when Berke told me over the phone that Capsis had tested positive for the virus. She assured me that he would be fine — he "never had a flu shot before" and was taking an antiseptic through his nose with a Q-tip. They still didn't believe in wearing masks. But the next time I called, things had taken a turn for the worse; Capsis had started slurring his speech and needed to be taken to the hospital for three days.
I finally caught him on the first snowfall of the year, listening to a Parisian station on satellite radio and daydreaming about his time in that city's outdoor cafes as a younger man. He didn't remember that we had met but was still just as happy to hold court on his favorite subject as he was before he contracted the virus. "New York has always been around as one of the sightseeing Meccas," he said. "You want to go to Paris, the Europeans want to come to New York, and stepping into the White Horse is like stepping back in time 100 years."