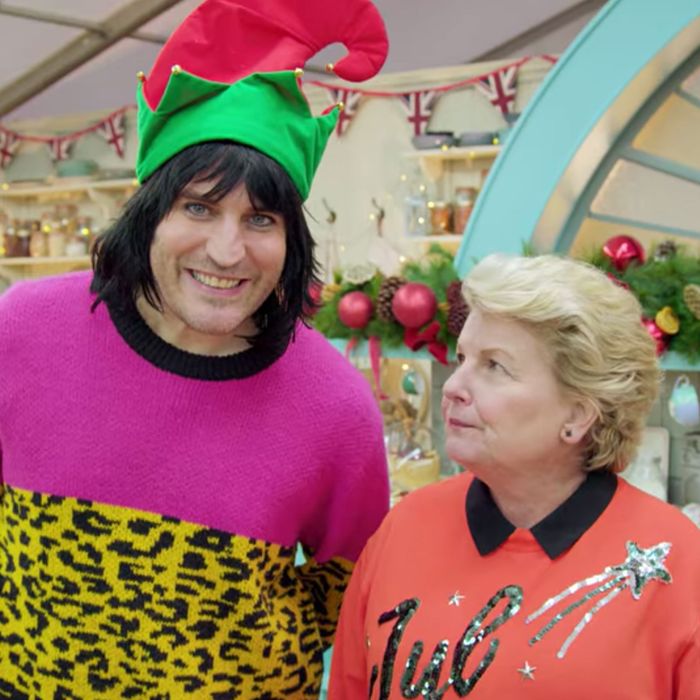 The show, originally broadcast in 2019 in the U.K., arrives on Netflix today.
Photo: Netflix
Have you ever watched the televised Yule log burn? I will now recap it for you. Inside a dignified fireplace, a pile of logs is on fire. This is okay, because the fire is extremely controlled. The flames dance. The logs glow. The soundtrack is nonthreatening hissing, interrupted only by the occasional crackle. It is like the "ocean sounds" setting of a meditation app, but the opposite. It is constantly changing, but it is always the same. You can watch it or not watch it; it doesn't matter. Its purpose is simply to exist.
And it does! It exists beautifully. The televised Yule log is warming and dull. It demands nothing. It evokes coziness but is not, itself, cozy. It never pretends to be more than it is.
This is also the general experience of The Great Christmas Bake Off 2019, a seasonal special that has been delivered Stateside by Netflix one year late, and called, on this side of the ocean, The Great British Baking Show: Holidays. If The Great British Bake Off is gentle, Christmas Bake Off is borderline catatonic, so soothing it is hard to stay awake through it. Do you find the cake-plate stakes of the real Bake Off seasons too high? Well, have I got the program for you!
It may sound like this is "a criticism" of the Great Christmas franchise, but it is not. There is a time for a televised Yule log, as there is for Great Baking Christmas, and that time is, as it turns out, exactly one year after it actually happened.
The effect is part trance and part Great British time capsule. Instead of Matt Lucas, there is Sandi, in a Santa Claus suit, unencumbered by knowledge of the plague that is coming. Competing bakers are back from previous seasons, and so it's like seeing old friends, if I remembered who any of them were. Here is Tom! Here is Yan! Here is Terry and Briony! Briony got all the way to the semi-final "last year," which is two years ago, before going out on the "Parisian pâtisserie window" showstopper. Tom is an architect from Edinburgh! Terry fell when his baked Eiffel Tower collapsed, and Yan made a perfect bowl of ramen out of banana cake. Remember? I don't!
But it doesn't matter. It's Christmas! We're just here to make friends. There are challenges, yes, but now that the stakes have been eliminated almost completely, there is no growth and no disappointment and nobody will go home before anyone else. Everyone is delightful and I am invested in none of them; it has all the intimacy of a nice chat on an airplane. Someone will win, but no one will lose, and as a result, it is as merrily heartwarming as it is bland.
For the Signature Challenge, our four new-old friends make cake pops. Paul Hollywood tries to muster a sense of urgency, but even he cannot do it. "We want the bakers to really come up with something that looks festive and attractive, and also packs a punch in that one bite," he says, wearing a sweater with a wolf on it. Prue suggests timing might be a problem, which is both true and not true: Tom doesn't finish, but nobody cares and everyone laughs.
Then it's on to the Technical, a "festive sausage roll wreath," which is pull-apart sausage rolls, in the shape of a wreath. Now we're going to pretend to be nervous about the quality of the rough-puff pastry — will the butter leak out? — but no, it's fine. It's Christmas! Briony's wreath is underbaked, and Terry's rough puff is technically more of a short crust, and Yan's sausage is a little dry, but it's all delicious anyway. Tom wins.
The whole episode is like this, a Bake Off–shaped experience that is not Bake Off. It is like bowling with bumpers. There can be mistakes, but not catastrophes. A real fireplace has a certain element of danger, but there is no risk at all when you watch the Yule log on TV. Regular Bake Off is quietly riveting because all the tiny details matter; Christmas Bake Off is excellent background noise for when you're doing something else. Perhaps baking!
It would be the purest form of "ambient TV" — a subgenre of programs that Kyle Chayka recently characterized in The New Yorker as "soothing, slow, and relatively monotonous" shows, offering "glossy, comforting oblivion" designed to dull the pain of thinking — but for one thing: Christmas Bake Off, even more than regular Bake Off, makes you want to bake.
By Bake Off standards, the challenges are approachable. It is possible, I suppose, that I could make a multicolored bread sculpture, but I'm not going to. By contrast, the Christmas Showstopper is … a gingerbread house. Because it is still marginally Bake Off, it's supposed to be a spectacular gingerbread house set in "your favorite location" and using "at least two different confectionary skills," but the effect is less daunting than inspirational. You, too, could make cookies!
Terry makes a New York Christmas, featuring the Chrysler building, and Briony does a steam train, and Tom is inspired by Edinburgh, and Yan bakes an 208-step replica of her own home, and then everybody hugs. We could parse the differences between them — how Yan's house is messy and Briony's train puffs real steam, how Tom's is neat and Terry's features an animatronic Paul and Prue, but why? Apparently they're all delicious. The Christmas cake plate goes to Briony, and she is thrilled, and then there is a party with a live performance by the elderly gentleman of Status Quo.
It is warm and it is numbing, and soon, I will forget it happened. That's fine. Like the Yule log, its only job is to exist. It does that beautifully.