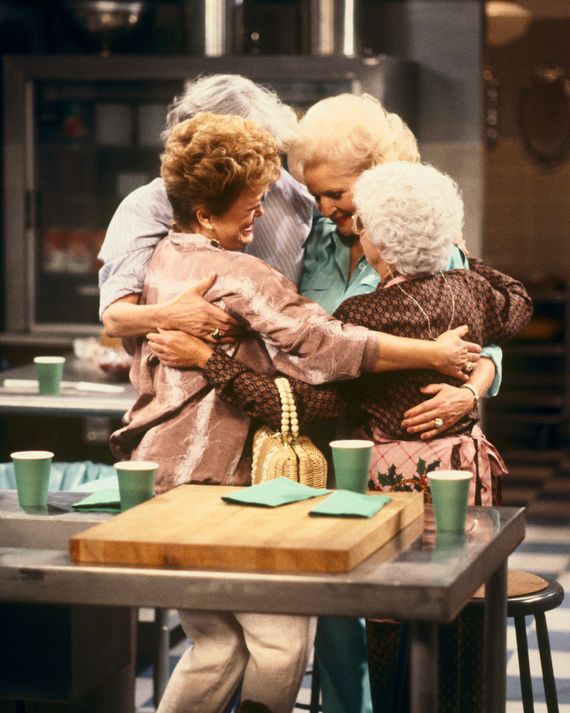 How I want this book to make me feel.
Photo: Walt Disney Television via Getty Images Photo Archives/Walt Disney Television via Getty Images
While perusing this season's food book releases, for professional reasons, and also because I had nothing else to do, I noticed not one but in fact two new cookbooks pegged to The Golden Girls, which is, I agree, a legendary sitcom, but which also went off the air in 1992. These books were in addition to an official Friends cookbook (Friends: The Official Cookbook, not to be confused with 2018's The One With All the Recipes: An Unofficial Cookbook for Fans of Friends,), an Office-themed office party planning guide with recipes for tuna melts and Scrantonicity sliders, and an upcoming I Love Lucy cookbook (slated for January). This surfeit of sitcom books followed in the footsteps of Forking Good (the unofficial Good Place cookbook), Eat Like a Gilmore, The Teenage Mutant Ninja Turtles Pizza Cookbook, Cooking With Columbo: Suppers With the Shambling Sleuth, and the famed Frasier-specific Café Nervosa: The Connoisseurs' Cookbook "by Frasier and Niles Crane."
All cookbooks are to some degree aspirational, filled with recipes you won't make. But you could, and that's the allure: the instructions are printed right there. In general, though, a cookbook's promise is at least ostensibly culinary, and your guide is the author, and the author is someone who knows about cooking, which is why they have written it.
Cookbooks tied to sitcoms that no longer exist are also aspirational, only the aspiration is to get as close as possible to fictional characters who never really existed in the first place. Also, they make great gifts for people about whom you know one thing, which is that they like Friends. There is no better way to say "I sure do know you like the TV show Friends!" than to give the gift of Friends: The Official Cookbook. (Or, possibly, An Unofficial Cookbook for Fans of Friends.)
Otherwise, the fact that the cookbooks exist always strikes me as vaguely embarrassing, like renaissance festivals. It is one thing to love Frasier; it is another thing to LARP it. It would be deeply mortifying to buy The Golden Girls Cookbook so that I might feel closer to Sophia Patrillo while cooking lasagna — I mean, have some dignity!
That is why I emailed the book's publicist to request a galley instead.
I did this because I wanted to understand why these products exist in the first place. I had always assumed they are inferior to cookbooks written by people who have devoted their lives to writing cookbooks, but — counterpoint — what if I was wrong? Am I above shameless marketing ploys? I used to work at a renaissance festival, after all! And now, of all times, would it be so terrible to immerse myself in the made-up tastes of pretend 1980s Miami to hang out for a while with my aging, fictional friends?
"I am eating exclusively from The Golden Girls Cookbook this week," I informed my boyfriend.
"That sounds like fun for all of us," he replied. Then he suggested we order takeout.
We could not order takeout, however, because I was planning to make Dorothy's stuffed peppers.
You might now be thinking: was The Golden Girls even about food? No. It was not, except in the sense that food is part of the human experience, and The Golden Girls was a show about humans, having experiences. Specifically, the show was about four older ladies who live together in a Miami ranch house and represented a diverse cross-section of white America. Dorothy Zbornak was the practical divorcée from Brooklyn and Sophia Petrillo (Estelle Getty) was her sassy Sicilian mother. Blanche Devereaux (Rue McClanahan) was a latter-day Scarlet O'Hara, and Rose Nylund (Betty White) was a sweet Scandinavian dumb-dumb from the backward Minnesota town of St. Olaf.
It was a great show, but it was not about food.
The main thing I remembered from my regular viewings of GG reruns on Lifetime: Television for Women is that the girls like to sort out their problems over cheesecake, but of the "more than 90 delectable recipes" featured in Christopher Styler's The Golden Girls Cookbook, only three are for cheesecake, and one of those is technically ice cream. The rest of the contents are either instructions for dishes that are indeed mentioned in passing at some point over the course of the show's seven seasons, or that could have been, or recipes that evoke, in a more spiritual way, Golden Girl-ness.
I sat down to plan for my new Golden life. My criteria were: I had to make sure I sampled from each Girl's section — recipes are sorted by character — and also, I had to be able to veganize them, which was fine. We all overcome obstacles in life; that is one lesson I learned from the Golden Girls.
On my first day of Golden Girls-ing, I woke up and made a nice batch of Dorothy's "(Almost) Unsweetened Granola," which might otherwise be called "granola." The reason it is in the Dorothy section is that it is practical, like Dorothy. The way Dorothy makes granola, which is the way everyone makes granola, is that you mix oats, seeds, and nuts with some oil and some maple syrup, and then you bake it. There is nothing interesting about this recipe and I liked it so much that I made it twice.
Soon, the day had passed and when night fell, it was time for "For Whom the Stuffed Bell Pepper Tolls" stuffed bell peppers that are based on the time Dorothy ate chi-chi stuffed bell peppers, a paragon of late '80s refinement. (I soon realized I had circled too many recipes from the Dorothy section. You can't escape who you are, I suppose, and as I have long suspected, I am a Dorothy: tall, and known for being the least fun.)
One thing I had forgotten is that I don't like stuffed peppers. Otherwise, they were fine! The recipe for the "Vegetarian Tex-Mex Filling" had black beans and kale and tomato sauce, plus corn and carrots, plus onions and spices, plus pepper jack (vegan cheese is fine). I thought it should call for garlic, too, but it didn't.
"These are from The Golden Girls Cookbook!" I told my boyfriend.
"Why?" he asked, meaning, I think, both "why are you doing this?" and "why does this cookbook exist?"
"Exactly," I said.
I kicked off the next day with several more handfuls of Dorothy's (Almost) Unsweetened granola, which was still delicious, before moving onto leftover pepper filling, which was still fine. I chewed and felt like a retiree.
Lunch was Rose Nylund's Bacon-Lettuce-and-Potato Sandwiches. (If you have recently rewatched the episode this is in reference to, which I have, you might note that this should actually be in the Sophia section, but I suppose recipe crediting remains complicated.)
The sandwich is a BLT on rye, only instead of tomatoes you use slices of roasted Yukon gold potatoes. It is warm and pleasantly bland and would be a perfect lunch if you were a groundhog going into hibernation for the winter or a stout Minnesota ice fisher sledding off to the lake for a long weekend alone.
Around 11 p.m. that night, I could finally muster the will to at least contemplate embarking on dinner, which would be Sophia's escarole and white beans over shells. The introduction promised it would be "filling," which after the BLPs, felt more like a warning than an asset.
The recipe, though, is exceedingly easy, and extremely tasty, and an excellent showcase for fancy white beans. More importantly: escarole! Why didn't anyone tell me? It is delicate, but sturdy. It was, in this case, a little too earthy, but that was because I did not wash it properly.
The sun set. The sun rose. I ate more granola, and then escarole with white beans. It occured to me that I had still made nothing in homage to Blanche. I'd been planning on a healthy "Blanche's Drink-It-Off Shake" — a mango smoothie with more kale in it — but then I couldn't find the top to the blender. A gazpacho recipe felt out of season, and the Quick Hoppin' John needed a quantity of ham that seemed hard to leave out. In the end, I settled for "1-2-3 Citrus Dressing," which uses lemon, lime, and orange juice, plus "fruity olive oil," for which I substituted "the olive oil I already had." I concluded that it was absolutely salad dressing.
"It's from The Golden Girls Cookbook!" I informed my boyfriend.
"I see that," he said.
What struck me most was that all the recipes were so reasonable, which is not universally true of novelty cookbooks, the purpose of which is to be bought and not necessarily used. But the Golden Girls ingredients lists are short and accessible; the ingredients tend to be cheap, and the cooking times short, and the foods are things a regular person might eat in real life. A Reagan-era 60-something in Miami, perhaps. Or me!
For my Thursday night pièce de résistance, I went with Dorothy's chicken piccata (for which I substituted seitan). I never make piccata — why not? It is a near-perfect food, and so easy. Like her granola, "Dorothy's" version was not at all revelatory. It was flour-coated protein browned first in butter, and then cooked with broth, capers, lemons, white wine, and parsley, just as it should be. As I ate it, I realized I might like to make it again, even after my Golden Girls diet ended. Regularly, even!
None of the recipes I cooked needed to be in a Golden Girls cookbook, specifically. They would be just as at home in a "Random Recipes from the '80s that Are Still Pretty Good" cookbook, or a cookbook about things you can do with potatoes. This is a testament to their timelessness, I think, and also the fact that this food has very little to do with the Golden Girls.
Either way, I recommend the experience: thinking full-time about The Golden Girls, I discovered, was much nicer than thinking about anything else. So I watched The Golden Girls. I cooked The Golden Girls. I ate The Golden Girls. I was, via The Golden Girls, briefly jolted out of my domestic quarantine rut. Every morning this week, I have started the day with several handfuls of Dorothy's (almost) unsweetened granola, and in this way, I am changed. Under normal circumstances, a meal could be anything, and it is overwhelming, so I make the same eight or ten recipes over and over and over forever, and they are good, and I am so tired of all of them. This week, I've had limits — limits that gave me a fresh appreciation for piccata. All it took was a 35-year-old sitcom and the right novelty cookbook to make me see things anew.