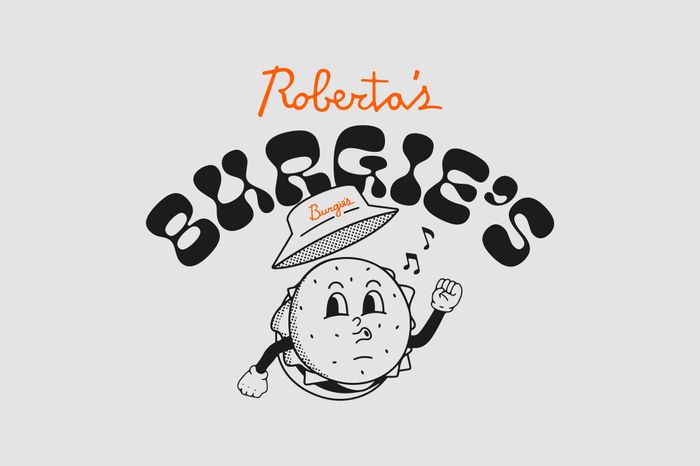 It opens tomorrow!
Photo: Courtesy of Burgie's/Official.
For more than a decade, Roberta's has been a Bushwick pizza legend, with a focus on wood-fired pies that eventually gave rise to a tiki bar, the tasting room Blanca, and a growing pizza empire, with expansion to Williamsburg, Los Angeles, and the grocery-store pizza freezers around the country.
Now, Roberta's is getting into burgers. Tomorrow, owners Carlo Mirarchi and Brandon Hoy will open Burgie's, their "newest burger and fries concept," in East Williamsburg. The concept is: burgers. And fries. Here is everything you will want to know:
Is Burgie's in Roberta's?
No. Mirarchi and Hoy are opening a separate "concept" specializing in burgers. This restaurant is called "Burgie's," presumably in reference to both its menu, and its location, which is 198 Randolph Street, in East Williams-burg. Jackie Carnesi, also of Roberta's, is leading the kitchen.
Is Jackie a very good follow on Instagram?
She is.
What can I eat at Burgie's? Is it only burgers?
Designed to "pay homage to the classic Burger joints of the past," Burgie's is sticking to no-nonsense classics: The Burgie costs $10. It is a fresh-ground, house-blended patty on a potato roll, topped with American cheese, onions, pickles, and thousand island dressing. You can also get a $14 Double Burgie (the same, but with two patties), "hand-cut" fries for $5, and a $14 wedge salad.
Do they have a veggie burger?
Yes. It costs $12, and the opening announcement describes it as "a special recipe vegan patty and bun both prepared in-house."
That sounds promising!
Except, there's bad news on that front…
What's that?
It's called the "Vurgie Burgie," so you're going to have to say that phrase out loud if you want to order it.
Oh.
But the menu is very small, so maybe you can just get away with asking for a "veggie burger" and they'll know what you mean.
When can I go?
Once it opens on Saturday, anytime, pretty much. You can Burgie seven days a week, if you want, as long as you do it between the hours of noon and 10 p.m.
I can't wait to sit down on site with a nice, juicy burgie!
Well … you might have to wait a little bit for that. Burgie's is starting with takeout and delivery only, so for now, you've got to eat your burgies at home, or find a nice bench. Eventually, though, Burgie's will have regular indoor fast-casual dining, like in the olden days. Based on Instagram, they're going for a "geometric warehouse" sort of vibe. It looks like they're going to have a well-stocked bar, too, but it seems like that's also something for later. Another thing to look forward to!
I love it. One more question, though: does it have an adjoining indoor skate park? That's really important to me.
You're in luck! Yes. Vans opened their indoor skate park within this development, which is called The Block, two summers ago in the space that just happens to be adjacent to Burgie's.