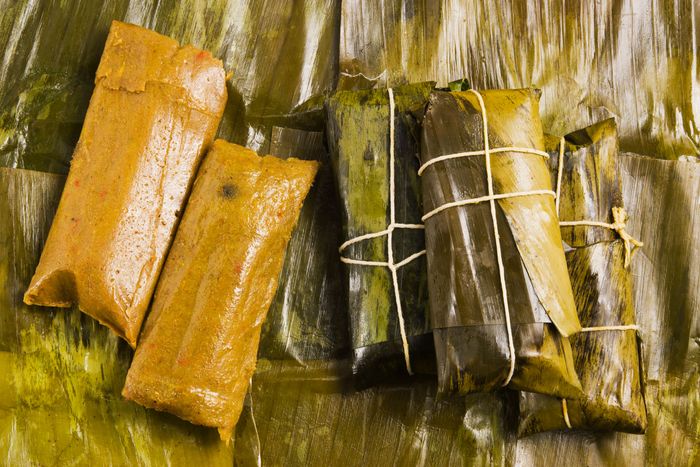 Photo: Juan Silva/Getty Images
"If you travel, and COVID doesn't kill you, I will," said my mother, on the phone from 3,000 miles away. "Stay put." It had been decades since we'd spent Christmas apart, but now she was ordering me, in no uncertain terms, to stay home in San Francisco, while she was in New York.
I knew how much it meant to her. The most significant tradition for my immigrant family is Noche Buena, the Good Night, a.k.a. Christmas Eve. It's how we bonded when we first met. A year after I was born in the Dominican Republic, my mother divorced my father. She left me in my maternal grandparents' care and went to New York City for a better life and my papers. Five years later, she returned to get me, with a new husband, child, and my legal documents — all during the holidays.
Eventually, my mom would divorce my brother's father, too, but Christmas remained a constant: The tree seemed to get bigger each year. We used fresh grass for the nativity scene. Decorations included a full, snow-covered village with a pond and miniature skaters. I'd half-joke that my mom was too extra for the holidays, and roll my eyes, until my brother, Wesley, corrected me.
"She does this to make up for the Christmases you weren't with us," he'd said.
We were always close, but six years ago, Wesley died of a heart attack. He was only 30, and my mom still wears nothing but white to remember him.
"Only a mother can understand the pain of surviving her child," she'd told me, when I mentioned possibly traveling during the pandemic. "I cannot go through that again."
So, for the first time in seven years, I'll stay in California for the holidays. Even though the pandemic swallowed up my business — hosting special-event dinners and glamorous parties — nobody can risk the trip. Instead, my mom and I will get together on Zoom, and make the highlight of every holiday festivity: the Pasteles en Hoja.
These tamales, carefully wrapped in plantain leaves, like little edible gifts, are a staple in the Caribbean — especially in Puerto Rico and the Dominican Republic — and my mother's are always the headliner this time of year. But even though I am quite literally a kitchen professional, I've never been able to completely conjure the same magic with my own recipe.
The masa is made from pulverized green bananas, yautia, green plantain, and pumpkin. Then, the meat mixture, which might contain chicken, beef, or pork perfumed with pimento. It's wrapped in the leaf, tied with a string, and frozen for 24 hours.
Versions of the dish exist all over the world, and our pasteles are a mixture of ingredients and techniques pulled from Taino Indians, Native Americans, Africans, and Europeans. They are not a dish to make in solitude, and during the holidays, my family always makes them together. Because the process is so labor-intensive, each person is given a task, and I'm always my mother's sous-chef. This year, though, we'll work together, over Zoom. Virtually, we'll both grate the plantains and root vegetables, concoct the fillings, and set up the processing line to wrap, tie, and pack to freeze.
In many ways, it might be easier for my mother this year, because normally, she'd make multiple versions — vegetarian, vegan — to accommodate everyone's food preferences, which we then eat with hot sauce and avocados with lime.
My mother's birthday is New Year's Eve, so on December 31, we'll celebrate again, with leftover pasteles, and the 12 grapes of the year, while we each sip her favorite Champagne, remotely. Then, just as we do every year, we'll recite lines from her favorite song, "Sere," by Fernando Villalona: "I will be the one who gave everything to succeed / My voice will no longer be my voice, and my song will not be my song / I will be a dream that came true."