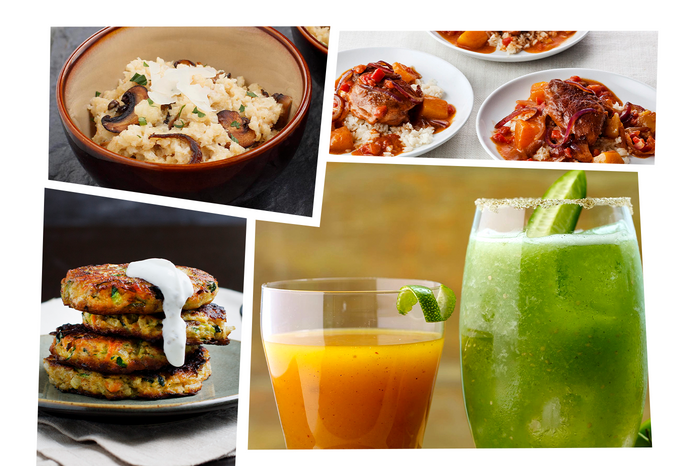 Photo: Courtesy of McCormick
A flavor can tell you a whole lot — it can denote a place, a season, a cultural sensibility. Throughout history, our food preferences have been dictated by a diverse, ever-expanding network of global flavors, from za'atar to furikake. And since 2000, McCormick — whose brands span more than 150 countries — has been there to document this evolution, on the pursuit of what's next in flavor to inspire the creation of new food and beverage applications and recipes that make it to our grocery shelves and restaurants worldwide.
Each year, the McCormick team of flavor experts, which include chefs, trend trackers and food technologists, comes together to predict which flavors they expect to resonate with people in coming years. Its process, dubbed the Flavor Forecast, involves both looking forward and backward — examining how people have traveled, the increasing prevalence of various ingredients, the dishes they've sought, and the types of restaurants opening up. It's all done, ultimately, to help you create the most memorable food experiences in your own kitchen. Here's a look at the flavors driving culinary trends from past to present, and recipes for you to try them at home. (And keep an eye out for McCormick's next flavor forecast, details coming spring 2021.)
Now and Then: Pumpkin Pie Spice
People wait all year to have a slice of pumpkin pie, or sip a pumpkin spice latté. Why? Because nothing else denotes the fall season quite like the comforting sensation of warm spices like cinnamon, clove, and nutmeg. "Seasonal profiles [and their] 'for a limited time' nature is what makes them resonate on an emotional level with consumers," says Allie Herold, who works in consumer and market insight for McCormick U.S. "Consumers look forward to these flavors again and again."
Pumpkin pie spice dates back centuries; the 1796 tome, American Cookery, by Amelia Simmons, features a recipe for a "pompkin" pudding, which calls for allspice and ginger. Slowly, the spice combination — mainly through the pumpkin pie — crept into popular culture. With the introduction of its pumpkin pie spice in 1934, McCormick made two important realizations: first, that people were less invested in the pumpkin part of the equation as they were the spice (case in point: the first of the pumpkin spice lattés to explode in popularity didn't actually have any pumpkin in it); and second, that the spices of pumpkin pie were incredibly versatile. They could be a rub for a chicken, or a seasoning for your morning oatmeal with coconut milk.
The McCormick team of forecasters predicted pumpkin pie spice's popularity as a "trend to watch" back in the 2010 Flavor Forecast, and they certainly haven't been proven wrong: Since then, the spice has seen a 218 percent increase in mentions on U.S. menus, according to Datassential (Datassential SNAP™ 2020). These days, pumpkin spice is a ubiquitous flavor — and you don't have to use it solely in a latté.
Pumpkin Pie Spice Recipes to Try:
Now and Then: Turmeric
The rest of the world only recently discovered what many parts of Asia and Africa have known to be true all along — turmeric is a superfood. The root gives dishes a vivid golden color, is excellent heated or mixed with dairy, plus adds an earthy flavor. And the health benefits of turmeric abound: among other qualities, it is said to help fight inflammation and increase immunity. As many people are taking a deeper interest in wellness, they are looking beyond just exercise, and wanting to incorporate health-boosting foods into their diet as well.
An ingredient like turmeric does double duty: it is rich in nutrients, and it intensifies other flavors, whether it's the cocoa and cinnamon in a pound cake, or the cumin and cardamom in aloo gobhi, an Indian vegetarian dish made with potatoes and cauliflower. McCormick noted turmeric's versatility in the 2016 Flavor Forecast trend (a "Blend with Benefits") and it has since seen a 194 percent increase in U.S. menu mentions, according to Datassential (Datassential SNAP™ 2020). (If you've made a certain turmeric-laden stew in the last few years, you get it.)
Turmeric's popularity is truly global in nature. In China, notes Kate Qiu, McCormick's assistant marketing manager in the country, "… youngsters pay more attention to [their] well-being, they believe eating something with functional benefit is one way of caring for themselves." Turmeric's greatest superpower, though, might just be its color: in this Instagram-driven era, there are few other natural ingredients that can imbue foods with that signature pop of golden yellow.
Turmeric Recipes to Try:
Now and Then: Chamoy
Savory, sweet, and deeply red in hue, chamoy is the supercharged Mexican flavor that can be found in everything from frozen desserts to roasted pork. The exact origins of chamoy — traditionally made from salted ume plums that are spiced with chilies and pickled — are unknown, but it is said to have been brought to Mexico by Chinese immigrants between the 16th and 19th century, and loosely inspired by Japanese umeboshi (salted, pickled ume plums). McCormick's Flavor Forecast noted chamoy as an up-and-coming flavor in 2014, as Mexican cuisine surged in popularity, and it's only become more in demand. Chamoy has since seen a 1,115 percent increase in U.S. menu mentions, according to Datassential (Datassential SNAP™ 2020).
The contrastingly sweet, tart, and hot flavor can usually be found in either a dried fruit or bottled sauce form. The sauce is a crucial component of several craveable Mexican street snacks, including the mangonada, a frozen dessert with mango, tamarind, lime, and tajin. According to Fernando Rodríguez, a McCormick sensory scientist based in Mexico, our palates crave flavors like chamoy. "It is salty, sweet, acidic and even has umami notes," he says. "The mouth can detect sensations such as heat, pungency and tingling depending on the amount and type of vinegar and chili used."
Chefs and cooks around the world have gotten increasingly more creative with chamoy, using it for cocktails, drizzling it over seared duck, or tossing roasted vegetables with it. The beauty of chamoy is that because it is so flavorful and well balanced, once you add it, very little else is needed.
Chamoy Recipes to Try:
Now and Then: Dukkah
There are countless ways to make dukkah, an Egyptian blend of nuts, spices, and seeds found across North Africa and the Middle East. What's in the mixture can depend on where you are and what ingredients are available. One version may be a combination of sesame seeds, coriander, and hazelnuts; another may have fennel, macadamia nuts, and pecans. The only constants are crunch and nuttiness — qualities that make it well-suited to so many different kinds of dishes. "Dukkah can complement almost everything," says David Burnett, senior culinary development manager of McCormick Canada —  making even a plain salad or soft-boiled egg more appealing.
The word itself comes from the Arabic verb "duk," meaning "to knock" or "to pound." Some say the blend was popularized by Bedouin tribes traveling through the desert — they'd roast spices, seeds, and nuts over an open fire, and dip bread into oil and this mixture for sustenance. The spice has since moved beyond the bounds of Middle Eastern and North African cooking, and into pastas, dumplings, cornbread, and crostini. Since McCormick forecasted dukkah as a trend back in 2013, there has been a 267 percent increase in mentions of the spice on U.S. menus, according to Datassential (Datassential SNAP™ 2020). Make a big batch of dukkah, and it may just become your new favorite tableside condiment.
Dukkah Recipes to Try:
Curious about which flavors will make waves next? Sign up to learn more in McCormick's newest Flavor Forecast, coming spring 2021.
This advertising content was produced in collaboration between Vox Creative and our sponsor, without involvement from Vox Media editorial staff.