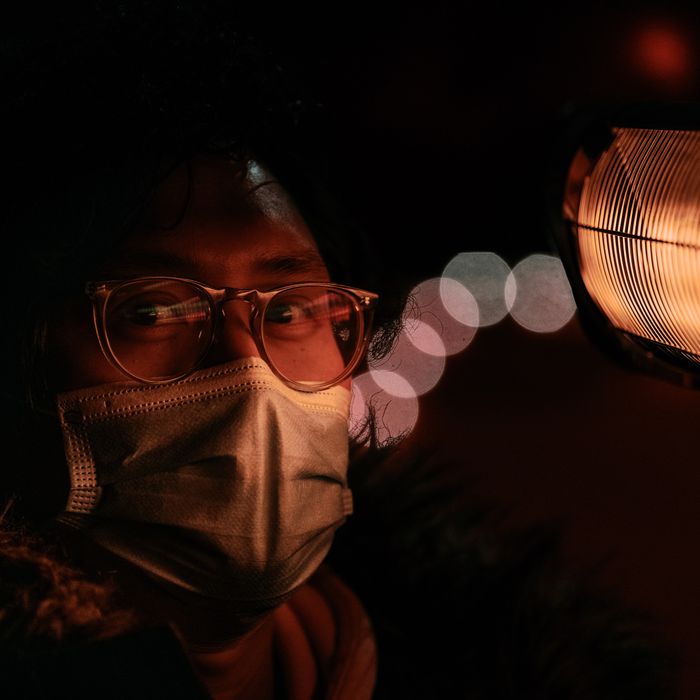 Miguel de Leon, the wine director and general manager of Pinch.
Photo: Scott Heins
This article was featured in One Great Story, New York's reading recommendation newsletter. Sign up here to get it nightly.
Nikol Burgos Sevilla works as a server in Brooklyn's Prospect Heights neighborhood. She says that, since going back to work, she makes approximately two-thirds what she did before the pandemic. The shifts, though, bring far more stress, as new concerns, new responsibilities, and new COVID rules have transformed the job into something entirely different.
"It's exhausting to use so much energy to be polite and nice to people who don't care," she says of customers who ignore the COVID regulations. "Everyone is burned out because we've now all become bouncers, weird nurses taking people's temperatures, and babysitters — 'Please don't stand up!' 'Please wear a mask.'" She has no choice but to enforce the rules, even as customers actively try to flout them, because her bar will be fined thousands of dollars if they're in violation.
As the pandemic wears on, many of New York's restaurant and bar workers say that this year is taking a deep mental and physical toll on them. For many, these past ten months have been defined by anxiety, crippling uncertainty, worries about their own health, and anger. As government leaders again warn of another shutdown, and COVID cases and deaths continue to rise, many longtime industry professionals who spoke to Grub Street say it's all just become too much.
"It's extremely stressful to feel like, 'Am I putting myself at risk doing the job I have to do to provide my basic needs?'" says Erin Reifsnyder, a mental health counselor who worked in hospitality for ten years. "Choosing between potentially exposing yourself to a deadly virus and paying your rent this month? That's an incredibly tough and exhausting choice to have to make every single day you go into work."
Workers say that reopening restaurants has felt like putting on a performance of normalcy to make the dining experience feel as ordinary as possible (even if it's happening on a sidewalk). But behind the scenes, workers say, the jobs are almost unrecognizable. "We have put an excruciating amount of work into making the experience as normal as possible for guests," one bartender tells Grub Street. "But for the rest of us, this sucks. None of us returned to the job that we worked at beforehand. Nothing is the same for us."
One of the biggest problems, these employees say, is the customers themselves. Perhaps counterintuitively, as we've lived with new safety rules for longer, guests feel ever-more emboldened to break them, needing constant reminders to wear masks, to order food with any alcoholic drinks, or to remember the new 10 p.m. dining curfew. "I think the biggest thing that makes you burnt out in this industry during COVID is repeating yourself for ten hours straight," says one New York City bar manager. (The problem is especially acute for lower-rung employees, especially when they are Black or Latino, as customers seem more willing to acquiesce to requests from white managers.)
Much of the friction comes from customers who revert to the old way of doing things even as circumstances have changed so dramatically, Pinch Chinese's Miguel de Leon says. Several people spoke about customers expressing dissatisfaction or even anger about wines or dishes not available, and of experiences not being up to pre-pandemic standards. "It becomes really, really tense when you're at a table and someone's like, 'I've been waiting 20 minutes,' and all I can say is 'I'm terribly sorry,'" de Leon explains, pointing out that he's often trying to juggle takeout orders in addition to anything happening at the restaurant itself. "I'm happy to help you, but you've got to understand that there's a toll here that's physical, mental, and emotional that we carry, that you don't ever have to think about as a customer."
Chinese Americans and other people of East and Southeast Asian descent have also had to deal with racism, including physical attacks, from xenophobes emboldened by COVID. De Leon says that Pinch, like restaurants in Chinatown and elsewhere, have seen a drop in tips and check averages. De Leon adds, "This is fucking dehumanizing. It does not feel great. I like to believe that there is some sort of art to hospitality, but when your patrons aren't even thinking about that — when they're thinking solely about the value of what they're going to get — it becomes so one-sided that I'm this close to being absolutely 100 percent done with it."
Customer-facing jobs, especially, have also seen an increase in responsibilities as many businesses try to operate with smaller staffs. (One manager says 80 hours work weeks are not uncommon, even as many non-tipped employees say their hours have been cut to keep down costs.) "I've never left on time. I clopen the restaurant all three days that I'm there, essentially — I'm tired," says Burgos Sevilla, the Prospect Heights server, referring to the common practice of closing a restaurant at night, and returning to open it the next day, sometimes with only a few hours off in between. Multiple people say the same thing: It feels like they're taking on two or three jobs at once.
"Now all of the shifts are just one-man shifts; before, you had two people to help each other," says bartender Taylor Adorno. "Now I'm completely setting up and shutting down, and it's exhausting."
Many say they simply cannot get to a point where they actually feel rested, spending whatever off time they have sleeping or trying to recover from work. Helen, a bartender who asked to only go by her first name, had been working two jobs, but recently cut back to just one. "I need two days to, like, center myself after I get off a workweek. And then, today is my third day off, when I can finally do shit," she says. "It's really stressful. I feel like I can't do anything."
Helen's concerns have been compounded by the fact that she has chronic bronchitis, making her susceptible to pneumonia, and she doesn't think her bosses are doing enough to keep staff safe. She finds herself constantly dealing with outside contractors and delivery couriers for platforms like Caviar, in addition to customers. "It's a lot of policing that was just not part of my job in the beginning." Helen explains. "When I first returned to work in April, I felt like I was crazy and that I was constantly being gaslit for how cautious I was about everything."
Communication between management and staff remains complicated at many restaurants, too — a situation that is understandable, as owners grapple with an industry in free fall and ever-fluctuating regulations, but no less frustrating for the workers trying to navigate spaces as safely as possible. Several people spoke about COVID cases going unreported, or finding out about a case before officially being informed by management. Rumors now circulate in the industry about bars, restaurants, and breweries where cases went unreported.
"The owners are trying to survive and the staff are trying to survive," says Reifsnyder. "Unfortunately, their needs are not aligned all the time, and that's creating a lot of conflict."
For many workers, the uncertain nature of the entire industry can create situations that feel impossible to navigate. At the start of the pandemic, Amelia, a bar manager who asked me not to use her real name, was forced to choose between spending time with her dying mother, or losing her income at a time when unemployment soared.
The weekend before the New York's restaurant shutdown in March, Amelia says she was in the emergency room with her mother. A few days later, the staff at her bar and been furloughed, leaving her to work alone. "I was just run ragged," she says. "I was working I don't even know how many hours." The work — handling deliveries, ensuring the space remained COVID safe — was nonstop. "I would come home, and sit on the couch and talk to my sister and be like, 'I don't even have the energy to eat.'"
Soon, she would learn her mother had three types of blood cancer. "The diagnosis came in while I'm working the front door," Amelia recalls. As the weeks wore on, it became clear that treatment wasn't going to work. Amelia had worked through some of the last weeks of her mother's life, unable to spend time together. Her mother would spend six weeks in the hospital. During that time, Amelia would get calls from the ICU while working, break down crying, and then go back to serving customers.
After those six weeks, her mother decided to go home for the end. Amelia took off three weeks to take care of her mother while she died. "I'm financially strapped, I'm emotionally empty," she says of the time. Her mother died in August. The family didn't get to sit shiva or have a proper funeral.
"I went back to work four days after my mother died. I didn't get a break, and I went straight back into COVID," Amelia says. "Do you think it's easy to talk to people about beer, when I just witnessed the hardest thing I'll ever go through in my life?"
The inability to properly grieve has become especially acute for the growing number of workers who have been affected by the pandemic. Eleven people who talked to Grub for this story say they know someone who has died of COVID.
Adelaida, a tamale and champurrado vendor in Bay Ridge who asked to go by her first name, says she has lost several friends, and that it has only made her feel more alone and isolated during a year in which she says she's felt further discriminated against and marginalized for being an immigrant. "I am at times crying, just because it all gets overwhelming," she says through a translator. Since March, she has not returned to street vending, not only because of COVID concerns but because she has to take care of three children who are stuck at home and now remote learning. As a result, Adelaida says she is now months behind on rent. Their landlord has told them it is okay that they cannot pay rent for now — but they will have to pay eventually. "The hardest thing for me is to know I might lose the roof over my head," she says. "I close my eyes to go to sleep, and then open up and remember I cannot pay the rent, and I realize if we cannot find a way, they will throw us out."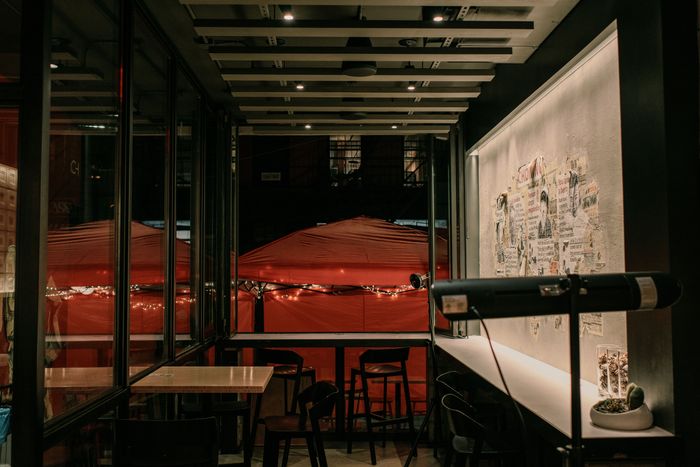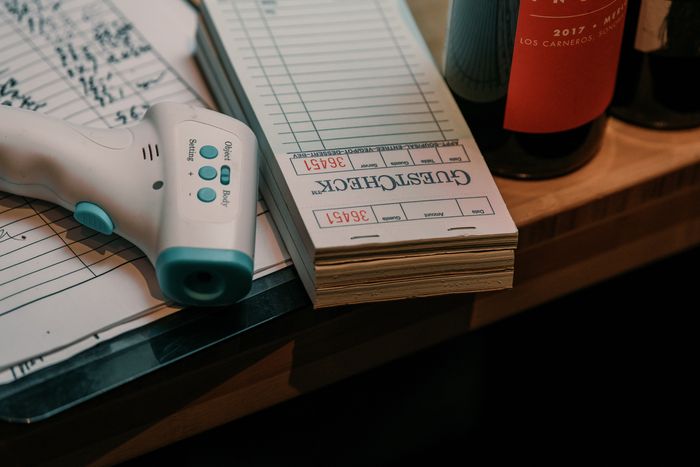 She adds, "I would not even get help to leave the country if I were to give up, or bring family to help if I were to get sick … It's very sad to think if I got sick I would die here, instead of being with family."
That feeling is exacerbated by the fear of what happens for workers who do get sick, given that adequate health care remains rare in the industry. Adriana Caguana Uyaguari was the general manager at the Brooklyn bar Grand Army until August. She says that, earlier in the spring, she was sick for three weeks, and was terrified the entire time. "I was like, 'What the fuck am I going to do about money?'" she says. "I called and panicked because I have allergy-induced asthma, so my asthma started acting up, and that was really scary. I called to go to the hospital, but it was too complicated, and at that point they were like, 'We're not seeing you unless you're dying, all right?"
All of this stress has created an environment where some people say they're hoping for another lockdown, if only because it will give them some much-needed time off. But for the people who have spent these last ten months unemployed or underemployed, isolation and depression are unavoidable. "All of this is kind of killing me right now," says one food runner, who asked for his identity and place of work not be shared out of fear of retaliation. He still has hope, but he has not been brought back to his job at a well-known Manhattan restaurant, which has been open, and has only been able to pick up a few shifts a week packing vegetables. "I worked there for over a decade, and they kicked me out just like that? That makes me feel terrible, man," he says. "Sad. Angry. You give a lot of years to them. The best days. You give everything, and they pay you back like that? Not even 'Thank you very much' or whatever."
The threat of ongoing unemployment is what has kept others in their current positions, even if they are unhappy. For Adorno, the bartender, who this month paid off the $6,000 in debt she and her business partner owed to their landlord, another shutdown — which now seems inevitable — could put them right back in the financial hole. Albeit, one she says she's a little better prepared for.
Meanwhile, unemployment in New York City's hospitality industry was still nearly 50 percent as late as August. The employment rate started to tick up, but as of October, there were 205,600 fewer jobs in the leisure-and-hospitality sector than that time last year, and more job losses were expected in November. (Nationally, 17,400 jobs were lost in bars and restaurants during November.) The trade group National Restaurant Association estimates 110,000 restaurants around the country have closed this year, and New York has been particularly hard hit. That precariousness can rob a person of their agency, both for those who are unemployed — and not getting any relief — and for the workers feeling spent, demoralized, or unsafe at their jobs. In January, the nonprofit advocacy group Restaurant After Hours will launch an online support group program, which Reifsnyder hopes will help people caught in this dreadful situation, which has exacerbated existing mental health concerns in the industry.
"You have to choose between, 'Okay, am I going to try to find another job in this incredibly challenging job market?," Reifsnyder says, "or am I just going to stick it out and feel incredibly violated with my needs not being met at this job because I have no other way of paying my rent?' These are the horrible choices that folks in the industry have to make right now."