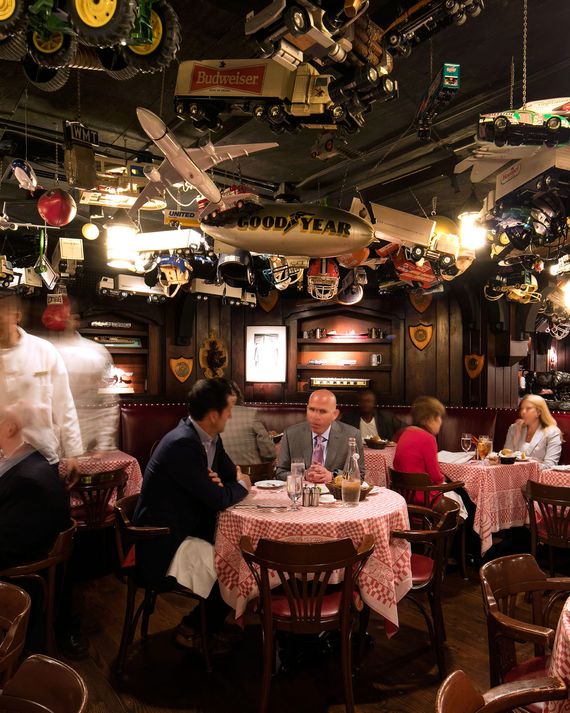 The cramped barroom of the '21' club and its famed tchotchkes.
Photo: Melissa Hom
Around this time last year, I attended the annual Salvation Army dinner at the '21' club. It was a curious affair. The dining room was packed with well-heeled New Yorkers who had paid hundreds of dollars per plate to listen to Christmas carols sung by an organization dedicated to the needy. Dickens couldn't have sketched a more pointed juxtaposition of colliding worlds.
The restaurant, which will now close indefinitely after nearly a century in business, was famously, comically expensive — always, even at the beginning, when its food helped to make the place popular. The punch lines of half the framed cartoons on the walls have something to do with the bill. But during my 32 years in New York, I went to '21' as often as I could, and I never minded paying the fare. Unlike other pricey Manhattan restaurants, a meal at '21' came with endless layers of atmosphere and pure, unfiltered New York history.
At the Salvation Army dinner, my wife and I ordered the famous burger and the chicken hash, the two things I regularly ate because they were classic dishes that never left the menu — and they were two dishes I could afford. We washed them down with Southsides, a cocktail '21' liked to pretend it had invented. It didn't, but the bar still made more of them than any other restaurant in the world, and made them better.
My eyes drifted above the heads of the silver-haired revelers and their navy jackets to the riot of corporate tchotchkes hanging from the ceiling — trucks and planes and helmets representing the various companies regulars have run over the years. (The famous lawn jockeys that stand guard outside are also trinkets left behind by patrons.) I shifted my gaze to the large bell that sat above a banquette mid-room. The fictional newspaper columnist J.J. Hunsecker sits beneath it in the film Sweet Smell of Success, and I requested that table whenever possible. (It's table 21, actually.) Over by the bar, I recalled a conversation with the late newspaperman and author Sidney Zion, who pined for the days when smoking was still allowed and the bar — a standing bar, with no stools — was three-deep and engulfed in a fog of self-importance.
Nearby, at the entrance to the main dining room, was the former post of Bruce Snyder ("Mr. Bruce"), the pin-striped, French-cuffed longtime general manager, who bought all his clothes at Bergdorf Goodman. Having been hired by the original owners — the Kriendler and the Berns families — he was, until he retired, the last living link to the eatery's origins. Beyond his stand was the men's bathroom, its walls decorated with murals by artist Charles "Top Hat" Baskerville of well-dressed Edwardian men and women relieving themselves in fantastical ways. Training my eyes back on the bar, I squinted to see if longtime bartender Tara Wright was there; if she was, I could be sure of getting a properly made, very large, and very stiff gin martini.
Finally that night, I glanced over my left shoulder to the kitchen doors, which were also how one got to what is arguably the most famous room at '21' and the most tangible evidence of its lawless speakeasy past. Behind a 5,000-pound brick door, activated only when a long metal rod was inserted into a minute hole, was the restaurant's excess wine and liquor stock as well as a private dining room. It was here (technically at 19 West 52nd Street) that the Kriendlers and the Bernses hid their booze from the Feds during Prohibition. Later, '21' made a practice of keeping private holdings for its favored guests; littered among the racks are never-claimed bottles for Frank Sinatra, Joan Crawford, Sammy Davis Jr., Richard Nixon, and Jackie Kennedy.
It always mystified me when people told me they thought of '21' as stuffy, old hat, boring. The '21' club I know is pure magic, a time machine pieced together over a century and peopled with the most sociable and entertaining collection of ghosts imaginable. Yes, it is a clubhouse for politicians and captains of industry, but it is also where the perpetually drunk novelist John O'Hara got into fights with actor Paul Douglas or writer Brendan Gill or whomever he happened to be scrapping with that week; where Mayor Jimmy Walker entertained his mistress, showgirl Betty Compton, in the cellar; where a young Hemingway had sex with a gangster's moll in the stairwell; where management bought 750,000 Cuban cigars for its patrons just before Castro took over; where renowned agent Swifty Lazar smashed a glass into the bald head of filmmaker Otto Preminger. It was born of criminality, and, for a while, it retained a streak of raffishness.
In recent years, '21' seemed to survive in spite of itself. It has been owned since 1995 by Orient-Express Hotels, Ltd. (now Belmond, Ltd.), a Bermuda-based hospitality conglomerate. Orient never seemed to value the rare jewel it held in its hands and made plenty of lunkheaded missteps. It ripped out the beautiful original bar and replaced it with a shorter replica in order to squeeze in a few more tables. It swapped out the elegant sitting room in front for a second, modern bar befitting a regional Radisson. And as the years went by, the staff and the PR outfits that repped the place seemed to know less and less about the property's long history.
Even its closing is curious. Some have speculated that the details of the announcement — all staff will officially be terminated on March 9 — mean this is not a typical pandemic-related closing but instead an opportunity for management to dissolve its employees union. A press release from the restaurant read, vaguely, that Belmond "is exploring potential opportunities that will allow 21 Club to remain a viable operation in the long term, while retaining its distinctive character." Who knows what that means? Perhaps it will become a rarefied rental facility or devolve further into the Epcot Center version of its former self. Or maybe it will officially be converted into the exclusive club its name always hinted at.
No matter what happens, it is sadly apt that the '21' club, an institution that was born of Prohibition, should pass away now, exactly 100 years after Prohibition began. That era in American history wiped away dozens, if not hundreds, of dining and drinking icons that couldn't survive when deprived of the right to sell alcohol. It robbed the city of thousands of hospitality jobs and erased untold decades of service know-how, a position in which the city once again finds itself.
New York will rebuild, of course. But make no mistake: There is no replacing the '21' club as it used to be. The place it occupied in the New York dining landscape cannot be filled. It is the last remnant of Swing Street, the raucous stretch of 52nd Street that was once lined with jazz clubs and various other nightlife spots. It is the last major Gotham joint that began life as a speakeasy — Chumley's is gone, Bill's Gay Nineties is gone. And even after all these decades, and despite the regular scoffing of the food media, '21' is still, arguably, New York's most famous restaurant.
Certainly, no visitor I took there ever left disappointed, and there were so many one-of-a-kind details you'd never forget. The thrills began when you passed through the famous iron gate, as iconic an entryway as any in the city. They continued through the subsequent circles of wonder: the brass doors, the old wooden coat check, and the red-and-white-checkered tablecloths, and on into the snug, grottolike dining room.
Of course, the first exciting detail happened before you even arrived. It was in the name. The night was about to get better because you were going to '21.'