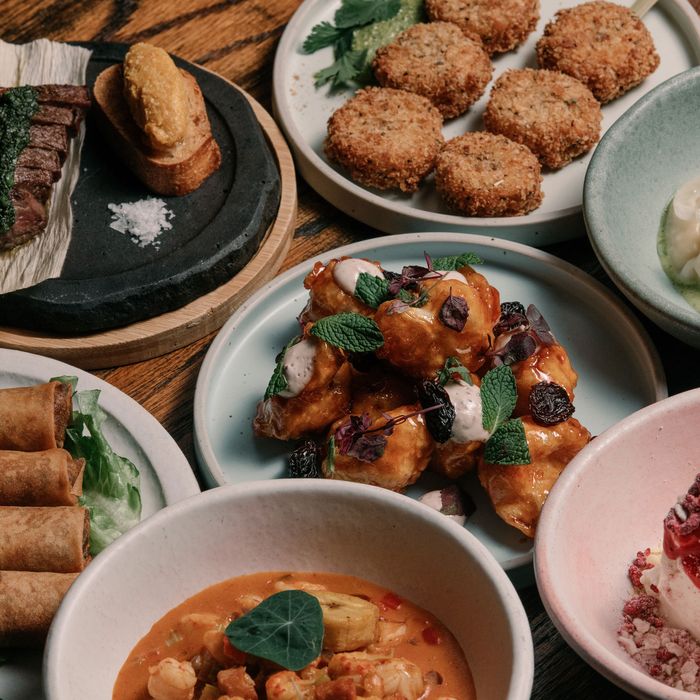 Mokyo's Asian-inspired tapas span the globe.
Photo: Scott Heins
Spotting hopeful dining trends isn't easy these days, but if you look closely, it's possible to divine a few green shoots of promise rising here and there around the city's increasingly chilly, COVID-challenged restaurant landscape. Anyone who has perused the bountiful holiday delivery treats available around town knows that the takeout business continues to blossom. As an avid consumer of grains, sauces, and coffee beans, I have also enjoyed the new "pantry" option that has been sprouting up lately on local restaurants' websites. Inventive Asian cooking at small, nimble establishments like Connie Chung's excellent Chinese café, Milu, in the Flatiron District, seems to be on the upswing, too, and like at Milu, which Chung opened after a long stint at Eleven Madison Park, many of these accomplished chefs happen to be women.
Kay Hyun, whose latest East Village "Korean tapas" restaurant, Mokyo, opened in February, also labored for a variety of grand male chefs (Jean-Georges, Nobu) before striking out on her own. Her first popular East Village restaurant, Thursday Kitchen, specializes in comfort recipes like sweet-and-spicy popcorn chicken and empanadas stuffed with duck confit, but this latest venture has clearly been conceived with a slightly more intricate brand of cooking in mind. There are two varieties of Wagyu on the menu (steak and oxtail) and delicate salads made with winter persimmons and vinaigrettes flavored with cashew, and if you call for the house dumplings, you'll find them folded around deposits of sweet-corn purée and set in pools of salsa verde touched with truffles.
In accordance with pandemic protocol, most of the tables at Mokyo are set up in rickety rows on the sidewalk along St. Marks Place, a street that is closed to traffic on weekends and turns, even on chilly evenings, into a kind of jamboree for outdoor dining. On the semi-frigid night I visited, music drifted from the open doors of other restaurants and skateboarders were grinding merrily up and down the street. We were presented with warming, complimentary shots of sake in small plastic soy-sauce containers, followed by crunchy wheels of katsu plantains stuck on yakitori sticks and the aforementioned dumplings, which were suffused with a delicious late-summer sweetness and constructed with the kind of high-end technique you don't usually see coming from the ramen-noodle and street-café kitchens in the neighborhood.
The same was true for the other dishes we sampled at Mokyo, although Hyun, who grew up in the Korean port city of Busan, has a fondness for the kind of sweet flavor profiles that made me long, after a while, for a little punch of classic Korean umami and heat. If you're looking for some heft at your windblown outdoor table, however, I suggest the cauliflower, which is garnished with Middle Eastern labneh and bits of torn mint and set, General Tso style, in an artful, sticky-sweet gochujang glaze. There are elegant spring rolls stuffed with oxtail, too, and a smooth fusion version of gumbo chock-full of crawfish and andouille sausage, which, after another slug or two of sake, I was happy to follow with a frosty scoop of mascarpone gelato and raspberry sauce as the winter wind swirled around my feet.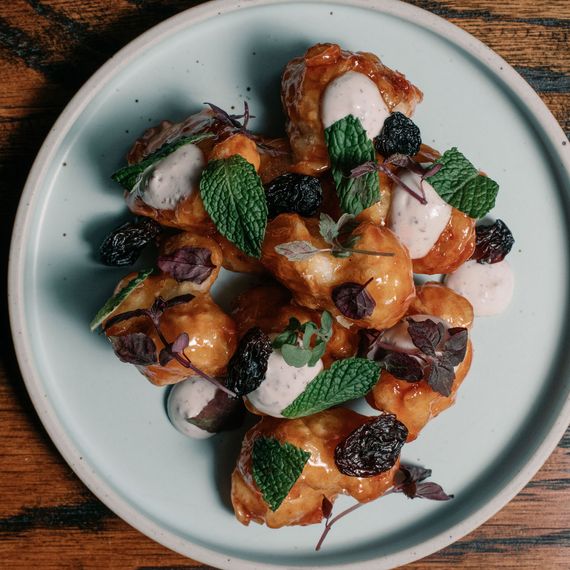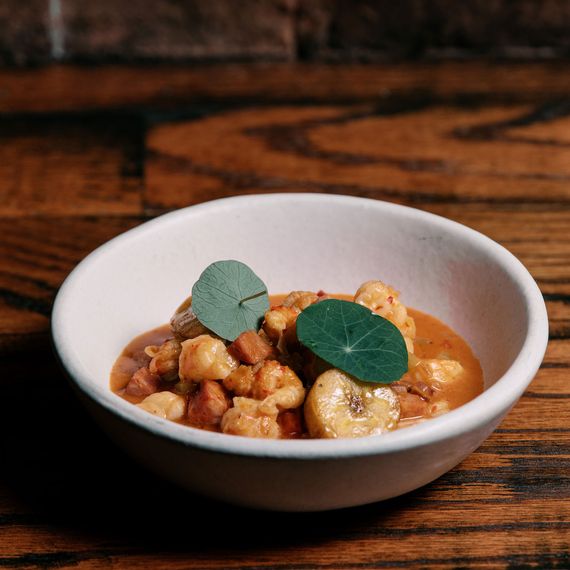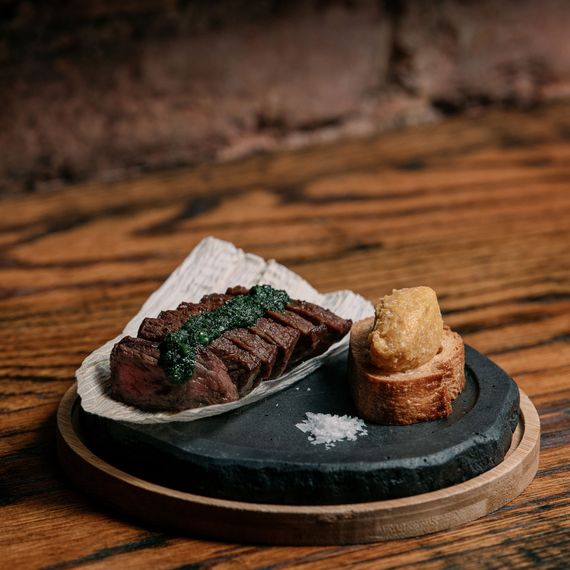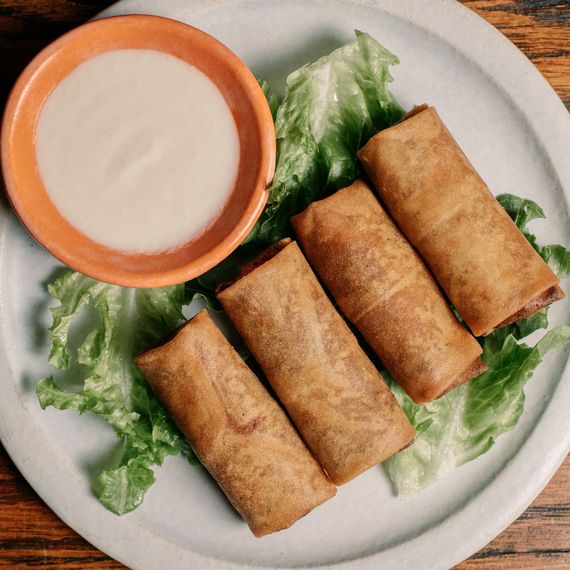 Like Hyun, Simone Tong worked at a variety of upscale kitchens around the city (wd~50, 15 East) before she made her reputation at her own smaller restaurant, in this case channeling the comfort-noodle cuisine of China's Yunnan province at the much-praised Little Tong Noodle Shop in the East Village. Her latest venture, Silver Apricot, which opened this summer on Cornelia Street, is another jewel box of a place with a more ambitious agenda in mind. Instead of sweet corn, the wonton-style dumplings here are stuffed with seasonally appropriate honeynut squash and dressed with a whiff of salted egg yolk. The excellent crab rangoon is made with fresh peekytoe, among many other things, and if you call for the grilled prawns, you'll find that they're served with a velvet pool of grits instead of rice.
I didn't taste much that was less than very good on my visits to Chef Tong's restaurant, although one evening it was so cold we ended up eating our carryout dinner at home from a series of carefully packed paper boxes. There were Brussels sprouts tossed with frizzled shallots and little nickels of sweet Chinese sausage in this gift package as well as an exceptional (though, it must be said, diminutive by takeout standards) version of fried rice molded into a small circle and fried to a crunchy crisp on top. You can get this dish with an $18 supplement of uni, if you wish, but I'd save my money for the barbecue pulled pork (piled over a slice of deep-fried bao toast) and the delicious house panna cotta, which is folded with black sesame and brown butter and topped with a layer of puffed rice.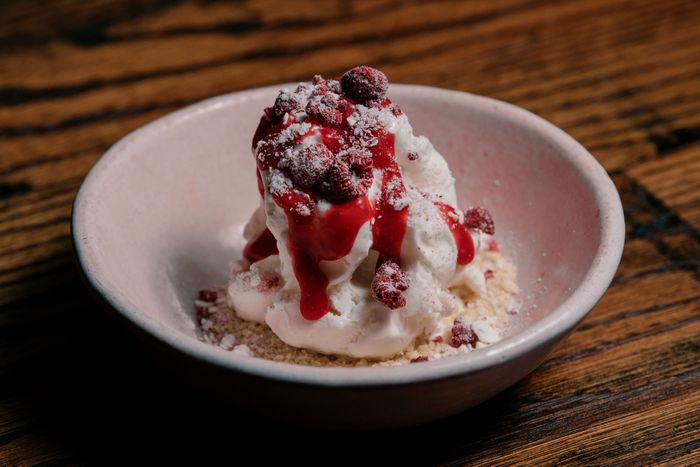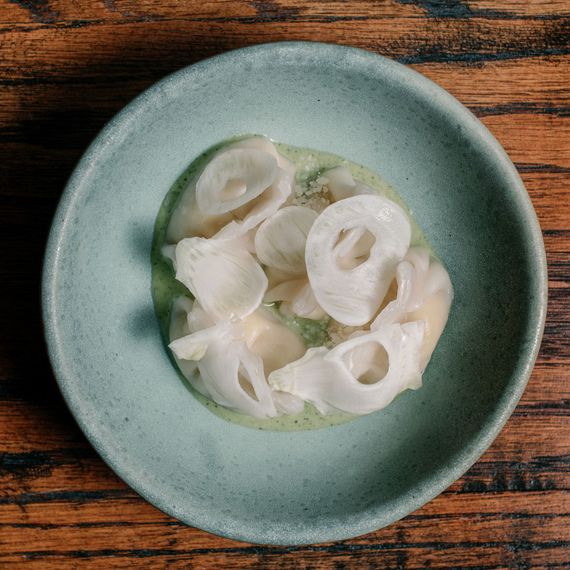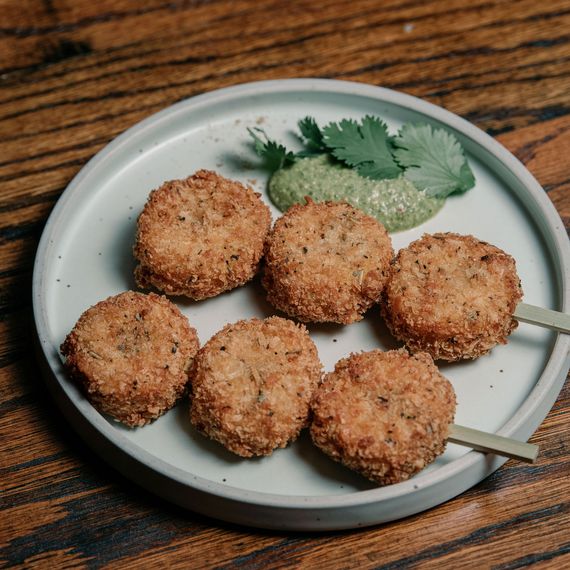 *This article appears in the December 7, 2020, issue of New York Magazine. Subscribe Now!