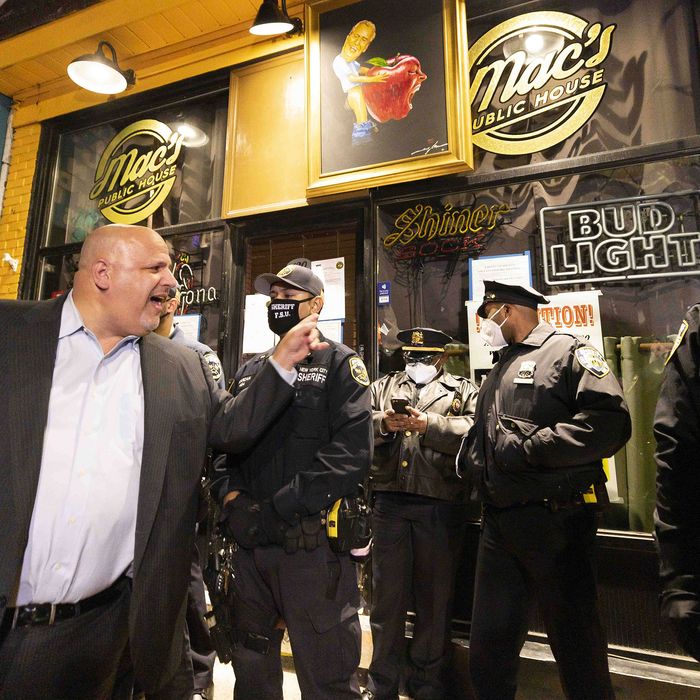 Protesters gathered outside Mac's Public House on Staten Island.
Photo: Justin Lane/EPA-EFE/Shutterstock
Earlier this week, an owner of a Staten Island bar called Mac's Public House was arrested, after declaring the business "an autonomous zone" and openly flouting COVID restrictions. Staten Island — the whole borough — is at the epicenter of New York City's second wave of COVID-19, and every neighborhood is subject to tighter restrictions by the state government. Now, Mac's has become something of a symbol for people who have grown weary of the pandemic and the adjustments we've all needed to make for the sake of public safety. Why Mac's? Here's what you need to know.
What is this Mac's Public House?
It's a bar on Staten Island. Co-owners Danny Presti and Keith McAlarney recently declared the bar "an autonomous zone" — perhaps hoping to reignite the Staten Island secession movement — and have openly flouted restrictions put in place by Governor Andrew Cuomo in response to rising COVID-19 cases. McAlarney even wrote the words "autonomous zone" on the sidewalk, invoking the ancient tradition of declaring your bedroom free from mom and dad's rule. This has not exactly worked out well, except if you consider the possibility that Mac's could become a tourist attraction for COVID hoaxers.
What did they do?
They've continued to stay open for indoor dining, after attracting attention from the city for the "autonomous zone" declaration. In a video posted last Tuesday, Presti said the pub was fined $15,000. Gothamist reported Presti later said that the fine was "voided" and that the NYC Sheriff's Office is issuing daily $1,000 fines, while McAlarney accused Mayor Bill de Blasio of using "bullying tactics." On November 27, the State Liquor Authority suspended Mac's liquor license. (Many restaurant owners have clashed with the SLA over fines, and some have sued the state over Cuomo's COVID rules.) In its report on the bar, the New York Times described Mac's as "a flash point in the Covid culture wars that have turned some business owners and party hosts into rebels against pandemic restrictions."
Oh, okay. I thought restaurants were allowed to do indoor dining, at limited capacity?
They are, for now anyway, except in areas that have been declared by Governor Andrew Cuomo's office to be an orange, red, or yellow zone, such as all of Staten Island. Those areas are subject to tighter restrictions on gatherings and business operations. Mac's is in an orange zone, which means restaurants and bars like it are only allowed to do outdoor dining with a maximum of four people per table.
Did they stop serving?
After having its liquor license suspended, Mac's continued to serve food and beverages, asking only for a suggested donation to get around the suspension. As Gothamist noted, Presti asked the sheriff's office to "stop oppressing citizens." Meanwhile, according to the Times, the daily average of coronavirus cases (38.9) in the zip code where Mac's is located is the second highest in the city.
So what happened?
Presti was arrested on Tuesday, the AP reports, after plainclothes officers went into Mac's and ordered food and drinks in exchange for a $40 donation. Uniformed officers came in, and protesters were present when Presti was taken out. He was charged with obstruction of government administration as well as charges relating to authorized food-and-drink service.
Speaking with CBS New York, McAlarney says, "I'm just trying to support my family. We've asked you guys to work with us. You refuse to work with us." The COVID restrictions are in place for a reason: People's lives matter. The country just reported its highest single-day total for COVID deaths (more than 2,800), and the highest number of patients (100,226) hospitalized during a single day.
It's also true that people around the country have been suffering for months because they have not gotten the support they've needed from the government, and because quarantine fatigue is real. Eight months in, there's been a single stimulus check. The supplemental unemployment from the CARES Act ended months ago, and rent relief might as well be a running joke. Acting as if COVID doesn't exist isn't the answer — that's what the government's been doing when it comes to actual relief — but the country is facing a very grim few months. As writer Jeff Weiss tweeted in response to Los Angeles's stay-at-home order issued on Wednesday night, such an "order that refuses to pay people to stay home, and declines to enact a rent and eviction moratorium, is practically a death sentence in its own right."
Hold on … protesters?
Hundreds of people gathered outside Mac's Public House in a scene that, CBS New York reported, "looked like a block party." Another protester made the interesting point that "there's people doing heroin and defecating on the subway, and I think that spreads the virus a lot more than some people having a drink on Staten Island." Grub would wager that this argument itself probably explains more about the current situation than anything else.
One of the bar's attorneys, Lou Gelormino, was also ticketed during the arrest, and another of the bar's attorneys, Mark Fonte, told the Staten Island Advocate, "This is what happens when little people get a little power." Republican state senator Andrew Lanza, who was present during the arrest, said, "We respect law enforcement on Staten Island like no other borough."