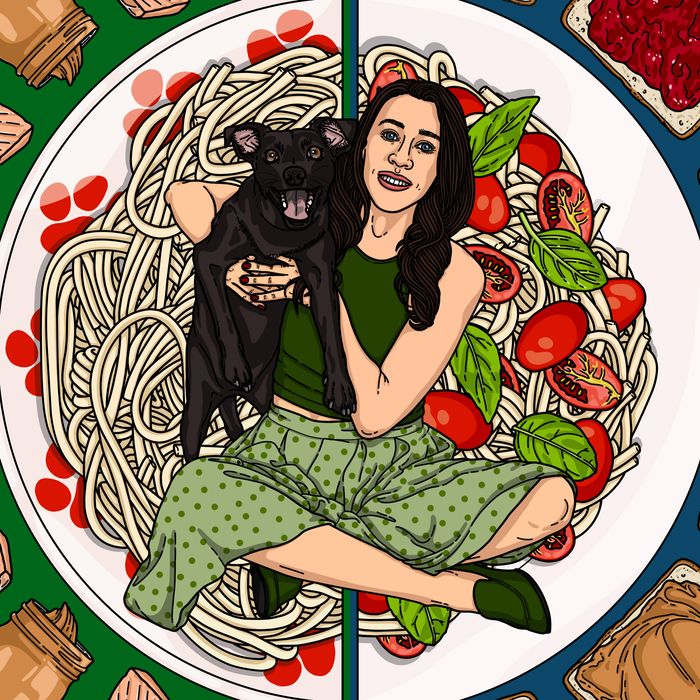 Kelly and Peter Conaboy love pasta and peanut butter.
Illustration: Eliana Rodgers
Kelly Conaboy is a master of eye-opening journalism: She has taken on Big Bay Leaf, investigated whether it's okay to let her dog sleep in the bed, and, for the Cut, took a deep dive into how men enter baths. "My style of writing," she says, "is just to take any tiny thought I have and then try to write 700 words about it." This week, she released her first book, The Particulars of Peter, wherein she takes Peter, her dog, to dance lessons, Woofstock, and more. This week, she mostly took Peter on walks, watched him skillfully sneak another dog's food, and thankfully managed to remember his snack.
Friday, December 11
At 8 a.m., Peter ate his post-walk treat. Every time we come in from a walk, he sits and looks up at me with cartoon-puppy eyes. Oh, please … I've been so good … If only someone could spare a treat … Sometimes I forget to give him a post-walk treat, and I return from washing my hands to find him sitting in the center of the living room, patiently waiting to be delivered the treat he is due. This is always extremely embarrassing for me. Luckily, on this day, I remembered.
Friday's treat was Charlee Bear Grain Free Crunch, and it is allegedly bacon and blueberry flavored, though I cannot confirm that. It's a little treat, and its bag tells me it is a mere three calories, but Peter generally gets about four or five good crunch noises from it, which makes it a bang for your buck sort of item. His crunch noise is one of his most beautiful talents.
Because of a situation with the next-door apartment building's laundry room that I will not go into (normally I use that laundry room), I walked my stupid big pink Santa bag full of clothing to the nearby laundromat. Like Peter, I have conditioned myself to need a treat whenever I do anything, so on the way back I stopped at Brancaccio's Food Shop for an enormous breakfast sandwich. Here is what it had in it: scrambled eggs, herbed hot sauce, sliced red onion, tomato, pink sauce. To meet the credit-card minimum, I also got a pastry that wasn't exactly a chocolate croissant, because it was ball-shaped, but it was similar to a chocolate croissant in that it tasted like one and felt like one in your mouth.
The sandwich was extremely good, obviously. The ball croissant was somehow even better than the traditional crescent-shaped variety. I ate half of each at home very quickly with some Fluffy Cow Coffee, which is a coffee brand that funds farm-animal and dog rescues. I have a subscription, so I get two bags a month. They also have a very good Instagram account. They also make very good coffee. I had it with oat milk and a candy cane from the tree.
(I highly recommend getting candy canes, hanging them on a Christmas tree, and then choosing one each morning to put in your coffee. It is both a cruel game and a seasonal taste experience.)
Around 11 a.m., I gave Peter his breakfast, which was Purina ONE® Lamb & Rice. I know this seems like an incorrectly late time to feed him, but I've found that if I feed him before he asks me (stares at me with dagger eyes; licks his lips; makes a sort of chomp noise to indicate his desire to chomp), he does not eat, and his food just sits there until nighttime. Sometimes he asks me right after we come in from our walk, but this time he didn't ask me until a bit later. I also gave him a little bit of egg from my sandwich, which he was absolutely insane about.
I don't usually eat weekday lunch because I hate weekday lunch. It's a very sad meal with no excitement attached. You still have to work; you can't relax. There is no built-in hope that, against all odds, the unfolding day might be good, like with breakfast. So at 5 p.m., I reentered the world of eating and made a cocktail for myself that I call a Kelly Martini. Here are the ingredients: three ounces of gin, half an ounce of Lillet Blanc, juice from basically a whole lemon, and a bunch of shakes of citrus bitters. I'm not sure if this sounds good to you, but it tastes good to me. It also tastes like summer, but not fun summer — it tastes like quarantine summer, which is when it was invented. Postvaccination, I will likely never be able to drink a Kelly Martini again, but she was a good drink when I needed her. I was having her on this night because I was mostly out of olive brine and could not make my go-to, which is a super-dirty gin martini. It has been my go-to for many years, but has become even more of my go-to during the pandemic, because of how easy it is to make and because olives are a nice at-home snack.
For dinner, I made roasted cauliflower. For the past few weeks leading up to the release of my book, I've been primarily having anxiety meals, which is: nothing all day and then a ton of pasta with a ton of garlic, tomatoes, and basil — and then also a ton of wine. I know this sounds like the correct way to live, but it somehow did not help with my mental health, or my physical health, or my acne. So I am trying to live differently for at least a little while.
I read a recipe a long time ago for how to make "whole roasted cauliflower," and now I just sort of try to remember it and re-create it based on the things I have around. This time, I boiled the cauliflower with some leftover white wine, lemon, rosemary, salt, and pepper. Then I put it in the oven at 400 degrees, which was a guess, with some more of all of that stuff on top and then later some Parmesan. Often I'll try to re-create recipes from memory like this and then look back at the real recipe and think, Oh, right. That would have been better. Oh, well. This is who I am.
I made a dip for the cauliflower with goat cheese, olive oil, Parmesan, and garlic, and it was all very satisfying.
Peter couldn't share any of this dinner with me because of all the shit that went into the cauliflower, so I gave him some more of his food, with a sprinkle of Parmesan for excitement.
Saturday, December 12
I woke up feeling like a corpse due to the radiator. I drank a ton of water and then some hot water with lemon, and Peter drank a ton of water also. Once we both felt alive again, we took a walk. Peter's post-walk treat for the day was from the brand Wild One, and it was fruit-salad flavored. Appropriate for morning. He followed me into the kitchen while I grabbed it, stood on his hind legs, took the treat gingerly between his tiny front teeth, turned, and ran out of the kitchen and into the living room to enjoy it in peace.
Then I ate the second half of my sandwich from the day before over the sink. Then I started the Fluffy Cow in my French press. Then it was time to check in with all of my friends: lady from yoga video, lady from workout video, guy from meditation app. By the time I finished my sad routine, my coffee was cold. I should have made it between the workout video and the meditation app rather than before the yoga video. I do this every time, I'm sorry to say. I chose my candy-cane victim and heated him with the coffee in the microwave.
Peter and I then went to my boyfriend Chris's apartment in Astoria, where Peter immediately stole some of his dog Frank's food. Peter attempts this every time he is near Frank's food. I know it's my duty to stop him, and I do try, but I must admit it is very fun to watch a dog do something they know they aren't supposed to be doing. This time, he attempted to cover up the deed with arrival-based excitement. Oh, I am so happy to see Chris and Frank! Oh, everyone is happy and spinning! Oh gosh, I am so excited I'm just going to grab a quick mouthful of this food right here. Okay, anyway, yay! What makes this additionally enjoyable is that Frank is much bigger than Peter but is too gentle to attempt to stop him from stealing. He just stared at him, sad and confused.
A bit later, Chris and I had some Sauvignon blanc and grocery-store guacamole and chips while watching the Netflix fireplace video. You have to do things like this to pass the time.
Around five, Chris got started on dinner, which is coconut curry with tofu. Chris's quarantine-acquired hobby is making me cocktails. He got a cocktail-recipe book, he got cocktail-making accoutrements, and he has acquired several types of liquors. It's very nice of him, particularly because he doesn't like drinking cocktails himself. So while he was making me dinner, I interrupted him and told him to also MAKE ME A DIRTY MARTINI! He got out his little recipe book, even though I told him that I could just tell him how to make it, and got going. He loves using a recipe. It's very funny to watch him cook. Always doing exactly what the recipe says — measuring out a teaspoon of salt, setting a timer, etc. It is so interesting to learn how other humans can be.
Sunday, December 13
After dinner, we also had margaritas while watching a taped performance of The Nutcracker, so I needed a half-grapefruit immediately upon waking. Then I also had grapefruit juice. Then I also had green juice. Then I also had a blueberry scone, which Peter attempted to take a bite of while I had it in my hand, which is another bad behavior that I can't help but love. (I gave him two small pieces.) Oh, I also had coffee.
It was a 60-degree day, so we — Kelly, Peter, Chris, and Frank — all took a trip to enjoy the sunshine by the Long Island City waterfront. They have a little food stand there that offers hot chocolate, among other things, so we got two of those. They have flavored syrups you can request to put in your hot chocolate, and I saw they had lavender, so I requested lavender. "Uh," said the woman behind the counter, "I guess we can make a lavender one?" She said it as a question to her co-worker, and her co-worker confirmed that they guess they could make a lavender one. And yes, okay, maybe the lavender one was not "the best option." Chris got "s'more," which was maybe "better," but you have to agree that it was certainly less creative. I am an artist; I am not bound by what would taste the best out of the available options.
After we got home, we had a late lunch that also ended up counting as dinner: grilled cheese and tomato soup. A classic. Sometimes an artist has to return to her building blocks.
Monday, December 14
I left Chris's apartment around 6 a.m. because it was supposed to rain, and I hate driving in rain even though I am otherwise brave. When I got home, I was too sleepy to make coffee or to live, so I lay down on the couch and watched 14 hours of the Today show. I love Al Roker. It's sad that he's not on the Hoda & Jenna portion. It should be Hoda & Jenna & Al.
Eventually I summoned the strength to have a bowl of Cinnamon Toast Crunch and a cup of Juniper Ridge "Douglas Fir Spring Tip" tea. I bought this tea for Chris because he likes to go camping, so I thought that he might like to drink a tree. Although he does not admit this, I suspect he does not like it on account of how he never drinks it. I like it, though, so I bought some for myself. It's nice to drink a tree.
I was going to not eat anything until my special dinner later, but around three, I could feel myself wanting to punch a wall, so instead I fried up some cauliflower with lemon juice and red-pepper flakes. It was food, which was fine.
Around five, it was dinnertime for Peter. I crumbled up a treat (crunch treat, described earlier) into his regular food, but he still didn't really want it, so I fed him kibble pieces by hand until he was enticed. I love doing this — feeling his sharp little teeth on my fingers, looking insane to any neighbors who might be watching through the window. Eventually he decided he can eat on his own. I love him very much, and I'm sad that I can't bring him to the special dinner later, which you will find out about in my next paragraph.
The special dinner was with my friends Leah Finnegan and Matt, whose last name I've redacted because he is the editor of a different food publication that, out of respect, I will only tell you rhymes with Skeeter. We went to June, a natural-wine bar in Cobble Hill, for dinner and ate on the back patio. Since March, I have gone out to dinner with friends maybe … one other time. But this was partly to celebrate the book and partly to bring together our group chat, which is called Candle Group, where we typically discuss candles, and, no, we are not accepting new members at this time.
I ordered a dirty martini while I waited for the others to arrive, then, once they were there, we got burrata with delicata squash, escarole salad, roasted-seasonal-vegetable plate, crostini with mushrooms, cassoulet with lamb sausage, duck confit, flageolet beans and bread crumbs, and two slices of lemon-cream olive-oil cake. Because we were sharing, each of the dishes had its own serving silverware as a COVID precaution. You have to do what you can, even if you're thinking in your head, Maybe this is not enough of a precaution. Matt and I also got some by-the-glass wines. He got an orange wine, a rosé, and a chilled red. I got a Syrah and a chilled red. Everything was extremely good. I allowed myself a spoonful of the cassoulet, which, regrettably, I must say, was probably the best thing, even though the burrata was also fantastic.
Burrata is so good. I often like to get a burrata appetizer as my main dish when I can. I once pitched "Burrata As a Main" as an article, but as far as I can remember, it was not accepted. Burrata is just a ball of wet cheese, with bread, which I think most people wouldn't necessarily think of as a possibility for a main course. I think it's important to not be restricted by what a menu tells you is an appetizer.
Tuesday, December 15 
Peter had his treat. I had water, a green juice, and a Fluffy Cow coffee because generally I cannot drink as much alcohol as I want to without waking up feeling half-dead. No candy cane for me this morning, however — I wanted to hold back on indulgences.
For lunch, I fried together some kale, egg, lemon, and red-pepper flakes. As you can tell, I am trying very hard to be healthy in order to get my skin back to its pre-anxiety-meal-month condition, which was still not great. I gave Peter some of my egg, as it is one of his favorite foods and he deserves it. He was appreciative.
I bought an acorn squash recently, exclusively because it was so cute. Oh my God. I can't believe this is a food. I baked it covered in butter and brown sugar alongside some Brussels sprouts and carrots, to which I added a bunch of salt, rosemary, and olive oil, except for one carrot that I roasted plain for Peter. I also made garlic aïoli to dip the carrots into. It was a satisfying cold-weather meal, and it was nice to have the oven on, and Peter really liked his carrot.
After dinner, I remembered that my mom gave me a Godiva Advent calendar, so I ate December 10 through December 15 while I periodically fed Peter some Charlee Bear Grain Free Crunch as we watched The Flight Attendant. We both think it's pretty good.