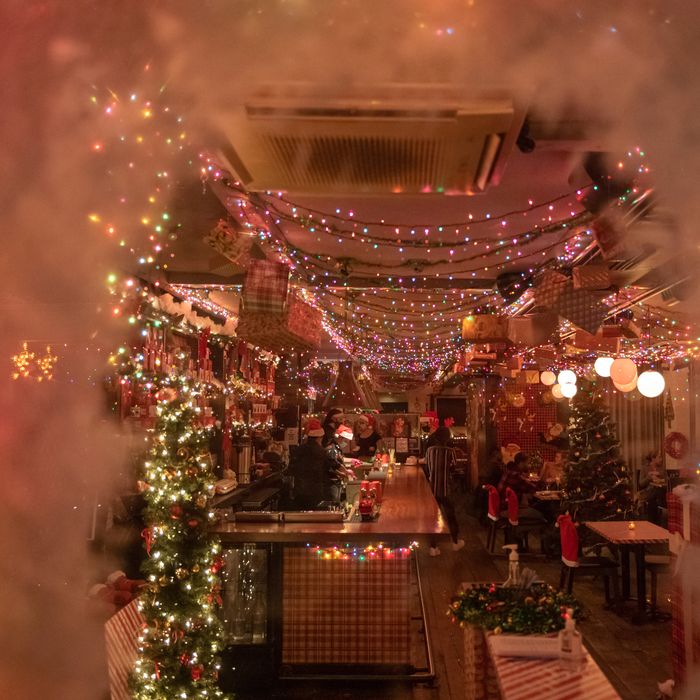 Miracle on 8th Street is a cocktail pop-up that throws back to happier holiday seasons.
Photo: Alexi Rosenfeld/Getty Images
For months, the predictions have been dire: As difficult as it's been for restaurants to stay in business, the winter months will make it truly unbearable. By now, we all know that restaurant owners and employees have suffered an impossibly heavy toll as a result of the COVID pandemic. The industry is collapsing, there is no more aid in sight, and our leaders seem content to let independent restaurants and bars fail in the name of public safety. You do not need us to tell you that things are very bad for almost everyone involved in New York's hospitality industry, and yet somehow, this week, they've started to look even worse.
Think back to this time a year ago: Office holiday parties, big meals with friends, midafternoon sunsets leading to drinks out with friends and colleagues. This year, the more pressing concerns are whether a restaurant's heat lamps are strong enough to keep diners warm as temperatures plummet, whether the outdoor dining setups allow for enough airflow, and whether a given restaurant's HVAC has been adequately upgraded to filter out the particles in diners' breath. Dystopian dining "igloos" dot our sidewalks.
The National Restaurant Association reports that, in the United States, 110,000 restaurants are closed because of the pandemic. (In New York, hundreds of destinations and neighborhood favorites alike have already been forced to call it quits.) In all, the NRA reports that one in six restaurants are gone, with 48 percent of those now-former owners telling the trade group they are unlikely to stay in the industry at all. Meanwhile, 58 percent of all operators tell the group they anticipate more layoffs and furloughs before April. And, as Ryan Sutton reported last week on Eater, New York's job recovery in the industry has already slowed, while aid remains woefully inadequate.
All of that would be bad enough. But yesterday, Governor Cuomo offered the dire warning that indoor dining — crucial for business as temperatures drop below freezing for the first time this season — would be halted next week if the hospitalization rate "does not stabilize in New York City in the next five days." That is unlikely since, as Dr. Anthony Fauci predicted during Cuomo's press conference, we are still about a week away from feeling the "full brunt" of a Thanksgiving-related surge — which, of course, can't be corrected retroactively. And then Christmas and New Year's will only bring further potential for increased spread of the virus. The question is no longer if indoor dining shuts down in New York City — it is "How soon?"
It's a combination of factors that is somehow newly and uniquely brutal — in New York and beyond. Owners who are not already equipped to see things through until the spring are increasingly pessimistic. In Bon Appétit, the chef Ed Lee told Ashlea Halpern, "At the end of the day, I'm on the Titanic trying to throw out buckets of water to stay afloat."
Of course businesses are rethinking the ways they make money. There are meal kits and beautifully branded products and plenty of cocktails to go. But at a certain point, an assigned path becomes clear, even as people desperately hope to stray from it. Everyone recognizes the need for government assistance to help fix this; everyone seems increasingly convinced that it won't happen in time, if at all. But we all knew this was coming, and, with each passing day, it will only become more impossible to fix it.