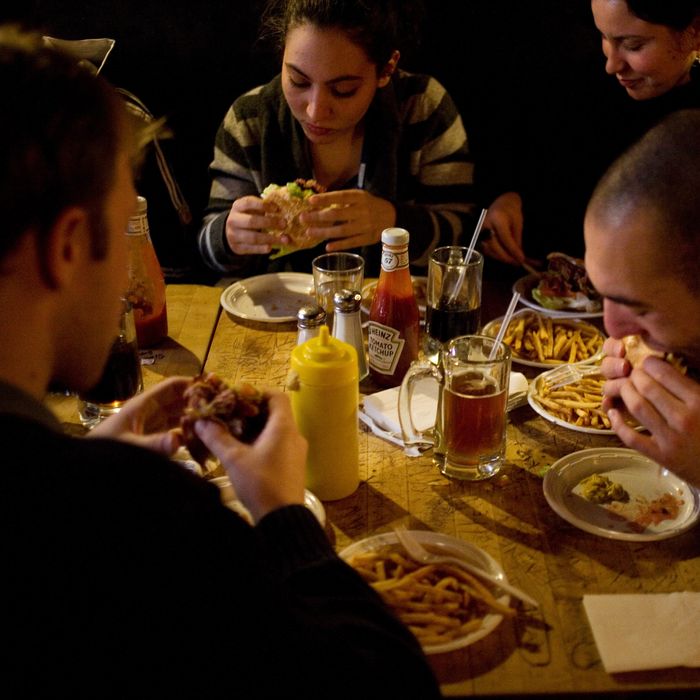 Corner Bistro, in the Before Times.
Photo: Konstantin Sergeyev
The winter shutdown has started. Governor Cuomo announced that, beginning on Monday, there will be no more indoor dining at New York City restaurants. In his press conference today, Cuomo said that he'll extend the commercial eviction moratorium and called for the federal government to offer assistance. "The federal government must provide relief for these bars and restaurants," the governor says.
The temporary closure comes roughly two and a half months after the return of indoor dining, which had been barred since the March restaurant shut down. Cuomo has been clear for some time that another shutdown would arrive if hospitalization rates continued to rise. On Wednesday, the country recorded a record 3,054 deaths from COVID, a as well a record seven-day average of 2,276.
In recent weeks, many people in the industry have talked to Grub Street about the toll that working this year has had on their mental health. Some even wished for another shutdown because they're so exhausted. "In many ways, it would be welcomed," an employee of one downtown bar said. "While it would be absolutely devastating for employees to be furloughed or let go again, practically it just might be the safest option to curb the spread of the virus."
But even if a move like this feels necessary, many people — both workers and owners — have expressed fears and concerns about what another shutdown will mean for the already-devastated industry. This rollback will certainly lead to more permanent closures, and more jobs will be lost during a time when tipped and hourly workers are already struggling to make enough money. It is also a dire situation for undocumented workers, who have spent the past ten months unemployed or underemployed, exhausting their savings and scraping by without any government assistance.
With winter weather making outdoor dining much less palatable for many New Yorkers, there is a great deal of concern about how restaurants will make enough money. There's also the question of outdoor dining as it relates to the people working this winter. "We know that it's completely unsustainable for us to demand people to work outdoors," said Miguel de Leon, the wine director and general manager at Pinch Chinese. "Even if it's not COVID, they could get the flu. And how good are you going to feel if that flu turns into the weakness that gets COVID in your system?"
This week, Eater New York reported fewer than 300 restaurants have met requirements to use propane gas heaters, the use of which was supposed to help businesses get through the winter. In a statement, the New York City Hospitality Alliance's executive director Andrew Rigie says the closure "will cause irreversible harm on countless more small businesses, and the hundreds of thousands of worker they employ."