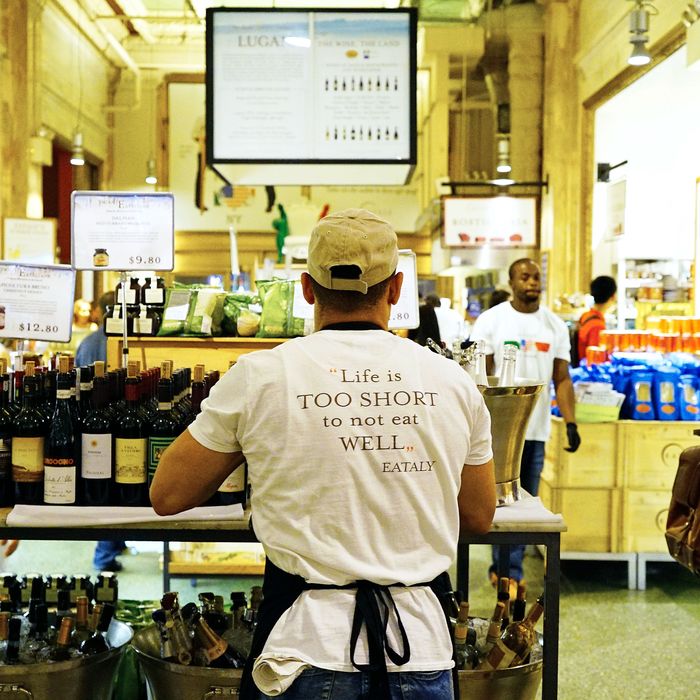 Eataly employees filed the lawsuit in November 2017.
Photo: Andrew Holbrooke/Corbis via Getty Images
Upscale Italian-market chain Eataly has agreed to pay a total of $1,887,500 to settle a class-action lawsuit brought by employees of its Flatiron and Financial District stores. According to a document sent to eligible employees, the settlement stems from a Fair Labor Standards Act lawsuit filed in the United States District Court for the Southern District of New York on November 29, 2017. Any tipped employees who worked at the two Manhattan stores between November 29, 2011 and November 4, 2020 are eligible, as are non-tipped employees involved in the lawsuit.
In the lawsuit, the plaintiffs allege that Eataly violated New York labor law and the Fair Labor Standards Act by "failing to pay wages for all hours worked due to a policy of time shaving," "failing to provide proper wage and hour notice," and "failing to provide proper wage statements." The plaintiffs specifically allege that managers "routinely instructed" them to "perform unpaid off-the-clock work," with one of the plaintiffs alleging this happened "throughout his employment … at least three times per week."
In a 2018 decision conditionally certifying the class so that the suit could proceed, District Judge Katherine B. Forrest wrote that there wasn't enough evidence to demonstrate that "all nonexempt Eataly employees were victims" of such violations. However, the judge added that the "plaintiffs have sufficiently demonstrated that specific supervisors and/or managers at Eataly violated the relevant statutes by engaging in 'time shaving' and other illegal practices." Per the settlement, the defendants — Eataly America, Inc., Eataly USA LLC, Eataly NY LLC, Eataly NY FIDI LLC, Eataly USA CEO Nicola Farinetti, and Eataly USA CFO Adam Saper — "deny all material allegations" and deny "any wrongdoing of any kind whatsoever, and without admitting any liability." A spokesperson for the company, Lisa Serbaniewicz, writes, "While we maintain that all employees were paid for all hours worked, we decided to prioritize a resolution and have consequently settled this matter."
Former employees who spoke with Grub, both before and after the settlement was reached, expressed concerns about how tips were handled — which some alleged was not entirely transparent — and alleged that employees were asked to do work beyond their job descriptions, including when setting up and cleaning up after parties. Several employees say that Eataly eventually switched to an "admin fee" system for expensive buyouts of restaurant spaces within Eataly, which servers say resulted in tipped employees getting paid less than they had been for those parties. It also meant, they say, that they made less than if they had a regular shift.
"They're making money on top of money, then they're saving on labor, and it's not just you come in and it's an easy party," one said earlier this year. Another says, "They would especially make the back waiters and those folks do a lot more of that — which, again, is not part of their jobs — to empty out an entire restaurant of furniture, bring it up on the roof in rain and snow, and then have to bring it back in."
Earlier this year, Eataly caused friction with employees when it used a Paycheck Protection Program loan to rehire staff at wages lower than they were getting through unemployment or than they would normally be paid. One employee said at the time they felt "bamboozled into" the program, and another said, "I feel I've been a little stabbed in the back." An email sent out to staff by North America executive vice-president Raffaele Piarulli presented employees with the choice to opt in to the program or "permanently resign from your position instead." Employees felt like they were being forced into the program, because resigning would make them ineligible for unemployment, and expressed concerns about co-workers with language barriers.
A number of Eataly employees have expressed lingering resentments about their time at the company. One says that he was written up after he showed up to a scheduled shift on New Year's Day and found himself unable to work because his chronic back condition had flared up the day before. Management was aware of the issue and had been understanding in the past, he says. Despite providing a doctor's note after New Year's, he was given a final warning.
"Granted it was a chronic health issue, but what if someone got hit by a car on the way to work, and they had to call and say they were going to the hospital?" The employee says he felt like it was Eataly's way of saying "it just didn't matter — there were no valid reasons for calling out that day because it was a holiday."
Asked about this incident, Serbaniewicz, the spokesperson, writes, "We do not have, nor have we ever had, a no-tolerance policy for employees calling out on New Year's Day or any other day." This is clearly not the case. Per the disciplinary-action form, the individual "failed to get shift coverage on a day management alerted the staff that call-outs wouldn't be accepted." Additionally, in a December 29, 2019, email sent to employees of Birreria (Eataly's rooftop beer garden and microbrewery), general manager Mariela Avello writes, "As previous years, please be aware that call outs won't be accepted" on New Year's Eve and Day.
Another former employee had previously told Grub about this incident, and a third confirmed it: "There's quite a propensity in the restaurant industry to not believe people when they're sick or believe people when they're hurt. It's always like, 'Were you out drinking?'" one says of the incident. "It's kind of just yet again a way to control. It's not in the best interest of people."