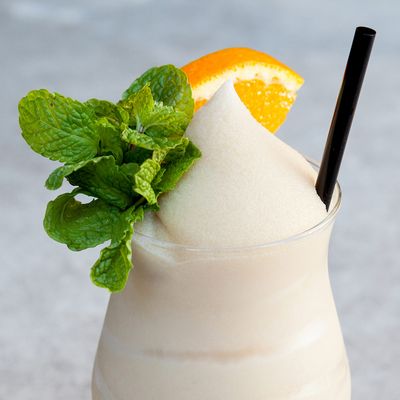 The Brancolada.
Photo: Julia Gillard
I have always maintained that, were I to open my own bar (good but not ambitious, located in a mediocre beach town), I would make a point to always serve three things: exactly one type of beer, mozzarella sticks, and a piña colada. We would not mess with the piña colada, because it is already a perfect drink. While it does take well to experimentation — a floater of Campari is surprisingly lovely; a floater of Angostura bitters is surprisingly even better — there is no innovation that can force you to permanently abandon the creamy, citrusy alchemy of the classic recipe. At least, that is what I thought until I tried the Brancolada at Donna, in Williamsburg. It is a drink that would seem to do everything wrong: a name that makes it almost embarrassing to order, a star ingredient that is both insufferably trendy and deeply unpleasant to drink on its own, a tropical recipe that tastes like … winter? But now that Donna has closed, another business done in by the COVID-19 pandemic, I already find myself missing it deeply.
The bar closed for good on Sunday for reasons you might expect. "Factors that you didn't think about when you built your space however many years ago are now probably the determining factor in whether you can make this work or not," says Donna's owner, Leif Huckman. After struggling to break even since March, Huckman says they got close to making it actually work this summer. "And then, the mixed messaging from the city and state caused us to pull back a little bit."
I always liked the location — a couple of blocks from the waterfront, the Williamsburg Bridge towering nearby — and I liked that, when I worked at a bar nearby, I was able to go during off-hours. (Donna was also the rare Williamsburg bar that didn't seem to always be full of assholes.) But Fanny Chu, the bar's last head bartender, says the area was "like a wind tunnel," and there was no way to make it work in the winter. The bar also had less than a year left on its lease, which made the idea of added investment far less appealing. "The only way that we were going to be able to justify staying open any further would be to invest in infrastructure outside," Huckman explains. "Not only did we not necessarily have the money to make that kind of investment, but we would need time on the lease to be able to justify it."
Even if the decision is sound from a business standpoint, it was a bummer for Donna's fans, who were devoted to the bar and its quirks — including the weirdo piña colada that quickly became a signature drink, and really came into its own after they bought a slushie machine. Once, the bartenders swapped out the frozen Brancolada for a mai tai variation, and it did not go over well. "People got so angry," says Jeremy Oretel, who invented the Brancolada, and based it on another piña colada riff, the Painkiller. "They were like, 'I brought my grandfather from wherever for this one drink.'"
Usually, when bartenders riff on classic drinks, they try to amplify the qualities that people like most about the original. The Brancolada goes the other way, dialing down both the rum and coconut to make room for Branca Menta — one of those intensely medicinal Italian bark liqueurs that stands out from the pack because it also somehow tastes like rotten mouthwash.
This, I suppose, is the power of the piña colada: It manages to make even an ingredient like this seem magical. The Brancolada tastes like what would happen if mint-chip ice cream went on vacation. You drink it, yes, but you also happily spoon it into your mouth. You order another and you wonder how it manages to feel so familiar.
"It was the drink that changed my life, and the reason why people go to Donna is the Brancolada," says Chu, who worked at dive bars before taking the plunge into the mixology world at Donna. "Just the looks of people drinking it so happily, and transporting them to a different place, that's how I felt when I initially drank it. I was like, 'Wow, I want to be able to make drinks like this.' For Chu, and for the drinks fans (myself included), it stings extra hard to see the drink disappear at a time when people could use it most. (Thankfully, this isn't actually goodbye: you can make the drink at home using the recipe, which was published by the drinks website Punch.) "To make people feel like they're somewhere else — just to feel good for that moment, because it's rough right now. It's rough for everybody."