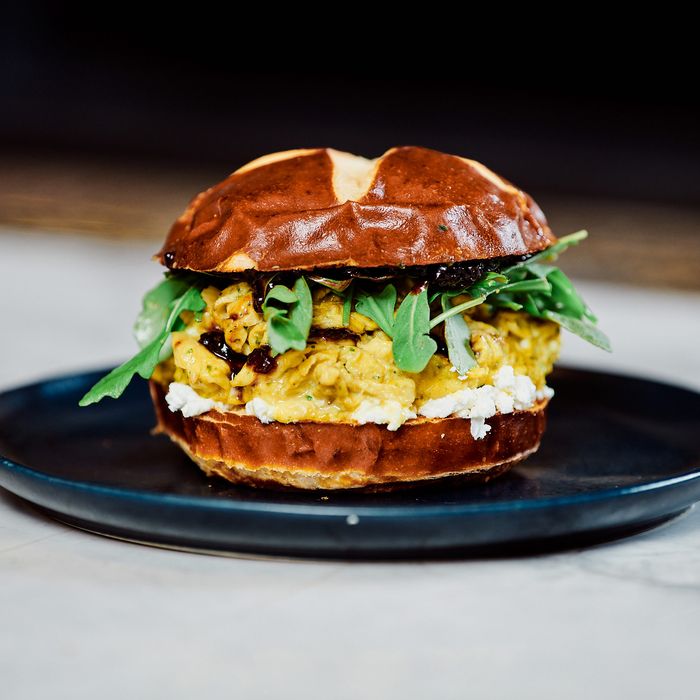 Morning perfection is eggs, pesto, goat cheese, blackberry jam, arugula, and a pretzel roll.
Photo: Christian Rodriguez
Andrea Chetakian moved across the country for grilled cheese. Specifically she uprooted her life in California to give her grilled-cheese business a shot in New York — mere weeks before COVID-19 hit the city. "I had just moved back and I got everything started," the sandwich expert says. "I just lost it all — I'd signed a lease to an apartment I couldn't afford. It was scary, watching this industry close and trying to figure out my main source of income."
Originally, she'd planned to run a weekly pop-up at the Screen Door, a Greenpoint ice-cream parlor close to her (now-too-expensive) apartment. She quickly realized she'd need a plan B. So, she set up an actual grilled-cheese speakeasy — dubbed the Blue Light Speak Cheesy — in her apartment, cobbling together a pulley system to ensure her customers had a contact-free pick-up process. A long paracord outfitted with a carabiner and a hook was cast out of her building's third-story window, and Chetakian lowered bags containing carefully crafted breakfast sandwiches to hungry customers on the sidewalk below. "I just wanted people to feel really safe," she says. (Everyone paid via Venmo.)
Alas, it all came to an end when an unhappy neighbor called the Health Department and shut Chetakian down. Luckily, she knew the owner of Getaway, the popular alcohol-free bar on Green Street, which at the time was moving to its own pick-up business model in light of the pandemic. He agreed to let her run the speak-cheesy out of the coffee shop on Sundays.
Chetakian soon found a following with sandwiches like the Green Eggs and Jam, eggs scrambled with pesto, goat cheese, tart blackberry jam, and arugula leaves on a toasted pretzel bun from Orwashers Bakery.
Now, she's expanded her hours, and her ambition, adding Taco Tuesdays and the not-as-alliterative-but-possibly-even-more-exciting Burrito Thursdays to the mix. The breakfast tacos, which used to be on Chetakian's secret menu when she operated the speak-cheesy out of a Los Angeles café, are double-decker, made with scrambled eggs, avocado, and soy-based chorizo. Refried black beans and is sandwiched between a crunchy taco shell and a soft taco shell.
Her breakfast burritos are also noteworthy: "I just wanted to make the burrito I would eat. So I want something that is healthy, where it has greens, and it has cabbage and stuff like that," she explains. "I also want it to be delicious with cheese and sauce, but I need the tortillas to be amazing — so they come from Mexico and it's a pain in the butt." (Yet she recently got an unexpected call from her tortilla purveyor: "He said 'Oh, you must be busy. You ordered a big order,'" she said. "It's so cute. They're amazing.")
The operation is picking up, but like so many COVID-era businesses, it is still very much a work in progress, and a far cry from the full diner that Chetakian hopes to eventually open. "I want it to be, like, the same people coming in every day, and you come in by yourself and sit at the counter," she says. "And I know everyone and serve good coffee."
For now, though, the phrase "grilled-cheese speakeasy" manages to capture the attention of anyone who hears it, and it suits Chetakian's sensibilities. "My business is just a reflection of me, and so I just tried to do whatever I want to do and it can shift and change," she said. "Now I know I just do breakfast and it's called the Blue Light Speak Cheesy, so it's a little odd, but it's still the speakeasy vibe because I'm still located in other people's places."