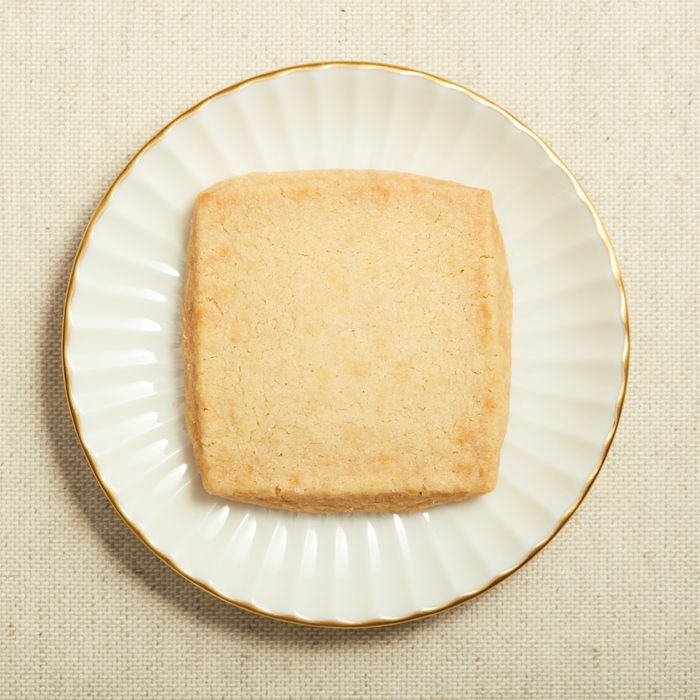 Té Company's shortbread cookie.
Photo: Johnny Fogg/Té Company
Funny to think that years from now when we are back to packing ourselves into restaurants like sardines, passing share plates to and fro with carefree abandon, the vogue for comfort food likely will have waned. The pendulum will have swung, and cooks all over the city will have sharpened their tweezers, recalibrated their Spinzall countertop centrifuges, and reembraced a more ambitious, modernist style of cooking. Right now, of course, fancy cooking is out of step. Now is the time for pure, unalloyed comfort food, however you define it, which happens to be the theme of our roundup of the best things we ate this year.
Yellow Rose, 102 Third Ave.
Should we be ashamed to admit that until a few weeks ago, we'd never even heard of Texas sheet cake? Going by what we know now, we'd say no, as a Texas sheet cake, apparently, is a homely sort of chocolate-pecan thing Texans are practically required by law to bring to pot lucks, bake sales, and funerals (in certain parts of the state, the dessert goes under the alias of Texas funeral cake). The version Yellow Rose sells by the slice is something else: a super-moist chocolate crumb topped with a rich and tangy chocolate frosting garnished with candied pecans. As it turns out, this is a highly interpretive Texas sheet cake baked by a Boston native named Darcy Spence whose job it is to channel the confectionery desires of her Texas-expat bosses. For her TSC, she candies then deep-fries her pecans, puts Frankies olive oil into and on top of the cake, and forges her frosting from a combination of chocolate ganache, cream cheese, and crème fraîche — artistic tinkerings that would surely raise eyebrows at a Texas funeral.
Dame, 85 Macdougal St.
Fish and chips is not a dish designed to withstand the rigors of a New York City delivery-run obstacle course. But Dame's version is up to the task: tender, flaky fillets sheathed in a lofty crust that's light and crisp but surprisingly sturdy. Superior British-style chips, too, and a housemade tartar sauce that will knock your socks off.
Fat Choy, 250 Broome St.
A hot and steamy paper boat of red beans mingled with braised kale and collards, fermented tofu, and fluffy jasmine rice that will fix you up. If you're dining alfresco, you won't even need a heat lamp.
Milu, 333 Park Ave. S.
A dish purporting to be a rice bowl, but rice bowls do not traffic in meat this good: sticky, ripply, dice-size nuggets of caramelized brisket slicked with a garlic-chile-mint sauce. Shout-out to the accompanying marinated cucumbers, which are not only smashed but meticulously sliced accordian-style to help soak up their sauce.
Té Company, 163 W. 10th St.
We like Frederico Ribeiro's new shortbread cookies even more than his famous pineapple linzers. They go as well with an afternoon cup of tea or coffee as they do with a Bobby Burns nightcap. (Pick up a box at the shop or order them online.)
7.
Stuffed-Cabbage
Tom
Kha
Thai Diner, 186 Mott St.
Ground turkey and rice rolled up tight in crinkly Savoy-cabbage leaves takes its inspiration from stuffed-cabbage mecca Veselka. Instead of mushroom gravy, you get coconut milk spiked with galangal and makrut lime. Thai-Ukrainian fusion food at its finest.
Momofuku Ko, 8 Extra Pl.
No fine-dining pivoter goes lowbrow with better results than Momofuku Ko. The barbecued chicken with ranch dressing on a sourdough crust will shock and delight CPK nostalgists, and the spicy Sicilian with its burnt bits and crisp edges will have the non-round cognoscenti reordering their Best Square Pizza rankings.
The LIC restaurant's meat pie — two and a half pounds of braised beef, smoked capon, heritage pork, shredded potatoes, and sautéed mushrooms baked in a flaky pâte brisée crust — isn't new, but now you can get it delivered citywide (and beyond) via Baldor.
10.
Hand-Ripped
Noodles
Meal
Kit
Xi'an Famous Foods, online-order only
If stretching, pulling, thwacking, twirling, and generally wrangling a hunk of dough like a rodeo trick roper before turning it into dinner fails to relieve your tension, nothing will.
Edith's, 60 Greenpoint Ave., Greenpoint
A crispy, lacy latke that would have all the bubbes in Brooklyn turning green with envy. And you can get one on a bagel with bacon, egg, and cheese.
Cutlets Sandwich Co., 900 Broadway
Finally, a shop dedicated to restoring the reputation of the chicken-cutlet hero. The No. 2 — with roasted red peppers and sharp provolone on a Parisi Bakery roll — is a good start.
*A version of this article appears in the December 21, 2020, issue of New York Magazine. Subscribe Now!