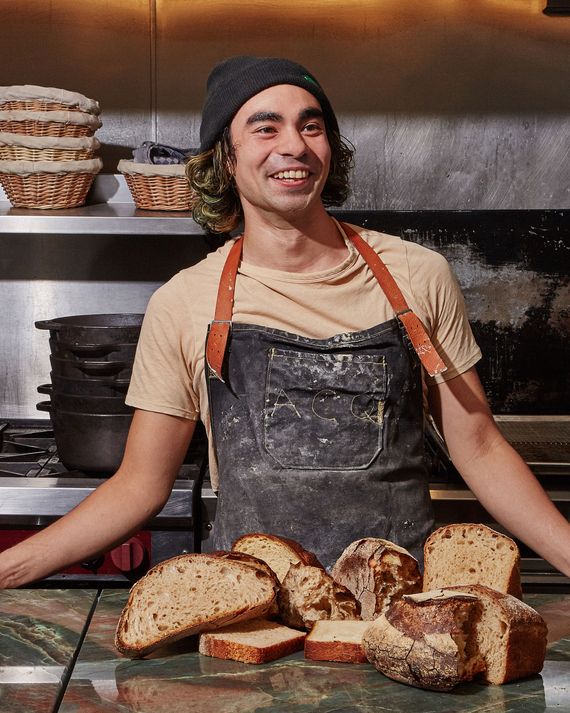 In mid-March, when the then-new pandemic halted New York City's restaurant business, the rarefied world of fine dining came to a crystal-shattering halt. As a research and fermentation chef at Aska, the Nordic tasting-menu restaurant in Williamsburg, Tyler Lee Steinbrenner was furloughed indefinitely.
As everyone knows, things soon got even worse. And after the killing of George Floyd prompted millions to protest systemic racism — and the hospitality industry's own systemic injustices came into sharper focus — Steinbrenner started to bake.
"At that point of hopelessness it was like a defense mechanism," Steinbrenner says. He began ACQ Bread Co., which operates out of a small kitchen in a townhouse in Carroll Gardens that was previously occupied by a catering business. There, he began donating loaves of crisp, wild-leavened, slow-fermented sourdough for protesters, hospital workers, community meetings of political activists, volunteers at community cleanups, and organizers of other mutual-aid projects around the city, hoping they could make sandwiches with them.
"Everyone should have good bread," Steinbrenner explains, pulling elastic bands of wet dough up from a large vat and gently smacking them back down. "It shouldn't be impossible for everyone to eat good bread."
ACQ stands for Anti-Conquest, and is a reference to the Russian anarchist Peter Kropotkin's anti-capitalist classic, The Conquest of Bread. At first, Steinbrenner — a graduate of Rhode Island School of Design — saw it as an art project, one that he hoped would highlight the real cost of food, and all of its necessary labor, by donating his time to making bread for a month out of ingredients that patrons donated. Soon, though, he began thinking of starting a bakery as a cooperative mission. Since July, he has been baking bread for neighborhood residents and restaurants, the only advertising coming via a handmade sign placed outside the rental kitchen, encouraging neighbors to place their order in the morning, which they can then pick up later in the day. He also brought on a part-time assistant baker, Raina Robinson, a worker-owner at the Woke Foods cooperative food-justice mission, two months ago, and has recently begun sharing his kitchen space with Mina Park, a chef intent on building her own Asian pastry business.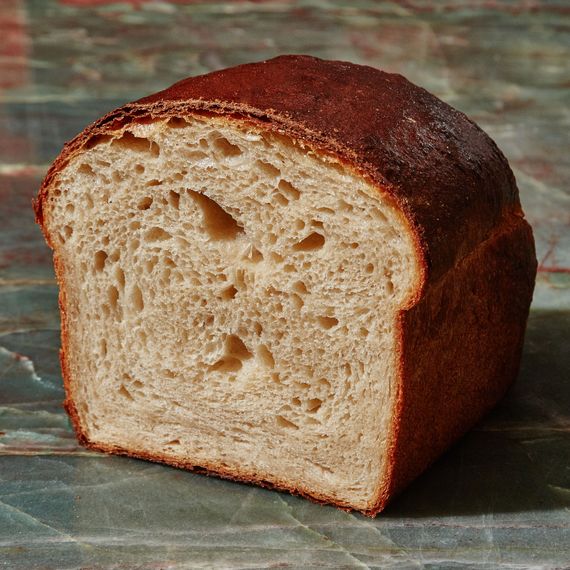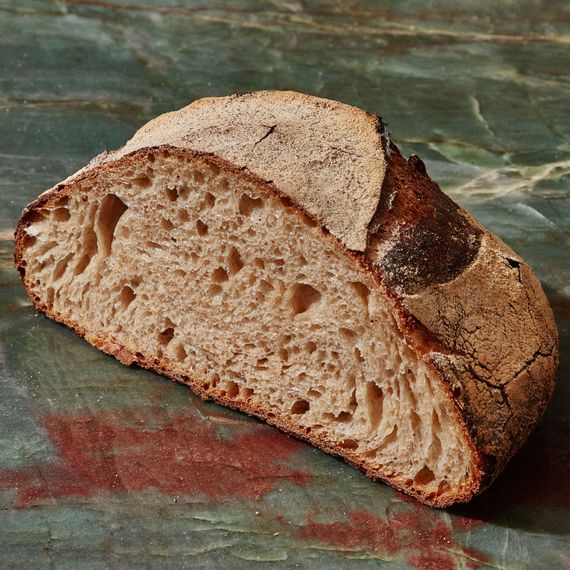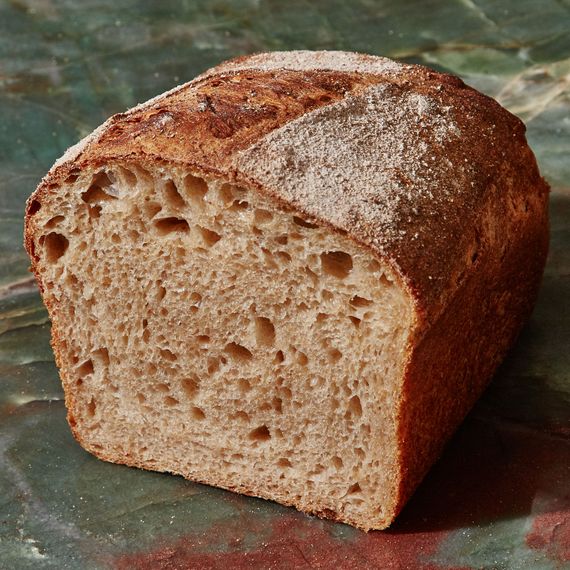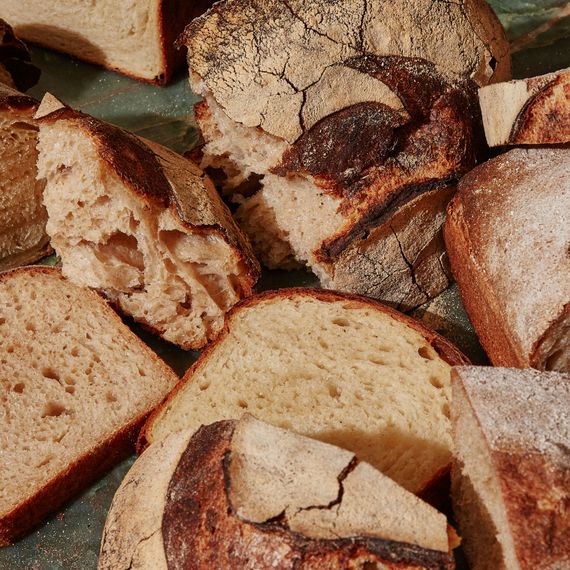 For now, the bread comes in three varieties: ACQ sourdough boules and sandwich loaves, using house-milled einkorn wheat; ACQ Milk Bread that blends Thai sticky rice with heirloom wheat, and defies categorization; and a new, experimental rye bread using freshly milled rye and einkorn wheat, stout, agave syrup, and sea salt that is slowly being rolled out, offered occasionally. Prices range from $9 for a half loaf of the rye to $12 for the milk bread.
The early hit has been Steinbrenner's milk bread — a "bastard shokupan," as he calls it. "It is luscious," says the novelist Monique Truong, a neighbor. "A bit of chew, a bit of tang."
To make it, Steinbrenner cooks sticky rice — sourced from paddies in a region of Thailand where he has relatives — down to an aromatic sludge, and scorches the bottom just a little for a toasted flavor. (He says that he once had congee from a stand in Bangkok where they intentionally burnt the bottom — a major taboo, typically — and its taste was unforgettable.) The cooked rice is then mixed with freshly milled Redeemer wheat flour — a hard red heirloom wheat variety from Pennsylvania — along with a creamy emulsion of local eggs, milk, and butter. It's almost like an ice cream base, Steinbrenner says, that leavens naturally and results in bread that offers far more complexity than the Wonder Bread–like, soft nothingness that's often associated with Japanese milk bread.
It was actually during Steinbrenner's time in Thailand that he began to teach himself how to make naturally leavened bread, finding few local sources for it — and to pull inspiration for how he'd eventually run his own kitchen. In 2017, he left a position at Atelier Crenn in San Francisco to work at Nahm, a fine dining institution in Bangkok. That restaurant's enormous kitchen was like nothing he'd seen before at the Western, French-influenced restaurants in the U.S.
Each cook's station was operated with a degree of autonomy that would have been ostentatious elsewhere. In stark contrast to the tightly controlled recipes in French fine-dining kitchens, if one of Nahm's cooks decided that one day, more cumin was needed for a sauce, they would simply add it. This, Steinbrenner says, allowed for the magic to happen. "The flavors were amazing because of the disorganization," he recalls.
In Brooklyn, Steinbrenner tries to run his bakery with a holistic philosophy that treats everything with the same level of respect. And he's tried to shake off the sterile, stainless-steel trappings of professional kitchens that emphasize efficiency over the well-being of workers. He wants every task, every ingredient, and every person, treated equally. "I believe in decentralizing power as a way to diffuse egotistical concentrations which spawn unequal human relationships," he says.
The bakery is, for now, an evolving experiment, one that will continue to grow and change. Steinbrenner hopes to share space and resources with other bakers or chefs, working in concert but separately, as a cooperative of sorts. He wants to find alternatives to the profit-sharing investor model of food businesses, and maintain his bakery's independence. He plans to empower Raina and other apprentices to exercise their judgment and work their own magic, however that manifests. And he wonders how we can better support everyone who creates our food, without automation and mass production.
The pandemic has laid bare the dysfunctions of our food-and-restaurant industry, while it also threatens these businesses' very existence. We might start to envision a future where they are rebuilt in radically different ways, one small business at a time. ACQ Bread Co. is not the first bakery or restaurant to emphasize the real cost of food and highlight specific ingredients from the region's farmers and small food producers. But Steinbrenner says it all goes back to the concept of mutual aid.
"When it's all about money, then farmers get lowballed, your dishwashers get lowballed," he explains. "As soon as it's like that, people complain about avocado toast being $12."
Instead, he hopes that people can feel that they're actively engaged in supporting their community by spending money on neighbors who make food, using truly nourishing ingredients that are priced in a way that supports everyone who makes it.
"Food has to be made by neighbors," Steinbrenner says, "in order for there to be any semblance of ethics and morality in the colosseum of commerce."