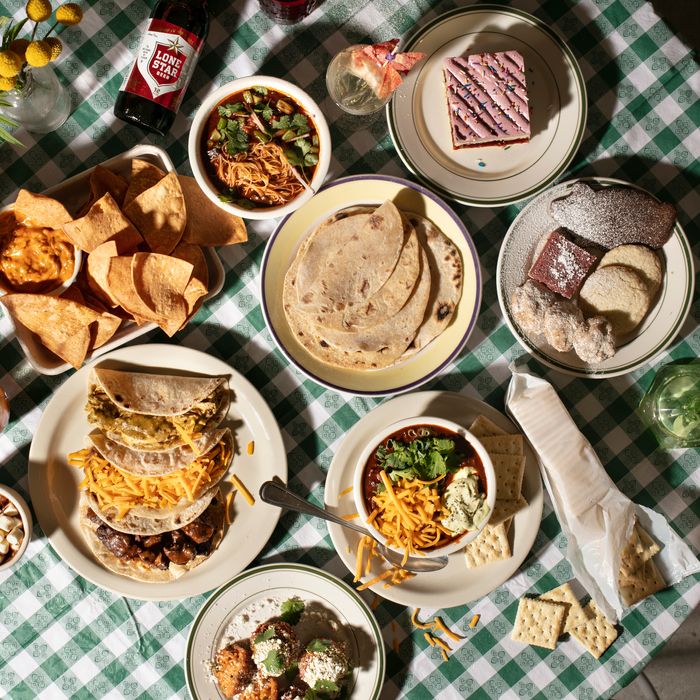 The new restaurant opens tomorrow on Third Avenue.
Photo: Melissa Hom
Four years ago, Dave and Krystiana Rizo moved to New York by way of San Antonio. Soon, Dave was cooking at Superiority Burger, while Krystiana managed and bartended at the East Village location of Emmy Squared just a few blocks away. But even as the couple was diving into the New York food scene, they craved the cooking from back home.
"I just assumed that we'd find a bean-and-cheese taco," Dave explains, pointing out that he was "depressed" by the lack of options in New York. "In Texas, it was never, like, 'I'm going to eat tacos' — it was a way of life."
So the Rizos decided to do something about it. In February, they launched a pop-up under the name Yellow Rose at the Bed-Stuy bar Doris (which calls itself a "Steely Dan / San Antonio Spurs" spot). They served chicken soup with Spanish rice and corn-chip sticks, tofu fajita tacos, the San Antonio classic bean-and-cheese taco, and chicory salad with fried hominy. It was a hit — especially with other Texan transplants.
"People came up to us and were like, 'This made me miss my grandma!'" Dave recalls. "We weren't expecting that."
When the pandemic and the restaurant shutdowns forced both Rizos onto unemployment, they suddenly had more time to work on their own recipes.
Soon, Hunky Dory's Claire Sprouse, a fellow Texan, approached them about doing a pop-up at her restaurant in Crown Heights. And when it felt safe to do so, they began to expand their reach outside the radius of their neighborhood, taking their version of Texas cooking to the West Village, Bushwick, and back to the East Village.
And tomorrow, the Rizos will go all-in with Yellow Rose, opening a brick-and-mortar at 102 Third Avenue in the East Village, a few blocks from their former jobs.
After choosing the name, the couple also came across, of all things, an episode of Seinfeld that made them more confident in the decision: In "The Non-Fat Yogurt," a character wears a "Yellow Rose" sweatshirt, which just so happens to have been the name of a Texas-themed restaurant that opened on the Upper West Side in the 1980s.

The menu isn't entirely vegan (there's beef chili, for one), but it will take cues from Dave's years at Superiority Burger with a roster of daily-changing specials and recipes that highlight plant-based ingredients (he's a proponent of the Rancho Gordo specialty-bean world). During the week, they'll do different soups, vegan queso with pickled peppers, tacos with homemade tortillas, cocktails, and desserts ("It's pecan season in Texas!"). On the weekends, there will be breakfast tacos.
"My grandmother was always cooking for me growing up, and it affected me very deeply." Dave says. "But I never thought I'd be cooking this food professionally. It is a happy accident."
Krystiana will be on cocktail duty — look for flavors like dried chili and sweet potato to appear — and Darcy Spence, whom Dave worked with at Superiority Burger and who most recently led the desserts at Leo, will handle sweets (like a masa snickerdoodle). A retail section will stock Texas products and, possibly, homemade Yellow Rose pantry items to go.
Here is what Yellow Rose is not: a Tex-Mex restaurant. "It's food that's been there for a long time, way before it was called 'Tex-Mex,''' Dave clarifies. "It's how we eat, not a gimmick."
"People just want uncomplicated food and cocktails that are real," Krystiana adds. "They can tell when stuff is phony."