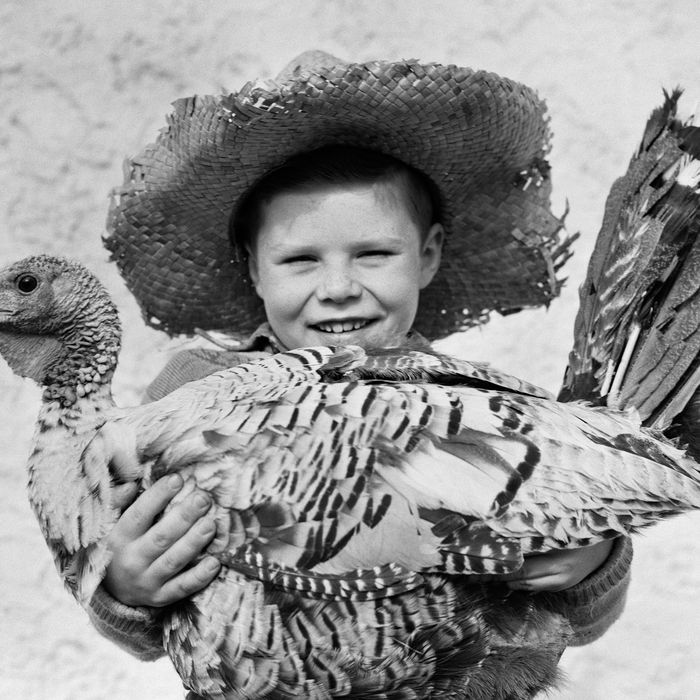 Take your turkey to-go.
Photo: H. Armstrong Roberts/ClassicStock/Getty Images
With everything that's happening right now, taking a moment to give thanks for what remains of the good stuff — your health, family, freedom, the future — feels as crucial as ever. That being said, Thanksgiving in 2020 is going to be hard. You can't get drunk with all of your crazy cousins. You can't sit around a table with ten of your favorite friends. You can, however, still eat too much turkey, and try a new take on stuffing, and pound a pumpkin-cheesecake square that will make you weak in the knees. Here is a list to help facilitate a holiday meal in 2020, whether you're alone, or with a loved one, or trying to ensure that someone in need ends their Thanksgiving with a warm, full belly. These are some of our favorite takeout options for a responsible, yet delectable, holiday at home.
Poppy's BK
Why we love it: Because it's straightforward and delicious.
Brooklyn's catering darling, Poppy's, has a terrific takeout menu that includes favorites like their Brussels sprouts and green beans with molasses and fried shallots, pre-brined rotisserie chickens, and a large assortment of pies and sweets. You can even tack on a flower bouquet if needed. Their food never disappoints, they deliver anywhere in NYC and the Hamptons, and there's something for every budget.
Evelyn's Kitchen
Why we love it: Because it's good food for a great cause.
This small but mighty café and bakery located in East Harlem, specializing in sophisticated comfort food and desserts, is offering full Thanksgiving meals for pickup, including main dishes, sides, and desserts. You can browse this year's menu here and view the ordering page here. EK is also working with schools and organizations within food-insecure communities to donate meals to those in need. Meals for donation are able to be purchased directly on their website.
Edy's Grocer
Why we love it: Because we all need some innovative spins on Thanksgiving classics.
This Lebanese-influenced grocer and deli in Greenpoint now accepts orders for their Edy's Friendsgiving takeout menu. It's a "heat and serve" family meal, serving six-plus people, for $295. The menu features various mezzes like babaganoush and butternut-squash dip with curry, plus mains such as za'ata-spiced turkey and, of course, a Mediterranean take on mashed potatoes.
The CaribDivaCompany
Why we love it: Because of three words: Rum-braised turkey.
CaribDiva's super-user-friendly website allows you to customize your meal in terms of entrees, sides, beverages and size of your party. Proteins include herb-roasted chicken with corn bread stuffing, or — yes — rum-braised turkey. If you're celebrating for two, "A Little Ting" for $60 will feed you on Thanksgiving and leave you with great leftovers for the next few days.
The Dutch  
Why we love it: Because it's a classic meal from one of Manhattan's most solid restaurants.
The Dutch has done a bang-up job at transitioning from a Soho clubhouse to a consistently delicious takeout option. Their oven-ready Thanksgiving takeout — which is, relatively speaking, a good deal at $85 per person — features organic roast turkey with mushrooms and maple chestnuts, mashed potato with rich turkey gravy, Brussels sprouts with bacon and horseradish, and one of the best fall salads in town made with kale, candied pecan, apple and tête de moine. The meal also includes apple pie with cinnamon ice cream.
Pulkies at Dekalb Market
Why we love it: Because it's barbecue!
In addition to the joy of saying "pulkies" (which is Yiddish for the adorable chubby thighs on a baby), this Jewish-style BBQ joint is offering a "Turkey Dinner" for $200, which feeds four to six people and includes: pimento cheese, endive and apple "charoset" salad, barbecued turkey breast, and "pulled" turkey. Plus sides like braised kale, mashed sweet potatoes, and honey-butter cornbread. There's a vegetarian alternative too. The deadline to place an order is Sunday, November 22, and you can pick up at Dekalb Market on November 25 or and 26.
Alta Calidad
Why we love it: Because Mexican might be the perfect Thanksgiving cuisine.
Chef Akhtar Nawab's Prospect Heights cantina has a set, $65-per-person to-go menu that rethinks what a traditional turkey-day spread can be. There's guajillo-glazed turkey breast, queso cornbread, cranberry mole, and — for dessert — a pumpkin tres leches cake that will almost definitely be better than any pie you'd make yourself.
Loring Place
Why we love it: Because you'll still get to "cook" a little bit.
This is the moment for the "Meal Kit" and no one is doing it better than Loring Place on Thanksgiving. For $175, the Thanksgiving Dinner Kit feeds four, with simple prep and heating instructions. It includes gem lettuces with sesame dressing, roasted turkey breast, turkey pot pie, spiced acorn squash, roasted Brussels, mashed potatoes, stuffing, cranberry-pear chutney, cider gravy. and cookies.
Reverence
Why we love it: Because they take Thanksgiving seriously, so you don't have to.
This Harlem trailblazer has another Thanksgiving Kit that they describe as "a way to bring sanity and enjoyment to those you love this Thanksgiving." The "Chefsgiving" kit can feed six, and it includes one Local Heritage Turkey to finish cooking with all the "fixins," appetizers, sides, and dessert. Suggested paired wines and video instructions are a bonus, as is the "What to do with the leftovers?" virtual cooking class for all Chefsgiving purchases on the 27th. Cut off for orders is set for the 20th, if they don't sell out first. Each kit costs $325.
The Musket Room
Why we love it: Because it's just luxurious enough.
The Musket Room and executive chef Mary Attea have a comprehensive, $85 per person feast that includes butternut squash soup with cardamom & coconut, foie gras and prune bread stuffing, and roasted rack of wild boar or Roasted guinea hen, among many other things. All dishes can be purchased à la carte as well.
Olmsted
Why we love it: Because this is a restaurant that can make any meal feel special.
It's always a good time when you eat food from Olmsted, and their family-style Thanksgiving takeaway option is just as heartwarming, even now. It feeds four to five people, costs $180, and includes small luxuries like a sweet potato soufflé with a sweet-potato purée, toasted pecans, and coconut marshmallows and smoked duck breasts, offered on the crown.
Tanoreen
Why we love it: Because it's the best bet for a big(-ish) family meal.
For $350, this Bay Ridge family favorite has an Arab-influenced Thanksgiving special to feed ten (this can be customized for fewer people) including turkey, hashwi (rice and lamb stuffing), baked sweet potatoes, and fatoosh salad. Free delivery in Bay Ridge but orders can be delivered anywhere else for a fee.
Kimika
Why we love it: Because you can get porchetta and truffles.
The thriving Japanese-meets-Italian Nolita newcomer is offering Kimika's Thanksgiving Feast, for four to six people at $395. The feast has interesting spins on classics like a choice of "turchetta" or porchetta with truffle gravy, miso mustard, salsa verde, and cranberry mostarda, and Japanese Sweet Rice Stuffing with porcini and matsutake mushrooms and chestnuts. Included is the bragging rights to say you've had a meal from Kimika.
Breads Bakery
Why we love it: Because babka.
For a more casual Thanksgiving spread, like a lunch or a brunch, takeout from Breads is a solid one-stop option with their variety of savory and sweet treats. For the meal, there's a Savory Squash Tart, and Breads stuffing mix (cubed challah and babka tossed in olive oil, herbs, and spices) and Harvest Babka: a savory babka filled with roasted sweet potato, red onion and Gruyère cheese. For dessert, of course there's the fabled babka pie — a Thanksgiving spin on their famous babka — as well as apple-crumb pie. And yes, we're done saying "babka," for now.
Atoboy
Why we love it: Because everything this kitchen makes is wonderful.
The team behind this modern Korean hotspot has created a unique Thanksgiving menu for pickup and delivery, including a grilled, whole Spatchcocked chicken, ssam vegetables, chicken moo, crème fraîche and kaluga caviar, and a whole lot more. The prix-fixe menu feeds four people and costs $195.
… And a Few Bonus Ideas:
For pies that are half the price of trendy bakeries, and twice as good: Margaret Palca in Red Hook. Her pumpkin, pecan, and apple pies start at $23 dollars. Throw in some pumpkin-cheesecake squares too because they're seriously the most delicious splurge in town. Palca suggests ordering pies by Friday the 20th, but notes there are always extra pies in stock for walk-ins.
For a fancy and enchanted Thanksgiving bite outdoors, done responsibly: The Standard Grill at The Standard, High Line will be serving a festive all-day Thanksgiving menu from 11:30 a.m. to 10 p.m., with heated outdoor seating and very limited guests.
For a simple Thanksgiving knish: Black Seed Bagels has a Thanksgiving knish for takeout. It's stuffed with roasted turkey, whipped confit garlic mashed potatoes, sweet potato and everything-bagel stuffing, buttered Brussels sprouts and cranberry jelly. $15 for two knishes.
For a locally sourced, chef-made, frozen Thanksgiving meal to eat whenever you want: Ipsa, the newest "fine frozen food" company vowing to change and how and what people eat at home, has a promising Thanksgiving capsule menu.
For some pre-batched cocktails: Leyenda has a dangerously tempting drinks to-go option. All you have to do is order your cocktails, keep them chilled, and then pour over ice when you're ready to relax a little.