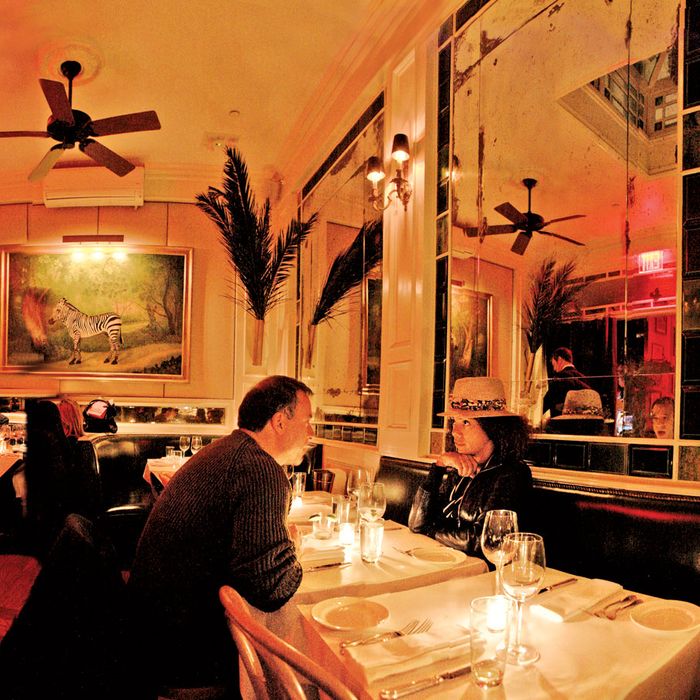 The Beatrice Inn will reopen in a space next door as "The Beatrice."
Photo: Jenny Westerhoff
It is yet another dark week for New York City restaurants, with two more beloved spots announcing they're closing up shop — at least in their current iterations.
For the better part of the past century, the Beatrice Inn has been at 285 West 12th Street, but that era is now over: Chef and co-owner Angie Mar, who bought the storied restaurant from former Vanity Fair editor Graydon Carter & Co. in 2016 and turned it into her own meat-forward clubhouse, has announced she will give up the space after one final New Year's Eve service. The plan, she tells the New York Times, is to reopen next door.
"I intended to stay here," Mar said. "But we've been paying above market, numbers that no business can sustain even in the best of times, let alone in a pandemic." Last month, Eater NY reported that lease negotiations between Mar and the Beatrice Inn's landlord, Spirit Investment Partners, were ongoing but did not seem especially promising, as evidenced by the fact that the real-estate firm had simultaneously listed the space for rent.
Mar says her new restaurant, slated for the airy corner of West 12th, will keep the team but drop the "Inn" — it will be rechristened the Beatrice — and will likely feature a somewhat less beefy menu.
The future is less certain for the team at MeMe's Diner in Prospect Heights, known for its joyful comfort foods (patty melts, Frito migas, yellow cake) and Queer Soup Night. After reopening for weekend brunch in August, co-owners Libby Willis and Bill Clark announced yesterday that they would be closing permanently at the end of this month. "We have loved being your neighborhood spot, for first dates, family brunches, and Tuesday night dinners," they posted on Instagram. "It has been a privilege to share our idea of hospitality and queer community. With heavy hearts, like so many other small businesses, we made the tough decision to close our doors for good on November 22nd."
MeMe's will be open for the next two weekends, festive as ever, but has not posted future plans. "Whatever comes next," the post continues, "we will continue to work with our community towards a hospitality industry that's more sustainable and equitable. We hope you'll join us in honoring & supporting those who have made our restaurant and every other one run: porters, line cooks, servers, bartenders, and delivery drivers."