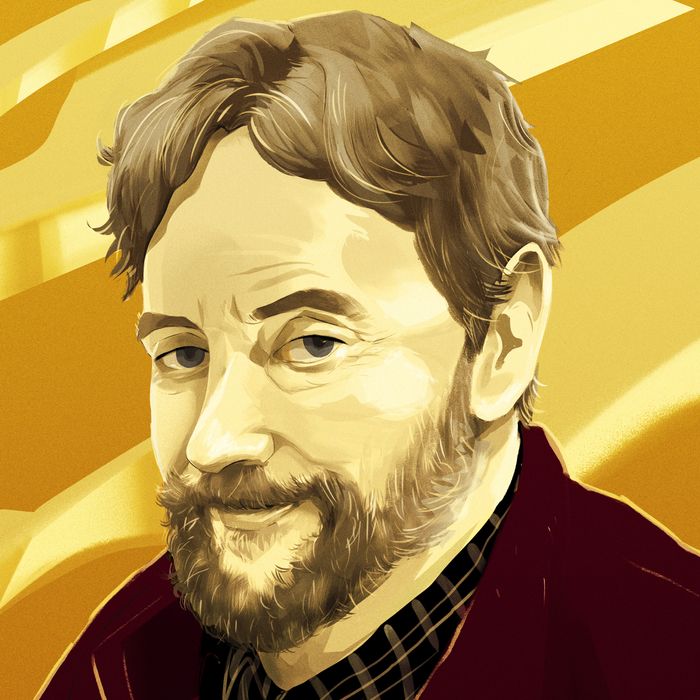 James Coogan was perhaps New York City's preeminent cheesemonger.
Illustration: Ryan Inzana
Cinderella is a cheese that is as enchanting as its fairy-tale–inspired name. A cow's milk cheese from Switzerland, it is speckled with crystals of sea salt from Cyprus that have been blackened with activated charcoal. A bite can feel like eating smooth cheddar that's been studded with Pop Rocks, in the most appealing way.
It was James Coogan who introduced me — and many others — to Cinderella. I also remember Coogan scooping up a puddle of Cremeux du Lieu, the buttery, luscious ooze of a tripe crème, but with a mushroomy, cellar funk. Cheese nirvana.
Coogan was so much more than a cheese man, but he was perhaps New York's quintessential cheese man. Cheese lovers around the city knew and loved Coogan from the counters at Balducci's, Agata & Valentina, Ideal Cheese, and Fairway Market. A proud member of the Guilde Internationale des Fromagers, Coogan last worked as the cheese buyer at Eli's Manhattan until his death on November 7, having passed away from natural causes. Coogan was 55.
"He was the convivial host, the guide, the center," remembers his friend and former co-worker Lori Levy. "He has touched every food institution that makes New York New York. He played a big part of what ended up on the shelf."
I got to know Coogan through my cheese and specialty-food friends when I worked at Fairway Market from 2011 until 2014. He had the gruff exterior of a certain kind of New Yorker, and he could be unapologetically grouchy and curmudgeonly. But once he welcomed you as a friend, his generosity was boundless. "He was as selective as his palate, but the people he loved he loved despite their flaws," explains his wife Bambi Ray, who works as a sales manager at Astor Wines & Spirits.
I felt enormously lucky to make the cut, and Coogan knew how to have a great time: After a conference or a night out with a vendor visiting from Italy, the party would often end up at Coogan's apartment on East 79th Street and York Avenue. He would play something from his record collection and often break out some incredible cheese, maybe something new to the USA, maybe something that was not quite legal. There was a sort of speakeasy vibe; there would be weed, conversation, and laughter, and you would always meet someone new.
Looking back at my texts with Coogan, I see the boundless enthusiasm just beneath the grumpy exterior: "We adopted Alp Tompey and just received our L'Etivaz from 2016. It's killer!! I've got to get you a taste of this!!" (Exclamations Coogan's own.) He did get me a taste, and it was everything he promised. The cheese, made in copper vats over an open flame, comes from the milk of cows that graze on flowers and wild onions in a single alpine pasture. The flavor was deeply complex, sweet, hazelnutty and the tiniest bit smoky.
He could be tough ("He'd give me five minutes — that's it," says Michele Buster, who runs the importer Forever Cheese, of her sales meetings with Coogan), but he could also be enormously thoughtful. In 1990, Oumar Cisse had moved from Senegal to New York City. He got a job behind the cheese counter at Balducci's, the gourmet grocer in Greenwich Village, despite the fact that "I didn't know what broccoli looked like," he recalls. "I was making $4.75 an hour," Cisse says. "Jimmy gave me the courage to talk to the owner and ask for more."
When Coogan left to manage the market Agata & Valentina, Cisse followed him. And when Cisse was getting ready to open his own cheese shop, Cheese on 62nd, Coogan helped him get set up. Now, Cisse says, "I've been in the food industry for 30 years — thanks to Jimmy."
Coogan lived his life by two credos: (1) Never underestimate the importance of a cheese man in your life, and (2) always go to the show. When he and Ray were first dating, the couple went to a Drive by Truckers show in Athens, Georgia. For their honeymoon, in 2014, they saw the band again, at the Fillmore in San Francisco. He kept tickets to all sorts of shows he'd gone to over the years: Springsteen, Tom Petty, Pink Floyd, Guns N' Roses.
His life was about other people, sharing music and food and wine and a few joints. This past year, and the forced isolation we've all felt, was hard on him, Ray says. "He didn't know how to deal with all these things this pandemic presented," she explains. "It was totally overwhelming to him. Many things broke his heart this year."
There were people, and great cheese, at his outdoor memorial, held in Dobbs Ferry on November 14. Coogan's sister, Mary Ellen, is part of the traditional Irish all-women band Cherish the Ladies. She played the electric guitar that he had gifted her, and wore a Mets hat in his honor.
Later, Ray read Mary Oliver's poem "The Summer Day." Tell me, what is it you plan to do / with your one wild and precious life? "That last line reminded me of Coogy," she told the crowd. "Life for him was wild and precious, in all of its glory and all of its gluttony."